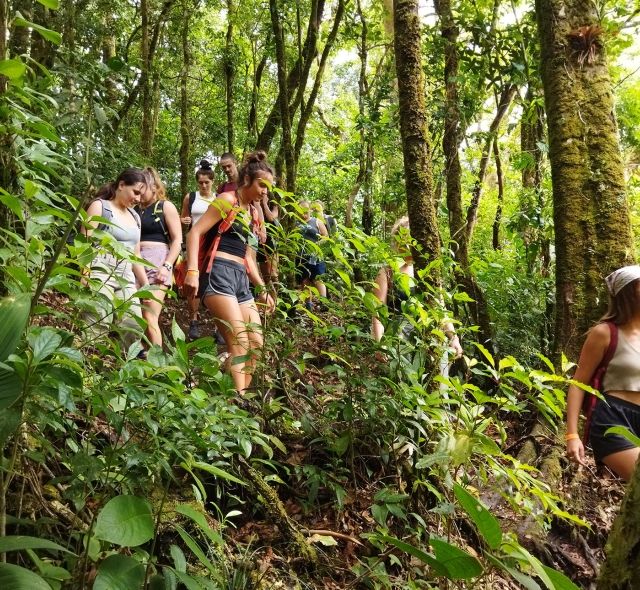 Women for Environmental Action
Program Overview
Real-World Experience
Conduct science research, survey local flora and fauna, and gain engineering, math, and tech skills. Participate in an Environmental Sustainability Challenge and come home with an Action Plan showing your recommendations.
Credentials for Your Future
Topics for your college essays, experience to inform your future career, an Action Plan that showcases your skills in STEM, and service learning hours documenting your engagement with the community.
Life Skills and New Friendships
Return with greater self-confidence, independence, and improved communication skills. Enjoy a broader worldview and friends of different backgrounds from across the U.S.
45
Hours of Expert Instruction
12
Hours of Service Learning
1
Life-Changing Experience
The Destination
The Destination
Welcome to Costa Rica, to its rugged mountains, dramatic volcanoes, lush forests, and incredible biodiversity.  
Although Costa Rica covers only 0.03% of the planet's surface, it contains over 5% of the world's biodiversity. Its natural wealth, both in species and ecosystems, is the reason scientists from around the globe come to conduct research in this tiny Central American country. Cloud forests, one of the most unique and wondrous of all ecosystems, are found along Costa Rica's northwestern mountaintops at Monteverde. It is here, the epicenter for biodiversity, sustainability, and scientific discovery, where you will live and research for three weeks. 
Costa Rica is also a world leader in environmental sustainability. It currently runs on 100% renewable electricity and is actively working toward a national goal of carbon neutrality. The Costa Rican who formulated the national decarbonization plan is Andrea Meza, former Minister of Environment and Energy and one of many women leaders with a STEM background. 
Cultural Awareness
CIEE wants all our students to feel welcomed, supported, and empowered to succeed while studying abroad. Local CIEE staff have provided details about conditions and cultural attitudes that students with specific identities might encounter in Monteverde.
Explore the basics of sustainability and biodiversity, compute ecological footprints, and deploy camera traps to interpret wildlife data. Learn about the UN Sustainable Development Goals and work in groups on an Action Plan to address a local challenge. 
Investigate nutrient cycles, participate in composting and tree planting, and explore different types of tropical habitats. Visit local women-run farms to learn sustainable practices and get inspiration from accomplished women guest speakers who work in STEM. 
Do a BioBlitz with a female STEM professional. Present your group's Action Plan, including goals, deliverables, and next steps.
Daily Life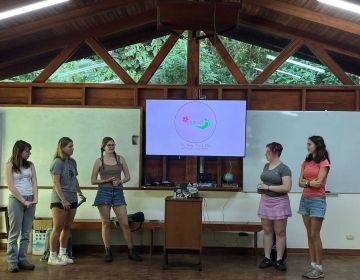 WOW! How can the program be coming to an end? Participants have been soaking up as much as they can during this last week. Each day during class time, participants spent time with their group preparing their final projects and presentations. Wednesday we went into Santa Elena for shopping and enjoying an amazing snack at the local cafe, Monteverde Cafe! They are known for their amazing pastries and banana bread! We also shopped at a Coop that is made up of women around the community selling their handmade items from embroidery and sewn items to jewelry, handmade paper and journals. Thursday we had students from the local high school visit and join us in our Bio-blast. We all downloaded an app called iNaturalist and documented flora, fauna, insects, and animals with pictures to add to their database. Per their website, the organization is now a non-profit that is dedicated to building community, with a focus on preserving biodiversity. The iNaturalist app is used by many to make conservation decision in their own communities. We enjoyed spending time with the students and practicing our Spanish too! Friday was presentation day for the participants projects. The creativity, technology use, research, and engineering time spent on each project was well thought out and presented with expertise. The groups and presentations are as follows: Ellie, Brave, Hazel, Hartson, & Baila - Native plant identification with QR codes, Google Site, and link to USDA for access to your own state's native plants. SaMyra, Zoey, Ellie, and Tory - Brochure on conservation for native bees in Costa Rica, along with how you can help pollinators in your own community.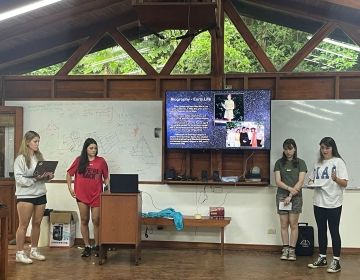 Participants have been working furiously on presentations regarding "Important Women in Stem." Groups presented on Madam Curie, Jane Goodall, Ellen Ochoa, Katherine Johnson, and Katherine Hayhoe. Amazing research and presentations... keep reading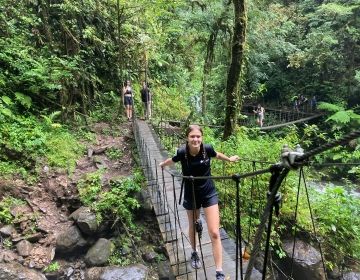 What a weekend we had! On Saturday morning we had our breakfast and then boarded the buses to head to El Tigre Waterfalls. El Tigre Waterfalls are know for hiking... keep reading
Activities
Take a Tour of CIEE's Monteverde Campus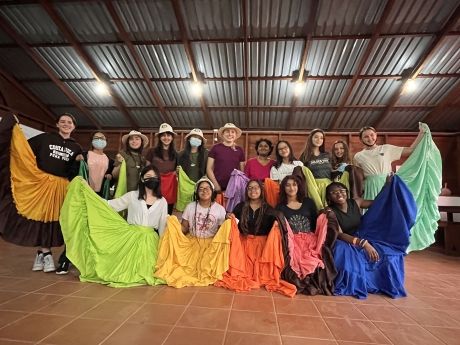 Just Imagine All the Fun You'll Have!
Tube over rapids down a gushing river in the Poderosa Adventure Park. Exhilarating and 100% carefree!
Go on a guided night walk in the forest. Shhh! You'll hear chirping, singing, gurgling, and rustling all around you.  
Zipline above the tree canopy, ride horses up a mountain, and cross hanging bridges through the cloud forest—you just might see howler monkeys, macaws, sloths, and maybe even a puma! 
Follow a path through the lush forest to El Tigre waterfalls and swim, if you dare, in the cold water. 
Discover a climate-friendly cosmetics farm and handcraft soap with natural ingredients.     
Please note activities are based on past programs and subject to change at CIEE's discretion to adapt to local circumstances and participant feedback. Our goal when arranging activities is always to enhance your experience. 
"I loved meeting women who have careers in STEM like my teachers and those who were introduced to us in activities. The experience here and just the environment itself was an enriching experience which I hope to harvest and grow from." 

Diana C., Global Navigator Alum

"Our instructors were incredibly passionate and knowledgeable about the biodiversity, wildlife, and the ecology here in Monteverde! Throughout our entire trip, we focused on a pioneering woman in STEM who has greatly influenced the field today." 

Global Navigator Alum

"I love the trips to the local farms, outdoor activities, and the conversations I had with my roommate and tablemates. I found it fascinating and comforting that I was able to have deep, intellectual conversations with girls I didn't know three weeks before." 

Akeena H., Global Navigator Alum

"I won't forget hiking in the tropical rainforest in the rain and riding horses. I also appreciated pushing myself out of my comfort zone and doing so many things that I wouldn't have done otherwise." 

Amber C., Global Navigator Alum
Dates & Fees
Eligibility
Program open to current high school Freshmen, Sophomores, Juniors, and Seniors.
Program not open to male-identifying students.
For scholarship eligibility requirements, please check our Scholarship page.
This program involves engaging in moderate- to high-intensity physical activities, such as hiking, and extended observational time outdoors.
For more information, refer to the detailed Program Essential Eligibility Criteria.
Application Fee
$25 
Program scholarships and tuition include iNext Travel Insurance, but do not cover the cost of flights. Find additional details about what's included with your tuition. 
More questions? Find answers, get application support, sign up for virtual presentations or contact us.
Program

Application Due

Start Date

End Date

Costs

Program

Summer Session I 2024

3 weeks
Start Date

End Date

Costs

$5,250

Program

Summer Session II 2024

3 weeks
Start Date

End Date

Costs

$5,250
3 Meals/Day
(Dietary Needs Accommodated)
All Ground Transportation
(Once In-country)
Optional Flight Chaperone
(Flight Cost Not Included)
Pre-departure Advice and Orientation
Access to Local Phone and WIFI
All Cultural Activities and Excursions
Comprehensive Medical and Travel Protection
24/7 Emergency On-site Support
Ready to change your life?