New Skills in the Real World
CIEE Global Navigator high school summer abroad programs deliver outcomes high school students simply can't achieve in the traditional classroom environment.
1 Month = 1 Year of Language Learning
The average language growth for students in a 4-week Language & Culture program approaches or exceeds the national average growth* that students achieve in 1 year of a high school world language course across key skills like listening, speaking, reading, and writing. We measure growth through STAMP 4S language proficiency pre- and post-test scores**.
Average Growth in World Language Proficiency**
Composite Scores - Listening, Speaking, Reading Writing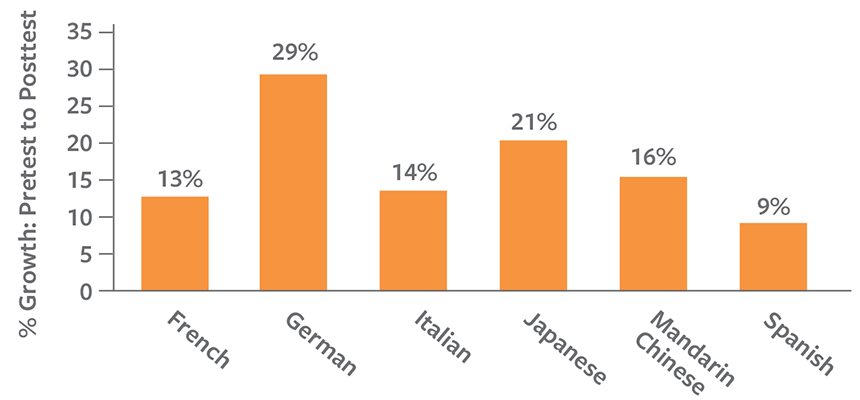 *National averages derived by Avant from high school language proficiency assessments administered nationally in 2015–2016"
 **Since students at earlier stages of language proficiency make greater gains more quickly than students at more advanced stages, it is not appropriate to compare percentage growth across languages. For example, 66% of the 2022 Italian students were at the beginning level, while only 15% of those in the Spanish courses were beginners. Arabic results are not included due to an insufficient number of matched cases.
Showed Growth in Composite Pre- To Post-program Stamp Test
Earned the Global Seal of Biliteracy
A Day in the Life of a Language Learner
Students who participate in a Language & Culture program can earn 4 college credits to put toward a future college degree. This is an option, not a requirement, and participants must pay an additional fee. 
The Seal of Biliteracy recognizes students who have achieved language proficiency in two or more languages by the time they graduate high school. Our participants use STAMP 4S language proficiency pre- and post-test scores to earn the seal.
Extraordinary Personal Growth
Immersed in a new culture and exposed to new perspectives, participants experience an incredible personal transformation in weeks. Because they are away from familiar situations and support systems, they become more confident, self-reliant, independent, and better at advocating for themselves.  
*Statistics below from 2015 - 2017 CIEE Global Navigator High School Study Abroad program survey  
Improved Communication Skills
Increased Their Self-Confidence
Improved Performance in School
High School Graduation Rate
CIEE Global Navigators: 100%
U.S. High School Students: 87%
College Attendance After High School
CIEE Global Navigators: 100%
U.S. High School Students: 63%
Statistics from 2014 - 2017 Global Navigator High School Study Abroad program survey and the National Center for Education Statistics, 2019-2020 school year
Enrollment in Top Colleges  
Columbia University  
Cornell University  
George Washington University  
Harvard University  
New York University  
Northwestern University  
Paris-Sorbonne University  
UC Berkeley  
UNC Chapel Hill  
University of Pennsylvania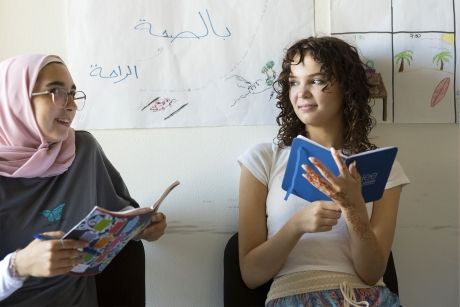 Our Alumni Change the World
Founding nonprofit organizations and businesses
Continuing service projects in their host country
Starting service projects in their home communities
Initiating intercultural and study abroad clubs in their schools
Advocating for global education and helping other high school students travel