Transforming Lives Through International Exchange Programs
Since 1947, CIEE has been changing the lives of students, families, educators, and entire communities around the world. Based in Portland, Maine, we are the longest-running and largest nonprofit study abroad organization in the U.S. and proudly lead the way in global education. Learn more about CIEE's history.
CIEE Global Navigator programs launched in 2015 with the support of a generous donor with a revolutionary vision for secondary education: making study abroad an essential part of the U.S. high school experience. 
Check Out CIEE's Impact on Students
CIEE Is a Mission-Driven, Nonprofit Organization
Through our high school summer abroad programs, we promote, encourage, and facilitate study abroad experiences for U.S. teens. We are committed to making global education and international exchange programs accessible to as many students as possible. We manage the largest study abroad scholarship fund available for U.S. high school students, and all tuition fees are reinvested into our programming to support more participants and continue making our programs even more incredible every year. 
Learn More About CIEE
Over $6 Million Awarded Every Year
CIEE administers the largest high school study abroad scholarship fund in the country, making study abroad more affordable for over 1,000 students every year. 
High school study abroad scholarships are based on academic merit and financial need and can cover up to 100% of tuition costs. 
A Diverse Student Body 
Scholarships open access to student populations typically underrepresented in study abroad. 
Participants from all over the U.S. deepen the richness of each other's experiences. 
Any U.S. high school student can apply to our programs.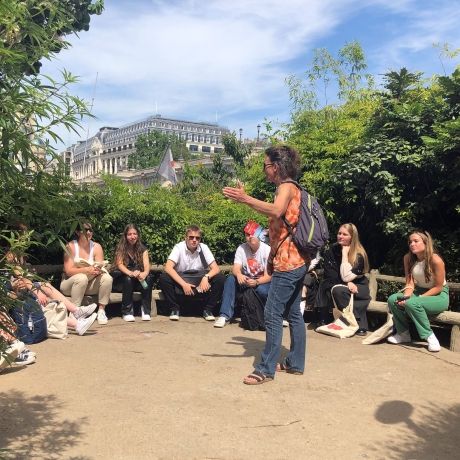 Going Above and Beyond for Participants
Deciding to send teens on a study abroad adventure can be a difficult decision for parents and guardians. With more than 75 years of experience behind every program, you can trust CIEE to keep your student safe, academically challenged, and supported at all times. 
We oversee every aspect of our programs, from our academic curriculum to the day-to-day details of the participant experience. Unlike other teen summer travel programs, our proprietary, localized curricula align with U.S.-based high school learning standards and focus on student outcomes. 
Global Locations with Local CIEE Staff
U.S. High School Travelers to Date
Our Participants Achieve Incredible Gains
For many of our participants, a high school summer abroad with CIEE offers their first opportunity to travel alone and/or abroad. Outside their comfort zone, teens gain new skills and perspectives to last a lifetime.
World Language Proficiency – Participants on Language & Culture programs see their language skills soar in listening, speaking, reading, and writing. On average, participants grow in 1 month as much as they would in 1 year of high school in the U.S.
Personal Growth – Participants gain confidence, independence, maturity, responsibility, and adaptability while forming lifelong friendships.
Global Competence – Participants develop a greater appreciation and understanding of cultural differences and similarities in diverse environments.  
College and Career Readiness – Participants enhance their college and career prospects by learning in the real world. Our programs have helped students working toward IB credentials launch successful CAS projects, earn college credits, and earn the Global Seal of Biliteracy.
A Summer of Nonstop Learning and Fun
Students, parents, and guardians can choose from a variety of programs abroad, which include language immersion programs or programs that focus on arts & culture, business, social change, or STEM. Our programs run for 3 or 4 weeks between June and August.