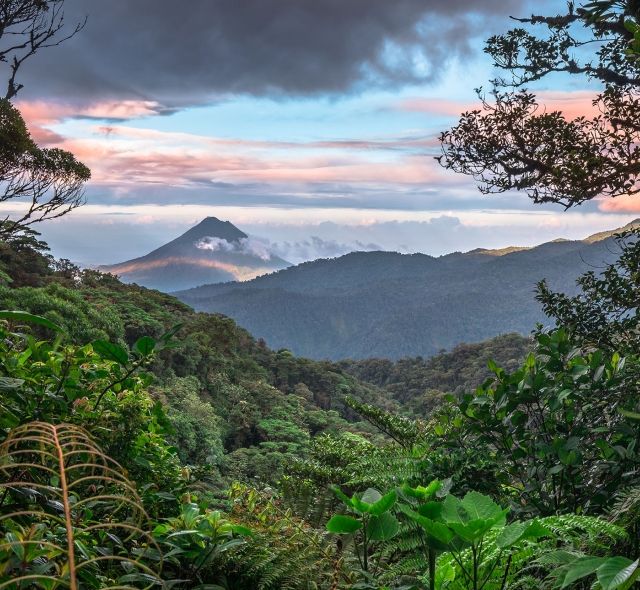 Climate Change Mitigation
Program Overview
Real-World Experience
Document climate-related changes on ecology and society, investigate climate mitigation and adaptation strategies, and propose solutions to local and global climate change challenges. Come home ready to start carbon-smart initiatives in your community.
Credentials for Your Future
Topics for your college essays, experience to inform your future career, a portfolio of work to showcase your ideas to mitigate climate change, and service-learning hours documenting your engagement with the community.
Life Skills and New Friendships
Return with greater self-confidence, independence, and improved communication skills. Enjoy a broader worldview and friends of different backgrounds from across the U.S.
45
Hours of Expert Instruction
12
Hours of Service Learning in the Community
1
Life-Changing Experience
The Destination
The Destination
Welcome to Costa Rica, renowned for its biodiversity and leadership in environmental sustainability. 
Costa Rica is a small Central American country (roughly the size of West Virginia), but it has lofty ambitions: It wants to become the world's first carbon-neutral country. And why not? In 1990, it became the first tropical nation to reverse deforestation and since last year, its electric grid runs on 100% renewable energy. People around the world hold this tiny country in admiration, as an example of what can be accomplished when people unite behind climate change mitigation. 
Another remarkable fact about Costa Rica is that it covers only 0.03% of the planet's surface but it contains over 5% of the world's total species. Plants and animals are literally crammed in this beautiful country, making it one of the most biologically intense places on Earth. In Monteverde, which is nestled in Costa Rica's northwestern mountains, monkeys, quetzals, sloths, and orchids are readily on display. This misty cloud forest, which will be your home for 3 weeks, is the perfect place for biodiversity, sustainability, and scientific discovery. 
Cultural Awareness
CIEE wants all our students to feel welcomed, supported, and empowered to succeed while studying abroad. Local CIEE staff have provided details about conditions and cultural attitudes that students with specific identities might encounter in Monteverde. 
Settle into your new community and begin to explore climate change. Reflect on your own carbon footprint and the options for mitigating its impact. Visit a climate-friendly farm to get inspiration for your final Project in which you address a Climate Change Challenge.  
Investigate how the regulation of atmospheric carbon works by analyzing tree growth and observing different types of soil. Learn about youth activism in conservation efforts, identify sources of renewable energy, and explore the area of Río Celeste to understand how nature and culture interact in Costa Rica. 
Work in small groups to highlight an important impact of climate change, identifying its likely source, describing its impact on society and culture, and proposing your own ideas for solutions. Present your Project. 
Daily Life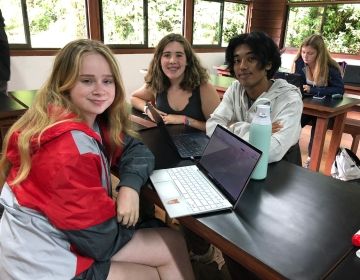 As the students wrap up their final days on campus, they've spent extensive time this week working on final projects, enjoying cultural activities and community service events, and hanging out... keep reading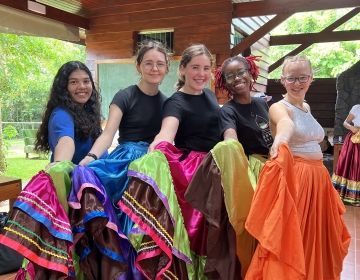 Some of our favorite activities throughout our time on campus are the cultural experiences we get to partake in with our Center Staff and local friends. Two of these activities... keep reading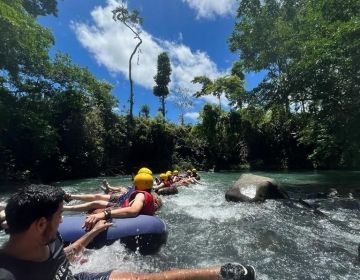 As Week 2 comes to an end and we begin the final week of Session II's Climate Change Mitigation program here in Monteverde, the students prepared for their overnight excursion... keep reading
Activities
Take a Tour of CIEE's Monteverde Campus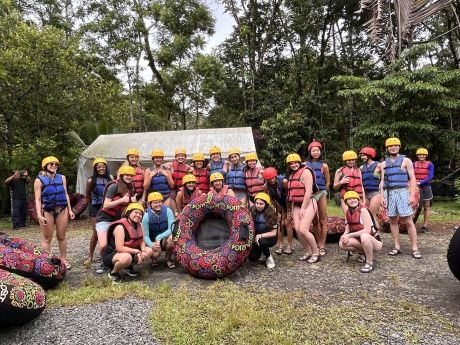 Just Imagine All the Fun You'll Have!
Tube over rapids down a gushing river in the Poderosa Adventure Park. Exhilarating and 100% carefree!
Stay silent on night hikes around the eco-campus to spot frogs and insects—the creepy crawlies and the fantastic flyers that come alive once it gets dark. 
Get your hands dirty prepping beds and collecting scraps for composting in the community garden.  
Trek through narrow paths and across suspension bridges to El Tigre waterfalls. Take a cold swim, if you dare, and ride home on horseback. 
Fly above the forest canopy on a zipline and see breathtaking views. You might catch a glimpse of sloths, howler monkeys, toucanets, and more!  
Please note activities are based on past programs and subject to change at CIEE's discretion to adapt to local circumstances and participant feedback. Our goal when arranging activities is always to enhance your experience. 
"I enjoyed seeing all the cool and rare animals you don't get a chance to see in the States." 

Sofy P., Global Navigator Alum

"I love that the classes expose us to the subject firsthand, going on a hike and interacting with the locals. It's an amazing program that changes you in a good way. You leave with eye-opening knowledge and a second family." 

Melissa H., Global Navigator Alum

"I enjoyed bonding with my friends and being surrounded by another culture during a soccer game with the local Tico kids." 

Hailey H., Global Navigator Alum

"It's fun and educational at the same time. I loved learning about conservation projects." 

Brianna R., Global Navigator Alum
Dates & Fees
Eligibility
Program open to all current high school students: Freshmen, Sophomores, Juniors, and Seniors. 
For scholarship eligibility requirements, please check our Scholarship page.
This program involves engaging in moderate- to high-intensity physical activities, such as hiking, and extended observational time outdoors. 
For more information, refer to the detailed Program Essential Eligibility Criteria.
Application Fee
$25
Program scholarships and tuition include iNext Travel Insurance, but do not cover the cost of flights. Find additional details about what's included with your tuition.  
More questions? Find answers, get application support, sign up for virtual presentations or contact us!
Program

Application Due

Start Date

End Date

Costs

Program

Summer Session I 2024

3 weeks
Start Date

End Date

Costs

$5,250

Program

Summer Session II 2024

3 weeks
Start Date

End Date

Costs

$5,250
3 Meals/Day
(Dietary Needs Accommodated)
All Ground Transportation
(Once In-country)
Optional Flight Chaperone
(Flight Cost Not Included)
Pre-departure Advice and Orientation
Access to Local Phone and WIFI
All Cultural Activities and Excursions
Comprehensive Medical and Travel Protection
24/7 Emergency On-site Support
Ready to change your life?