Everything You Need to Support Study Abroad
High school summer abroad programs increase students' language proficiency, intercultural competence, leadership skills, and self-confidence. So why is it that so few actually participate in international exchange programs?  
In the U.S., only about 2% of U.S. high school students study abroad. Traveling to distant places to learn a new language, dive into a new culture, and gain skills for the future should be part of the U.S. high school experience. However, most high school students simply don't know these opportunities exist!  
As teachers, you have an important role to play in encouraging your students to broaden their horizons and become global citizens. Below are some teacher resources to get the word out about high school summer abroad programs and study abroad scholarships. 
Teacher Resources to Share in Your Classroom
Having the support from teachers and counselors they look up to goes a long way to getting students excited and understanding the benefits of studying abroad. Spreading the word at your school can be as simple as sending emails, sharing links, adding info to morning announcements, and/or posting a flyer in the classroom!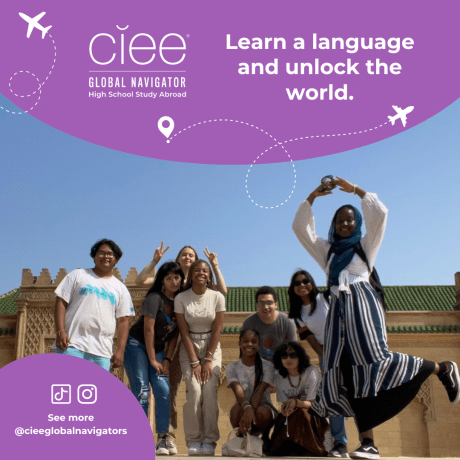 Social Media Resources
Download these images and videos to share with your school community on social media. Here is some suggested copy to help you spread the word.
Teacher Tip: When you post about us, remember to tag @cieeglobalnavigators so that we can reshare! 
Resources for Your Departing Students
You want to help your students be as prepared as possible before they go so they can make the most of their study abroad experience. These pre-departure exercises will encourage students to:
Set goals for their experience
Manage expectations
Think critically about what they'd like to take away from their time abroad
Research their destination and its culture
Resources for Your Returning Students
When they return, students will be instrumental in changing your high school's culture to be more globally aware. One student's experience can deepen classroom discussions, provide new perspectives, and encourage curiosity and compassion in other students.  
These resources will help you when designing lessons around your students' global adventure, when hosting storytelling workshops, and when working with your students to ensure they continue to leverage their experience long after they come back.
Start an Alumni Club in Your School!
Alumni in your school are your best ally to promote global education opportunities with other students! Many of them are reaching out every year, and looking for ways to give back to their school community, whether or not they earned a Global Navigator scholarship.
The CIEE Global Navigator Club is not a single club but a concept that teachers and alumni can adapt, following our guide including a sample mission statement, suggested schedule and resources to make every session of the club productive and fulfilling for students. 
Through this alumni club, students will have the opportunities to continue building on the skills they developed abroad, network with like-minded teens, and make a concrete impact on their school by developing resources and events other students can use and attend to learn more about study abroad opportunities.
If you decide to start your own club, let us know! Just send a note to Brianna Medeiros at bmedeiros@ciee.org. 
We'd love to hear how it goes and could find ways to support with promotional materials while supplies last.