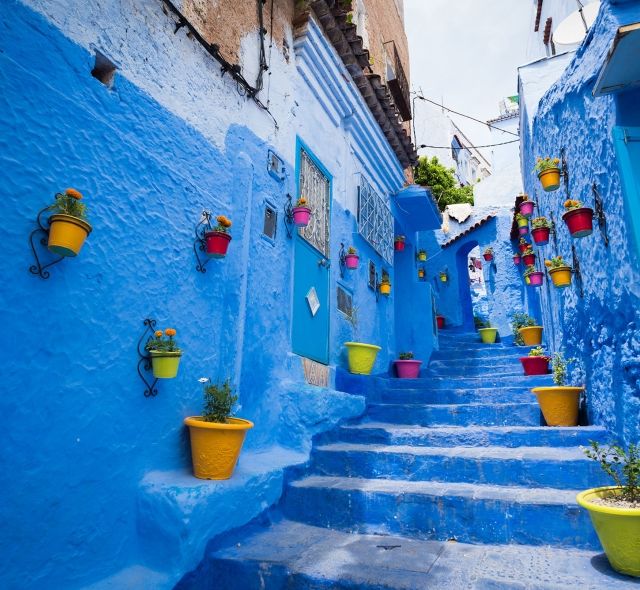 Arabic Language & Moroccan Culture
Program Overview
Language Growth and Cultural Competence
Come home with a higher level of colloquial Darija and Modern Standard Arabic and a greater understanding of Moroccan culture.
College Credits
Choose to earn 4 college credits toward your future college degree. Take advantage of the credits to stand out on your college applications or to satisfy college language requirements.
Lifelong Skills and Friendships
Return with greater self-confidence, independence, and adaptability. Enjoy a broader worldview and diverse friendships from across the U.S. 
60
Hours Of Instruction With A Native Arabic Teacher
1
Life-changing Experience
The Destination
The Destination
Welcome to Rabat, a coastal city with modern and traditional architecture, lush gardens, and centuries of history. 
A meeting point for African, European, and Middle Eastern civilizations throughout the ages, Morocco draws millions of visitors each year. Situated on the shores of the Atlantic Ocean, Rabat, the cosmopolitan and progressive capital, takes center stage. 
Rabat's roots trace back to the 10th century, established near the remains of an Ancient Roman settlement. Its rich historical heritage emerges at every turn with a unique blend of styles, spanning from old-world marketplaces to French Colonial architecture. The main languages spoken here are Arabic and French. 
With a laid-back, welcoming atmosphere, Rabat has earned its reputation as a "green city." Abundant green spaces, parks, and palm trees are juxtaposed with popular attractions, including the medina, the millah (the Jewish quarter), the medieval fortress Kasbah of the Udayas, and the iconic Hassan Tower. As you explore Rabat, you'll be spellbound by a vibrant cultural mosaic. Be sure to try delectable Moroccan flavors like traditional tagine, zalouk, makouda, and refreshing mint tea!
Cultural Awareness
CIEE wants all our students to feel welcomed, supported, and empowered to succeed while studying abroad. Local CIEE staff have provided details about conditions and cultural attitudes that students with specific identities might encounter in Rabat.
Daily Life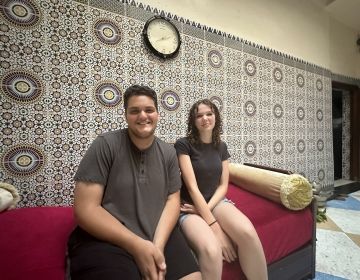 "If you have the opportunity to do something like this, definitely do it." Christine C., 16, and Mohamad H., 17, flew across the Atlantic this past summer to improve their Arabic language skills in the capital of Morocco. Here's how they describe their program.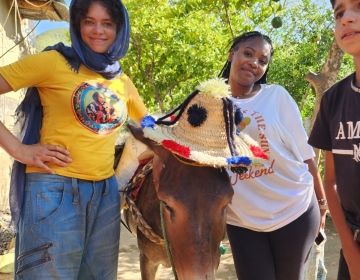 A breathtaking blue oasis nestled in the Rif Mountains of Morocco, Chefchaouen is a picturesque town renowned for its vivid blue-painted buildings and rich cultural heritage. This past weekend, the... keep reading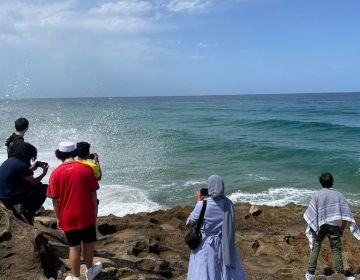 Time is weird and deeper than I can understand sometimes. I think about how people dont always stay in your life and maybe they are not supposed to or maybe... keep reading
Activities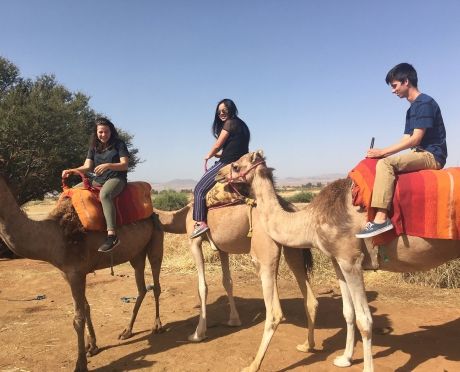 Just imagine all the fun you'll have!
Don your swimsuit and jump into Morocco's beach culture. Take a kayaking trip down the Bouregrag River, too. 
Ride camels to the village of Ourika in the Atlas Mountains. Experience Morocco's indigenous culture by meeting the Amazigh people, the descendants of the pre-Arab inhabitants of North Africa. 
View striking visual displays at the Museum Mohamed VI of Modern and Contemporary Art, Morocco's first public institution dedicated entirely to contemporary arts. 
Take an excursion to "the blue pearl", Chefchaouen, with its medina full of winding cobblestone streets, doors and window frames painted in tranquil shades of blue. 
Get glammed up for a Moroccan party with traditional dress, dance, and henna art. Visit the Hassan II Mosque, one of the tallest minarets in the world and the only mosque in Morocco open to visitors. 
Marvel at the snake charmers and artisan crafts in Marrakesh's bustling Jemaa el-Fnaa square. Join an interactive session with locals in the winding souks of the old medina. 
Please note activities are based on past programs and subject to change at CIEE's discretion to adapt to local circumstances and participant feedback. Our goal when arranging activities is always to enhance your experience. 
"I got introduced into an amazing language like Arabic, met some amazing people, and the CIEE staff was so helpful and supportive. It exposed me to Moroccan culture and my host family made me feel right at home. On a scale of 10, CIEE deserves a 100!" 

Angelique L., CIEE Global Navigator Alum

"My most memorable moment was our first dinner in Chefchaouen. We talked, laughed, took pictures, listened to music, and ate really good food! I felt so comfortable and happy! 

Kira B., CIEE Global Navigator Alum

"I loved travelling to other cities within Morocco, like Marrakech, and being able to bond more with my peers. The trip has really opened my eyes to the world and I formed lifelong friendships." 

Rakeem Y., CIEE Global Navigator Alum

"It was such an amazing experience and I learned so much about Moroccan culture, the Arabic language, and about myself. It was super fun and such a valuable experience that I will never forget." 

iana B., CIEE Global Navigator Alum
Dates & Fees
Program

Application Due

Start Date

End Date

Costs

Program

Summer Session I 2024

4 weeks
Start Date

End Date

Costs

$6,250

Program

Summer Session II 2024

4 weeks
Start Date

End Date

Costs

$6,250
3 Meals/Day
(Dietary Needs Accommodated)
All Ground Transportation
(Once In-country)
Optional Flight Chaperone
(Flight Cost Not Included)
Pre-departure Advice and Orientation
Access to Local Phone and WIFI
All Cultural Activities and Excursions
Comprehensive Medical and Travel Protection
24/7 Emergency On-site Support
Our Staff
Madiha received her master's degree in international education and development from George Washington University and her bachelor's degree in international relations from Boston University.
Ready to change your life?