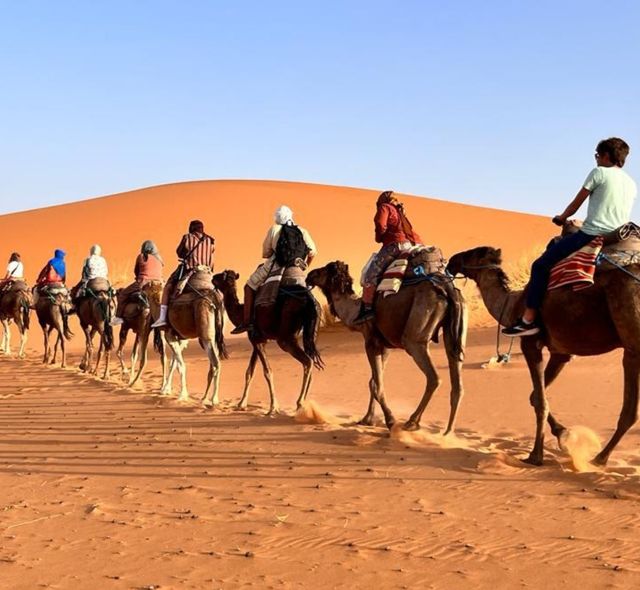 Leadership & Service in Youth Development
Program Overview
Leadership Experience
Work in tandem with the American Language Center to support local non-profits in their community outreach. Reflect on your own leadership style and strengths as you lead activities and workshops for the local youth and learn how to work across culture lines!
Lifelong Skills and Friendships
After just 3 weeks away, you'll build self-confidence, gain a broader world view, improve your interpersonal communication skills and make lifelong friends from all across the U.S.
Credentials for Your Future
Topics for your college essays, experience to inform your future career, a Certificate of 50 hours of Service Learning.
The Destination
The Destination
Relax in a café with a cup of mint tea or stroll through the Kasbah in this quiet seaside city.
Mohammedia is a small port city set between Casablanca and Rabat on the Mediterranean coast. A working fishing port, it offers a more authentic portrait of local life than its more touristy neighbors. The east side of the city is famous for its swimming beaches, whereas other city beaches are rough and rocky. Many find it a welcome respite when looking to escape the busy life of nearby cities. 
Founded a thousand years ago under the Almoravid dynasty, then visited in the 14th and 15th century by merchant ships from Europe, Mohammedia embodies a rich mix of cultural influences. This is best reflected in its cuisine: A mix of North African Amazigh, Arab, and Mediterranean traditions, fused with European and West influences. 
Souks (markets) are a major feature of Moroccan life, and many are overflowing with seasonal fruits. Along with various kinds of dates, you'll find grapes, figs, melons, peaches and the local prickly pear (cactus fruit). Bread is a huge part of the Moroccan diet and you'll find freshly baked bread (eaten with butter, olive oil and jam) at bakeries and shops around town. Street food includes kebabs or spicy merguez sausages, roasted chickpeas and peanuts, and sfenj (delicious doughnut-shaped fritters). 
CIEE wants all our students to feel welcomed, supported, and empowered to succeed while studying abroad. Local CIEE staff have provided details about conditions and cultural attitudes that students with specific identities might encounter in Mohammedia.
Daily Life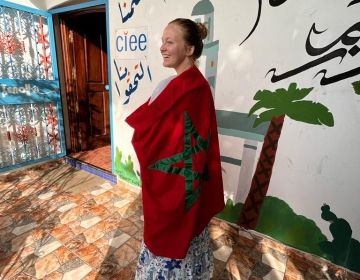 Football, football, football! Football, known as soccer in only a few countries, finds its origins all the way to the time of the Aztecs. However, the game we know today... keep reading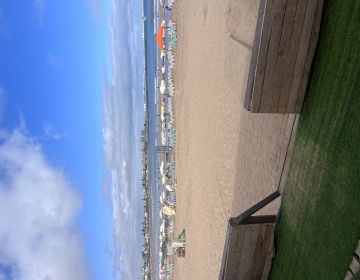 This past Saturday, for our first weekend in Mohammedia Morocco, we went to Sofia Beach with the program group. Accompanied by three of our program leaders, Yahya, Rihane, and Ami... keep reading
Activities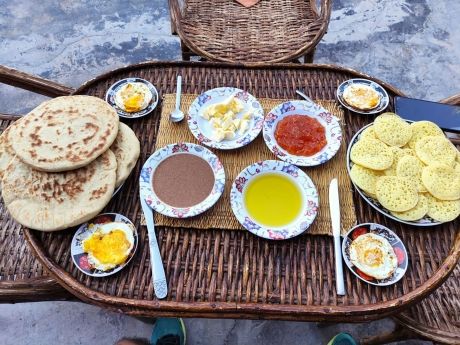 Sample Activities
Take a Moroccan cooking class 
Learn about multiculturalism and the West African influences in Morocco in an African dance workshop. Try your hand at Moroccan pottery in a creative workshop 
Learn the intricate art of Moroccan henna 
Join the festivities at a Moroccan dress party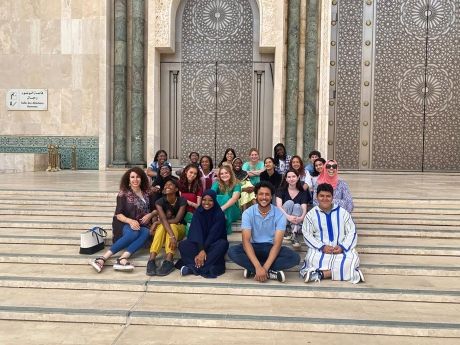 Excursions
Rabat: Rock the Kasbah L'Oudaya, tour the Museum of Modern Art and Archaeology, visit the old medina, Roman ruins and Chellah Gardens overlooking the ancient royal cemetery. 
Casablanca: Visit Casablanca and the Hassan II Mosque, the only mosque open to non-Muslims in Morocco. 
Chefchaouen: Embark on a multi-day excursion to see the riches of the city known as "The Blue Pearl," due to its blue walls and scenery, and the Riff Mountain region, rich in Amazigh culture. 
Day trip to Meknes with Moroccan high schoolers which includes (Roman ruins of Vouliblis, village of Moulay Idriss (birthplace of Islam in Morocco, and imperial city of Meknes)
Please note this list of activities is based on past programs and subject to change at CIEE's discretion to both adapt to local circumstances and participant feedback. Our goal when revising itineraries is always to enhance your experience. Every activity is designed to provide you with a deep immersion in your topic, local culture and sights. Get ready for maximum fun!
Dates & Fees
Eligibility
No previous language experience required.
Program open to all current high school students: Freshmen, Sophomores, Juniors, and Seniors. 
For scholarship eligibility requirements, please check our Scholarship page.
For more information, refer to the detailed Program Essential Eligibility Criteria.
Application Fee
$25
Program scholarships and tuition include iNext Travel Insurance, but do not cover the cost of flights. More details about tuition inclusions can be found here.
Program

Application Due

Start Date

End Date

Costs

Program

Summer Session I 2024

3 weeks
Start Date

End Date

Costs

$5,450

Program

Summer Session II 2024

3 weeks
Start Date

End Date

Costs

$5,450
Our Staff
Madiha received her master's degree in international education and development from George Washington University and her bachelor's degree in international relations from Boston University.
Ready to change your life?