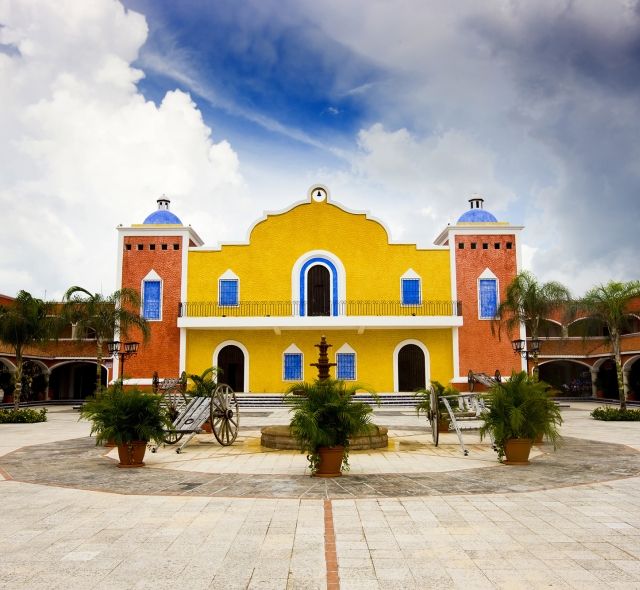 Spanish Language & Mexican Culture
Program Overview
Language Growth and Cultural Competence
Come home with a higher level of Spanish and a greater understanding of Mexican culture. Use your STAMP 4S language proficiency pre- and post-test scores to demonstrate your language growth and help you earn a Seal of Biliteracy.  
College Credits
Choose to earn 4 college credits toward your future college degree. Take advantage of the credits to stand out on your college applications or to satisfy college language requirements.
Lifelong Skills and Friendships
Return with greater self-confidence, independence, and adaptability. Enjoy a broader worldview and diverse friendships from across the U.S. 
60
Hours of instruction with a native spanish teacher
1
Life-changing experience
The Destination
The Destination
Welcome to Mérida, a small city known for its Mayan treasures, colonial buildings, and centuries of tradition. 
Named the 2nd safest city in the American continent (after Quebec City), calm and clean Mérida provides a student-friendly environment buzzing with things to discover. This small capital is in southeastern Mexico, in the Yucatán peninsula, about 20 minutes from the Gulf of Mexico. Famous as a tourist destination, the city of 995,000 has the highest percentage of indigenous people (60%) in Mexico, making it a perfect place to study the history and culture of the country. Several highly-ranked universities and research institutions are based in Mérida. 
The Mayan ruins are the main attraction, but there's so much to love. Vibrant buildings, grand plazas, and beautiful churches are at every corner. Nearby, there are botanical gardens, biodiverse nature reserves, white-sand beaches, and pueblos mágicos, villages that look like something out of a storybook. Mayan influences are alive in Yucatán's traditions and food. Papazules (rolled crisp tortillas covered in a creamy cheese sauce), aguas frescas (juices made from the local rambutan fruit), and champola (ice cream made with coconut milk) are a must-try! 
Cultural Awareness
CIEE wants all our students to feel welcomed, supported, and empowered to succeed while studying abroad. Local CIEE staff have provided details about conditions and cultural attitudes that students with specific identities might encounter in Yucatán.
Daily Life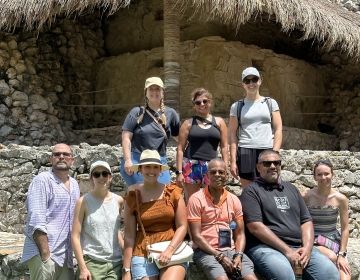 Now that it's been over a week since I returned from Mérida, I want to talk a bit more about what this experience meant to me as a high school... keep reading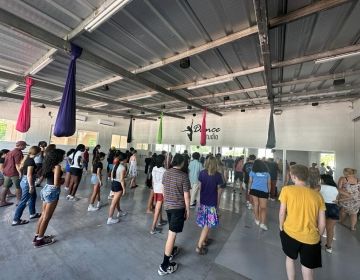 On Monday, students enjoyed a salsa dance class with professional instructors. With every twirl and sway, the students couldn't help but revel in the joy that salsa brought to their... keep reading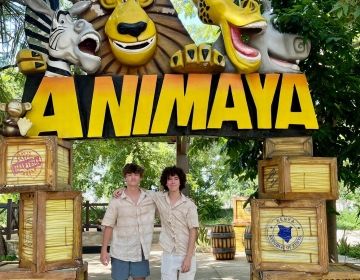 After 3 amazing weeks, we finally come to the last week of this amazing trip. I'm Karl, a student in level 2B, and this trip has been truly wonderful. This... keep reading
Activities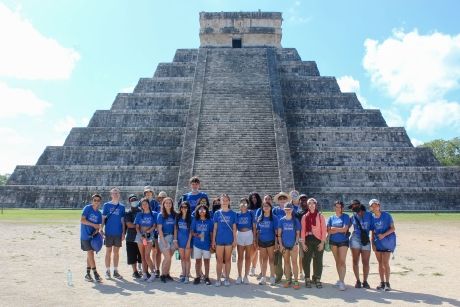 Just imagine all the fun you'll have!
Experience the real Mexico at the pueblo mágico of Valladolid. Step in front of one of the Seven Wonders of the World, the Mayan ruins of Chichén Itzá. 
Live an adventure safari-style at the Animaya Zoo and recognize the richness of Yucatán's nature. Spot monkeys, ostriches, emus, flamingos, and more! 
Try your hand at making traditional and beloved Mexican dishes with expert tips from a Mexican chef. 
Hop on a lancha (small boat) and head to El Corchito ecological reserve. Have a refreshing swim in freshwater cenotes surrounded by mangroves. 
Dive into the warm and clear turquoise water at the Progreso Beach in the Gulf of Mexico sea. Play beach volleyball or just relax under the sun listening to the calming waves. 
Cheer for your team as you watch a match of the Mayan ball game Pok-ta-Pok—one of the oldest team sports in history that's been played since at least 1650 B.C. 
Please note activities are based on past programs and subject to change at CIEE's discretion to adapt to local circumstances and participant feedback. Our goal when arranging activities is always to enhance your experience.  
"My favorite memory is the Mayan pyramids. I was going to give up halfway up but was proud of myself at the end!" 

Isis H., CIEE Global Navigator Alum

"I loved when my friends and I visited Chichen Itza and got to learn about the culture behind it. I also loved when we accidentally stumbled upon a store that also happened to be a galería. The lady in charge spoke to us about the history of clothing and the different types of sacred stitching!" 

Yasmeen H., CIEE Global Navigator Alum

"It's honestly a once in a lifetime opportunity you can't let pass by. I didn't know anyone in my Mexico program and wasn't sure what to expect, but it was mind-blowing and I enjoyed every minute of it!" 

Brenda H., CIEE Global Navigator Alum

"I learned far more than just Spanish language and culture from participating in the program!"

Jessica B., CIEE Global Navigator Alum
Dates & Fees
Eligibility
Program open to all current high school students—Freshmen, Sophomores, Juniors, and Seniors—who have completed at least one year of high school Spanish. Students who have completed at least two years of high school Spanish may qualify for the Honors Language & Culture program in Madrid or Seville. 
For scholarship eligibility requirements, please check our scholarship page.
For more information, refer to the detailed Program Essential Eligibility Criteria.
Application Fee
$25
Optional College Credit Fee
$150
Learn more about how to get college credit for your future college degree.
Program scholarships and tuition include iNext Travel Insurance, but do not cover the cost of flights. Find additional details about what's included with your tuition.
More questions? Find answers, get application support, sign up for virtual presentations or contact us!
Program

Application Due

Start Date

End Date

Costs

Program

Summer Session I 2024

4 weeks
Start Date

End Date

Costs

$5,450

Program

Summer Session II 2024

4 weeks
Start Date

End Date

Costs

$5,450
3 Meals/Day
(Dietary Needs Accommodated)
All Ground Transportation
(Once In-country)
Optional Flight Chaperone
(Flight Cost Not Included)
Pre-departure Advice and Orientation
Access to Local Phone and WIFI
All Cultural Activities and Excursions
Comprehensive Medical and Travel Protection
24/7 Emergency On-site Support
Ready to change your life?