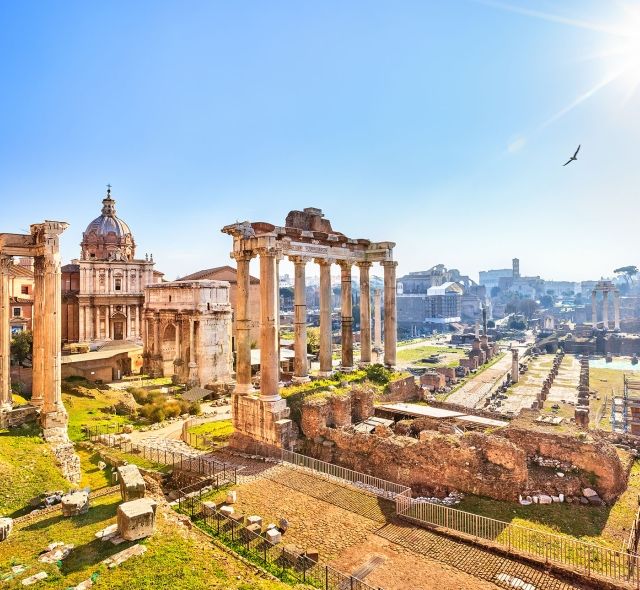 Italian Language & Culture
Program Overview
Language Growth and Cultural Competence
Come home with a higher level of Italian and a greater understanding of Italian culture. Use your STAMP 4S language proficiency pre- and post-test scores to demonstrate your language growth and help you earn a Seal of Biliteracy. 
College Credits
Choose to earn 4 college credits toward your future college degree. Take advantage of the credits to stand out on your college applications or to satisfy college language requirements.
Lifelong Skills and Friendships
Return with greater self-confidence, independence, and adaptability. Enjoy a broader worldview and diverse friendships of different backgrounds from across the U.S. 
60
hours of instruction with a native Italian teacher
1
Life-changing Experience
The Destination
The Destination
Welcome to Rome, a symbol of Italy's cultural riches, architecture, and influence on the world.
Few experiences rival spending a summer abroad in Rome. Located in the center of the Italian "boot," Rome was once the capital of the influential Roman republic and empire, shaping the Western world as we know it. Its nickname is la città eterna (the Eternal city) because civilizations have lived here for thousands of years. Ancient Romans also believed that—no matter what happened to the world—this city would live on forever. 
Rome is as majestic as you'd imagine. Historic and archeological landmarks, including the Colosseum, the Spanish Steps, and the Pantheon stand alongside bustling cafés and delicious trattorias (traditional restaurants). While roaming its cobbled streets and traversing its elegant piazzas (squares), popular street food like trapizzino (pizza sandwich) and supplì (fried rice mozzarella ball) invite you to have a taste. For dessert, creamy gelato awaits at colorful gelateries. As you explore vivid and ancient Rome, you'll be inspired by a lively culture and a city that is truly an eternal work of art.
Cultural Awareness
CIEE wants all our students to feel welcomed, supported, and empowered to succeed while studying abroad. Local CIEE staff have provided details about conditions and cultural attitudes that students with specific identities might encounter in Rome.
Daily Life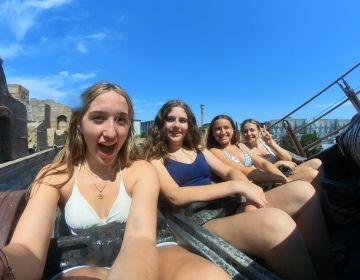 This past weekend we got to go to Cinecittà World, an amusement and water park about an hours drive from Rome. It was one of my favorite things that we've... keep reading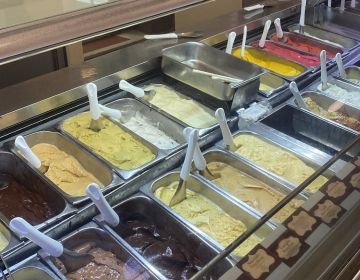 As we waltzed through the doors of Fassi at 10am, we weren't sure what to expect. The famous gelateria, located in the heart of Rome, has a reputation for being... keep reading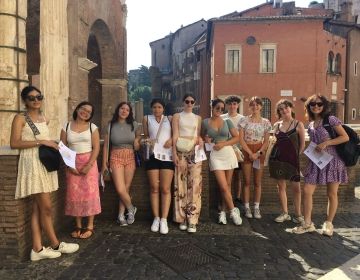 Italy, the land of rich history, breathtaking landscapes, and mouthwatering cuisine, has long captivated the hearts of travelers. But what if I told you that our students are doing more... keep reading
Activities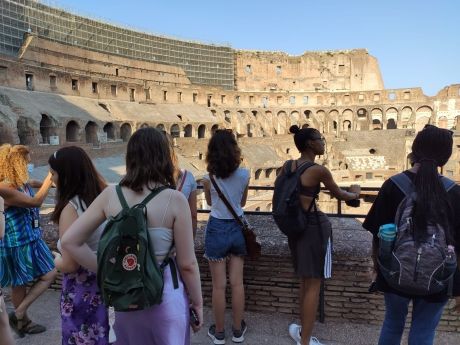 Just imagine all the fun you'll have!
Channel your inner movie star and uncover the glamorous world of Italian cinema at the renowned Cinecittà Studios, where over 3,000 Italian films have been made. 
Picnic at the 17th-century Villa Pamphili, Rome's largest city park, and play soccer on its open and vast green areas. Then, visit the Museo di Napoleone.    
Practice the steps of traditional tarantella, a fun, folkloric Italian dance that originated in the Middle Ages.   
Take to the hills of Tivoli, a retreat for Romans since 1215 B.C., and visit two Renaissance Villas designed by famous artists.  
Satisfy your sweet tooth at Fassi, Rome's oldest and most famous gelateria, founded in 1880. Discover how gelato is made and indulge in your favorite flavor.  
In Pompeii, explore the archeological site, imagining what the city was like before it was engulfed by hot lava from the eruption of Mt. Vesuvius in 79 A.D.  
Please note activities are based on past programs and subject to change at CIEE's discretion to adapt to local circumstances and participant feedback. Our goal when arranging activities is always to enhance your experience.  
"I really enjoyed my time in Italy. I feel that meeting new people and spending every second of your time with the new friends you make is a really great!" 

Nathen O., CIEE Global Navigator Alum

"I loved to be with my host family, especially during dinner because I got to talk Italian with them and learn about their lives and culture. I loved my host family's restaurant too. Their food was the greatest!" 

Fatima J., CIEE Global Navigator Alum

"My most memorable experiences were being able to hang out with local teenagers and get to know what their life is like in Rome." 

Katherine S., CIEE Global Navigator Alum

"I didn't just learn a language. I learned more about myself and what I can accomplish as an individual! Even more, I had the opportunity to experience Italian culture for a whole month." 

Shannon K., CIEE Global Navigator Alum
Dates & Fees
ELIGIBILITY 
Program open to all current high school students—Freshmen, Sophomores, Juniors, and Seniors —of all Italian language proficiency levels. 
For scholarship eligibility requirements, please check our scholarship page. 
For more information, refer to the detailed Program Essential Eligibility Criteria.
APPLICATION FEE 
$25 
OPTIONAL COLLEGE CREDIT FEE 
$150 
Learn more about how to get college credit for your future college degree.
Program scholarships and tuition include iNext Travel Insurance, but do not cover the cost of flights. Find additional details about what's included with your tuition.
More questions? Find answers, get application support, sign up for virtual presentations or contact us!
Program

Application Due

Start Date

End Date

Costs

Program

Summer Session I 2024

4 weeks
Start Date

End Date

Costs

$7,250

Program

Summer Session II 2024

4 weeks
Start Date

End Date

Costs

$7,250
3 Meals/Day
(Dietary Needs Accommodated)
All Ground Transportation
(Once In-country)
Optional Flight Chaperone
(Flight Cost Not Included)
Pre-departure Advice and Orientation
Access to Local Phone and WIFI
All Cultural Activities and Excursions
Comprehensive Medical and Travel Protection
24/7 Emergency On-site Support
Our Staff
Giulia Bottero is the Academic Director and an Italian language instructor for CIEE Rome.
HSSA and Faculty-Led Program Coordinator
Valeria Galante is the coordinator for all High School programs in Rome. She takes care of all reservations and logistics, making sure the programs run smoothly.
Ready to change your life?