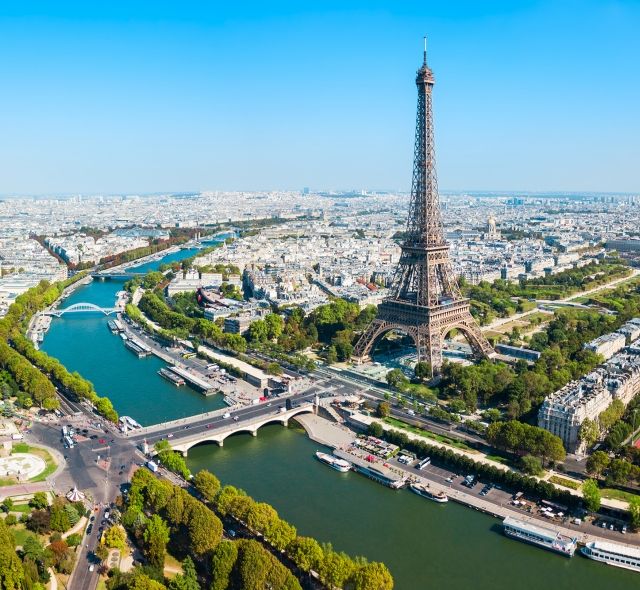 French Language & Culture
Program Overview
Language Growth and Cultural Competence
Come home with a higher level of French and a greater understanding of French culture. Use your STAMP 4S language proficiency pre- and posttest scores to demonstrate your language growth and help you earn a Seal of Biliteracy.
College Credits
Choose to earn 4 college credits toward your future college degree. Take advantage of the credits to stand out on your college applications or to satisfy college language requirements.
Lifelong Skills and Friendships
Return with greater self-confidence, independence, and adaptability. Enjoy a broader worldview and diverse friendships from across the U.S. 
60
Hours Of Instruction With A Native French Teacher
1
Life-changing Experience
The Destination
The Destination
Welcome to Paris—la ville lumiere (city of light), a global center of art, fashion, and culture.
As a symbol of the Age of Enlightenment, Paris holds a special place in Europe. Set in northern central France and founded by Celts in the 3rd Century B.C., la ville lumiere grew from humble origins to be at a crossroads of trade and be a worldwide cultural mecca. Thirty million visitors a year revel in its diversity and delicious cuisine, enjoying melt-in-your-mouth croissants and patisserie fit for Marie Antoinette herself! 
The Musee d'Orsay houses the world's largest collection of impressionist artworks. Come face to face with Venus de Milo and the Mona Lisa in the Louvre, the world's largest and most visited museum. Pay homage at the first couture fashion house on Rue de la Paix or flex your science muscles at the National Museum of Natural History and the Paris Observatory. For the eclectic, there's the Museum of Magic and the Paris Catacombs, with its maze of underground galleries. At the core of French cultural heritage and offering something for every interest, Paris stands as a captivating city awaiting discovery.
Cultural Awareness
CIEE wants all our students to feel welcomed, supported, and empowered to succeed while studying abroad. Local CIEE staff have provided details about conditions and cultural attitudes that students with specific identities might encounter in Paris.
Daily Life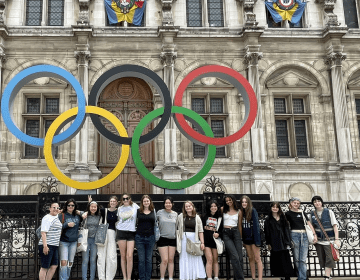 This week, students acted as walking tour guides in the Marais, one of the most interesting and popular neighborhoods in Paris. Located in the third and fourth arrondissements, the Marais... keep reading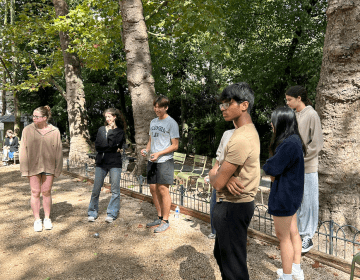 Pétanque (often referred to as Boules ), is a popular French game that dates back to the early 1900's. It is a relatively simple concept that involves throwing small metal... keep reading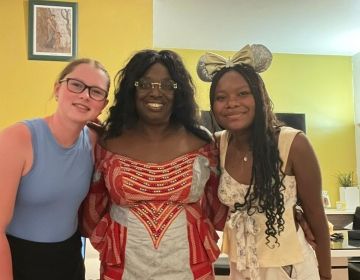 Students who are here in Paris for the 4-week immersion Language and Culture program, were welcomed into the homes of many local host families. The host families range from couples... keep reading
Activities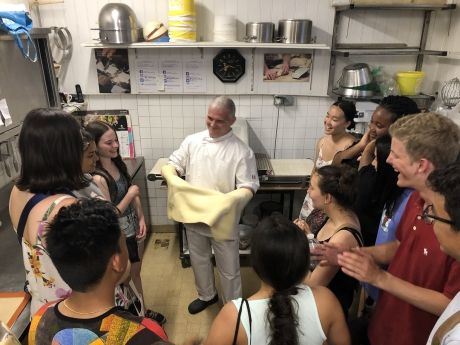 Just imagine all the fun you'll have!
Flex your artistic credentials and create your own graffiti murals with street artist Hugo in the Bercy Skate Park. 
Impress your friends with delicious chocolate eclairs as you master the art of making pâte à choux from French pastry chefs. 
Test your nez at the Fragonard Perfume Museum as you learn how perfume is made and try to identify different scents. 
Challenge your fellow Global Navigators to a game of pétanque in the sun-drenched Parisian parks. 
Explore the hidden secrets of Paris, walking through the underground labyrinth of bone-filled catacombs. 
Channel your inner French aristocrat by strolling through the grounds of the Parc de Sceaux. Picnic in the gardens before hitting the summer soldes (sales) in the outdoor market.  
Please note activities are based on past programs and subject to change at CIEE's discretion to adapt to local circumstances and participant feedback. Our goal when arranging activities is always to enhance your experience. 
"I had an amazing experience studying abroad in Paris! My French teacher was exceptionally nice and entertaining. I had an outstanding host family who helped me to feel at home. My French improved greatly, and I made a lot of awesome friends!" 

Kalia H., Global Navigator Alum

"It's truly the experience of a lifetime. I have made countless memories that I will never forget. CIEE has allowed me to explore Paris in the most authentic way." 

Emma G., Global Navigator Alum

"I got to learn a lot of vocabulary and learn how the locals speak! I'll always remember the trip to Parc de Sceaux and the cruise on the Seine!" 

Cecilia U., Global Navigator Alum

"Navigating Paris with my friends was amazing! It brought a sense of independence. My favorite parts were finding more untouched parts of the city and getting better at navigating the metro." 

Julia S., Global Navigator Alum
Dates & Fees
Eligibility
Program open to all current high school students—Freshmen, Sophomores, Juniors, and Seniors—who have completed at least one year of high school French. Students who have completed at least two years of high school French may qualify for the Honors French Language & Culture program in Rennes, France.
For scholarship eligibility requirements, please check our scholarship page.
For more information, refer to the detailed Program Essential Eligibility Criteria.
Application Fee
$25
Optional College Credit Fee
$150
Learn more about how to get college credit for your future college degree.
Program scholarships and tuition include iNext Travel Insurance, but do not cover the cost of flights. Find additional details about what's included with your tuition.
SUMMER OLYMPICS 2024 
Paris will host the Olympics from July 24 to August 11. CIEE Paris program dates are different from previous years and other summer programs to account for Olympics' start time and ensure a better overall experience for participants.
More questions? Find answers, get application support, sign up for virtual presentations or contact us!
Program

Application Due

Start Date

End Date

Costs

Program

Summer Session I 2024

4 weeks
Start Date

End Date

Costs

$7,450

Program

Summer Session II 2024

4 weeks
Start Date

End Date

Costs

$7,450
3 Meals/Day
(Dietary Needs Accommodated)
All Ground Transportation
(Once In-country)
Optional Flight Chaperone
(Flight Cost Not Included)
Pre-departure Advice and Orientation
Access to Local Phone and WIFI
All Cultural Activities and Excursions
Comprehensive Medical and Travel Protection
24/7 Emergency On-site Support
Our Staff
Franck oversees the coordination, quality, and planning of all courses and educational programing in Paris. He is responsible for faculty staffing, finalization of syllabi, the course evaluation process, and program...
Ready to change your life?