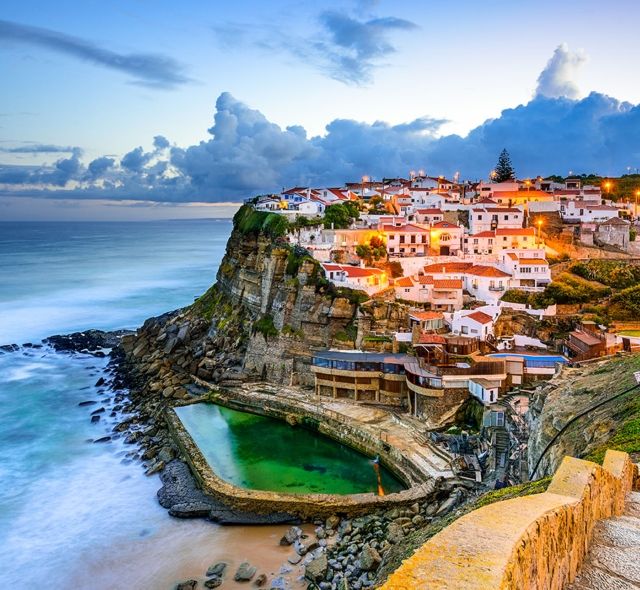 Aquatic Ecosystems & Sustainability
Program Overview
Real-World Experience
Conduct field and lab work, collect data on plant and animal species, and assess threats to marine ecosystems. Conduct research for a sustainability challenge Project and come home ready to contribute to other environmental initiatives.
Credentials for Your Future
Topics for your college essays, experience to inform your future career, a portfolio of work to showcase your sustainability research and reflections, and service-learning hours documenting your engagement with the community.
Life Skills and New Friendships
Return with greater self-confidence, independence, and improved communication skills. Enjoy a broader worldview and friends of different backgrounds from across the U.S.
45
Hours of Expert Instruction
12
Hours of Service-Learning in the Community
1
Life-Changing Experience
The Destination
The Destination
Welcome to Portugal, one of the oldest countries in Europe and a paradise for sea lovers. 
With half of its territory bordering the Atlantic Ocean, Portugal is a prime location to study aquatic ecosystems. It is home to the largest fully protected marine reserve in Europe and is packed with wildlife-filled wetlands, sandy beaches, and dramatic riverways. 
Portugal is also full of rich history. When you are not enjoying its natural landscapes and biodiversity, you can lose yourself in incredible architecture, medieval castles, and numerous UNESCO World Heritage Sites. Lisbon, the capital of Portugal and your home for three weeks, is more ancient than Rome. Here, you'll love riding the old cable cars up the steep hills, admiring the buildings covered in tiles of countless colors and patterns, and basking in the spectacular views of the vibrant city.  
Magical Portugal—with its sunny cities, sea breezes, beautiful beaches, friendly people, and delicious food—awaits you! 
Cultural Awareness
CIEE wants all our students to feel welcomed, supported, and empowered to succeed while studying abroad. Local CIEE staff have provided details about conditions and cultural attitudes that students with specific identities might encounter in Lisbon.
Settle into Lisbon. Investigate species and attributes of river, estuary, coastal and offshore marine ecosystems, human impacts, and habitat threats. Travel to the Tagus River to observe a riverine ecosystem firsthand and conduct experiments. Choose a local environmental challenge for your Project.   
Examine the rocky intertidal zone at Avencas beach, observe the aquatic bird populations at Lagoa Pequena, and participate in dune restoration with a local NGO. Research and assess the interdependence of local economies, human activities, and conservation of marine ecosystems. Apply insights to your Project.
Go snorkeling and observe the marine biodiversity in Arrábida Natural Park. Investigate ocean sounds and animal communication. Take a boat ride to survey and report dolphin sightings. Consider all you've learned as you tour Lisbon's Oceanarium and see how its foundation carries out conservation work. Present your Project. 
Daily Life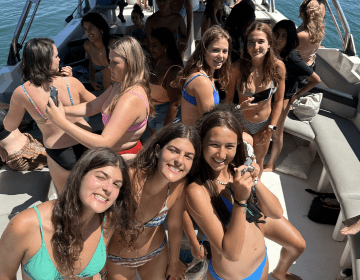 Our last week in Portugal is in full swing!This morning, we journeyed to Setúbal, a port city on the south bank of the River Sado known for being a major... keep reading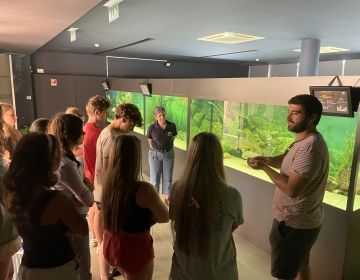 Boa Tarde, After a few days of orientation, rest, and tracking down lost luggage, the cohort of students split into two groups to begin the program in earnest. Today, Group... keep reading
Bon dia! Olá ! My name is Jacqui and I am a Program Leader for Aquatic Ecosystems and Sustainibility in Lisboa . Session II arrived Saturday and we hit the... keep reading
Activities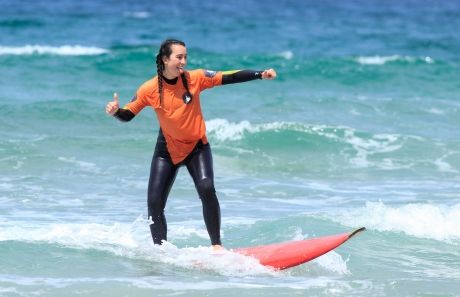 Just Imagine All the Fun You'll Have!
Grab your snorkeling gear and dive into the turquoise waters of Arrábida Natural Park. Encounter schools of fish, octopuses, sea cucumbers, and maybe even dolphins!   
Travel to Tomar and tour the 12th century castle and convent constructed by the Knights Templar. Step into the Middle Ages and feel the power of the Knights Templar, protecting the Holy Grail. 
Pop up and catch your first wave in the surf capital of Europe—don't worry, a pro surf coach will teach you. 
Kayak down the magnificent Tagus River, teeming with fauna, to a breathtaking medieval castle atop an islet.  
Learn from a Portuguese chef how to make caldeirada de peixe (fish stew) and bring the recipe home. 
Please note activities are based on past programs and subject to change at CIEE's discretion to adapt to local circumstances and participant feedback. Our goal when arranging activities is always to enhance your experience. 
"I loved trying out new things like snorkeling and surfing, talking with the locals and making new friends."

Meilee C., Global Navigator Alum

"In Portuguese culture, dinner is delivered very slowly. This is because they want you to have conversations. I loved this because I was able to talk among the other participants, who are now my very close friends."

Sabrina C., Global Navigator Alum

"Seeing wild dolphins for the first time and snorkeling was the most incredible experience."

Ahmad C., Global Navigator Alum

"My most memorable experiences were the hikes and conversations on the beach with my instructors. I don't think I've ever been with so many passionate and inspiring women at one time."

Madeline C., Global Navigator Alum
Dates & Fees
Eligibility
Program open to all current high school students: Freshmen, Sophomores, Juniors, and Seniors.  
For scholarship eligibility requirements, please check our  Scholarship page. 
This program involves engaging in moderate- to high-intensity physical activities, such as hiking, boating and snorkeling. Ability to swim is not required but strongly encouraged to enjoy the program and location at its fullest. 
For more information, refer to the detailed Program Essential Eligibility Criteria.
Application Fee
$25
Program scholarships and tuition include iNext Travel Insurance, but do not cover the cost of flights. Find additional details about what's included with your tuition.
More questions? Find answers, get application support, sign up for virtual presentations or contact us.
Program

Application Due

Start Date

End Date

Costs

Program

Summer Session I 2024

3 weeks
Start Date

End Date

Costs

$5,750

Program

Summer Session II 2024

3 weeks
Start Date

End Date

Costs

$5,750
3 Meals/Day
(Dietary Needs Accommodated)
All Ground Transportation
(Once In-country)
Optional Flight Chaperone
(Flight Cost Not Included)
Pre-departure Advice and Orientation
Access to Local Phone and WIFI
All Cultural Activities and Excursions
Comprehensive Medical and Travel Protection
24/7 Emergency On-site Support
Our Staff
Luísa has been CIEE Lisbon's director since 2015. She joined CIEE in 2009. She holds a B.A. in History and Art History and an M.A. in Art History and Preservation...
Ready to change your life?