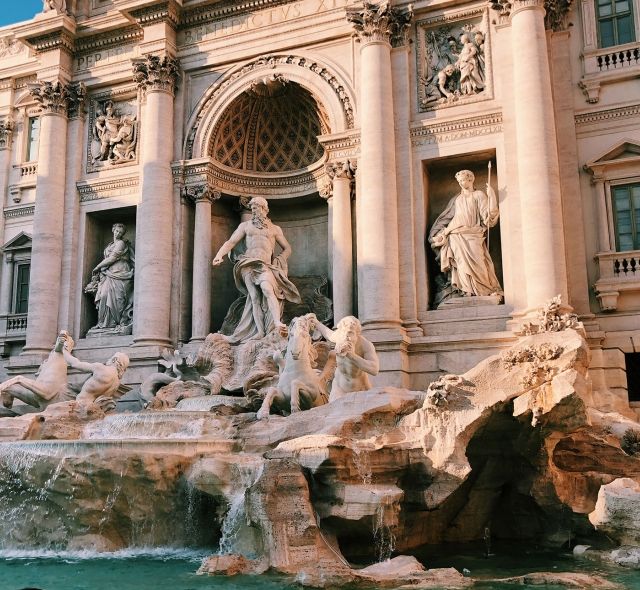 Connecting Italian Art, History & Culture
Program Overview
Real-World Experience
Create a diverse array of visual art and discover Rome through the lens of an art historian! Gain skills in both ancient and modern techniques. Come home with a portfolio showcasing your creativity.
Credentials for Your Future
Topics for your college essays, experience to inform your future career, a portfolio to document your increasing artistic literacy and to showcase your work in varied media and techniques.
Life Skills and New Friendships
Return with greater self-confidence, independence, and adaptability. Enjoy a broader worldview and diverse friendships from across the U.S. 
45
Hours Of Expert Instruction
3
Weeks Pursuing Your Passion
1
Life-changing Experience
The Destination
The Destination
Welcome to Rome, the Eternal City, a living history of Western civilization. 
Nestled in the heart of Italy along the Tiber River, Rome stands as a celebration of human creativity. Its history spans 3,000 years, making it one of the oldest and best-preserved cities in the world. But there's more to Rome than its famous landmarks like the Colosseum, Pantheon, Trevi Fountain, and Vatican. The true beauty is in how these architectural wonders blend seamlessly with modern life. 
Bustling streets are lined with quaint cafés and trendy boutiques. Traditional family-owned restaurants, trattorias, serve delicious pasta dishes, and gelaterias have unique, mouthwatering flavors. When in need of a break from the urban hustle, you can cool off at vast parks like Villa Borghese, surrounded by both breathtaking art and natural beauty, or Rome's world-class museums, which house astonishing masterpieces—from ancient times to the Renaissance, Baroque, and contemporary periods! 
Every corner of Rome offers a diverse array of experiences bound to spark exciting ideas for a young artist like you. 
Cultural Awareness
CIEE wants all our students to feel welcomed, supported, and empowered to succeed while studying abroad. Local CIEE staff have provided details about conditions and cultural attitudes that students with specific identities might encounter in Rome.
Daily Life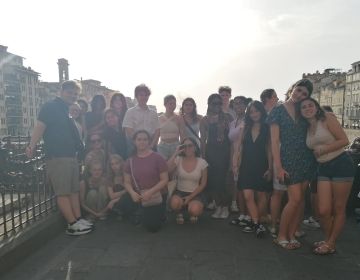 Our high school summer abroad global discovery students have arrived in Firenze! Students have traveled with a high speed train that took us to the city in less than 2... keep reading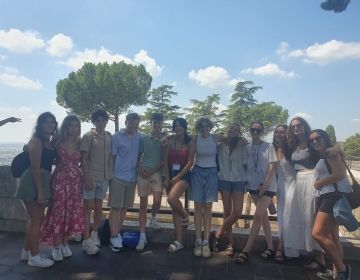 We took a private bus not far from Rome. Students, equipped with sunscreen and hats enjoyed a visit to the Villa D'Este and gardens. Now an Italian state museum and... keep reading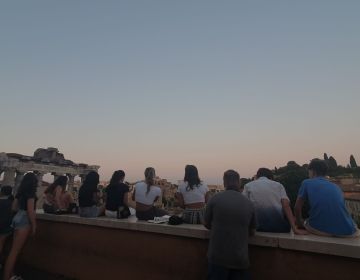 Ciao! Our high school summer abroad global discovery students have arrived! Students have traveled with and without their families from various parts of the U.S. and Europe. We're the Connecting... keep reading
Activities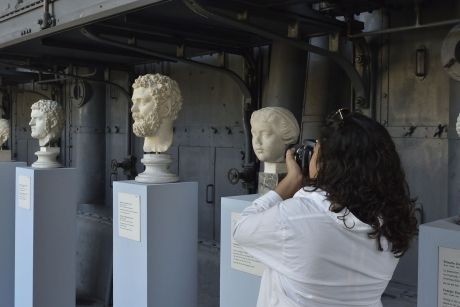 Just imagine all the fun you'll have!
Show off your artistry painting with water-based pigments on damp plaster in a hands-on Fresco Workshop, a true test of an artist's skill! 
Explore the Colosseum, the largest amphitheater ever built, displaying the power and might of the Roman Empire. 
Choose your favorite artwork in Florence, home to Michelangelo's David and works from other Italian masters like Donatello, Bramante, and Boticelli. Learn about the rivalry between Rome and Florence during the Renaissance. 
Step inside the Sistine Chapel and admire one of the most fascinating works of art ever, both for its size and the quality of its frescoes and paintings. 
Spend the day surrounded by movie magic and heart-pounding rides at Italy's largest theme park, Cinecittà World, dedicated exclusively to the world of films. 
 Please note activities are based on past programs and subject to change at CIEE's discretion to adapt to local circumstances and participant feedback. Our goal when arranging activities is always to enhance your experience. 
"As we learned about the techniques of art in class and the history of Rome, we were able to experience both firsthand. There are not enough words to describe how amazing and transforming this experience was." 

Annie L., CIEE Global Navigator Alum

"I had an amazing experience and couldn't ask for anything better. In Rome, I met other students with similar interests and the same mindset despite coming from very different backgrounds! And the skills and lessons I've learned here are really things you can't find anywhere else."  

Paige W., CIEE Global Navigator Alum

"The entire experience was very memorable, though if I had to choose my favorite, I'd say our trip to Florence. I also loved getting to know others on the program and the bonds we formed." 

Angelia F., CIEE Global Navigator Alum

"I had the most amazing summer experience of my life, and I would definitely recommend because I want other people to experience what I experienced in Rome!" 

Leule L., CIEE Global Navigator Alum
Dates & Fees
Program

Application Due

Start Date

End Date

Costs

Program

Summer Session I 2024

3 weeks
Start Date

End Date

Costs

$5,950

Program

Summer Session II 2024

3 weeks
Start Date

End Date

Costs

$5,950
3 Meals/Day
(Dietary Needs Accommodated)
All Ground Transportation
(Once In-country)
Optional Flight Chaperone
(Flight Cost Not Included)
Pre-departure Advice and Orientation
Access to Local Phone and WIFI
All Cultural Activities and Excursions
Comprehensive Medical and Travel Protection
24/7 Emergency On-site Support
Our Staff
Giulia Bottero is the Academic Director and an Italian language instructor for CIEE Rome.
HSSA and Faculty-Led Program Coordinator
Valeria Galante is the coordinator for all High School programs in Rome. She takes care of all reservations and logistics, making sure the programs run smoothly.
Ready to change your life?