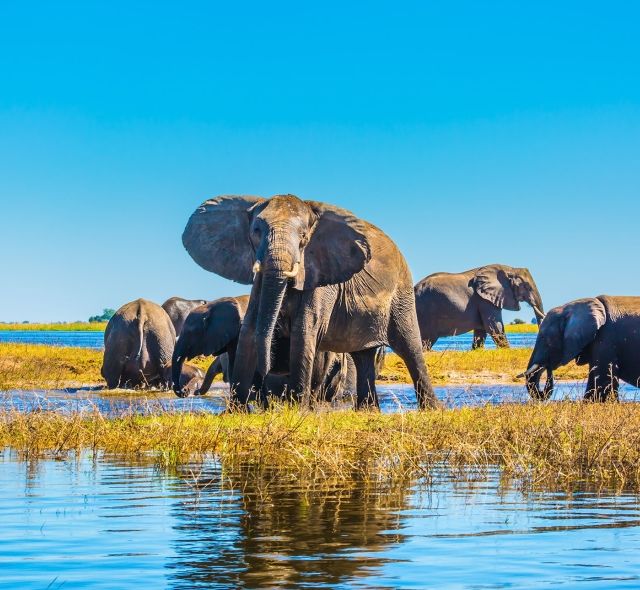 Botswanan Wildlife Conservation
Program Overview
Real-World Experience
Survey animal behavior, plant species, physical landscapes, human attitudes, and conservation efforts. Come home ready to get involved in wildlife and ecosystem protection in your community.
Credentials for Your Future
Topics for your college essays, experience to inform your future career, a portfolio of work to showcase your accomplishments, and service learning hours documenting your engagement with the community.
Life Skills and New Friendships
Return with greater self-confidence, independence, and improved communication skills. Enjoy a broader world view and friends of different backgrounds from across the U.S.
45
Hours of Expert Instruction
12
Hours of Service Learning in the Community
1
Life-Changing Experience
The Destination
The Destination
Welcome to Botswana, the world leader in wilderness conservation. 
Botswana is one of Africa's most beautiful and biodiverse countries. Located in southern Africa, it is dominated by the Kalahari Desert, creating an arid landscape in much of the country. Thirty eight percent of its lands are reserved for conservation of its fragile ecosystems and teeming wildlife, including the Mokolodi Nature Reserve where you will live during your stay.  
In the north of the country, the wetlands of the Okavango Delta, one of your excursions, is an unparalleled wilderness experience and UNESCO world heritage site. 
Cultural Awareness
CIEE wants all our students to feel welcomed, supported, and empowered to succeed while studying abroad. Local CIEE staff have provided details about conditions and cultural attitudes that students with specific identities might encounter in Gaborone.
Daily Life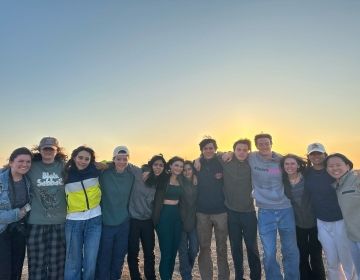 To our Session Two Students: Hi Friends, Alrighty, y'all already know we think that all of you are absolutely awesome…but strap in because we're gonna say it one more time... keep reading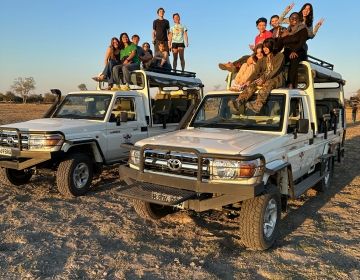 Lions, cheetahs, elephants, oh my! That's how it goes right?...well that fits perfectly with our time in the Okavango Delta! Monday we went on a game drive and were wowed... keep reading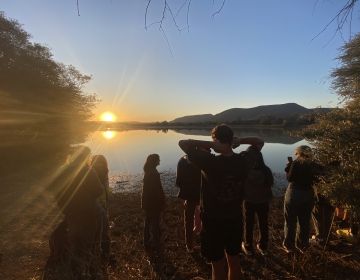 After a very busy few days, the Global Navigators had time to wind down on Sunday. However, they stopped by the kitchen in the morning to help the Mokolodi staff... keep reading
Activities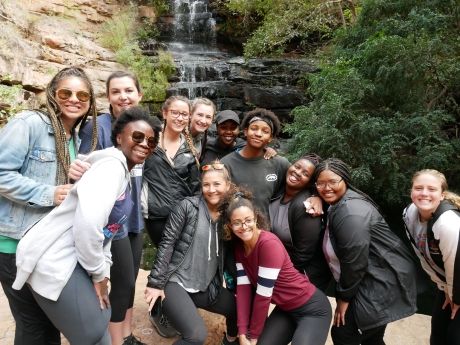 Just Imagine All the Fun You'll Have!
Cruise the many channels of the Okavango Delta and listen for the sounds of hippos in their pools.  
Share the rhythms of Botswana during dance and drum lessons. Marimba, too.   
Help out at a sanctuary for rescued animals—maybe you'll get to feed an orphaned baby elephant or care for a wounded vulture.   
Try your hand at playing the traditional Botswanan board games mhele and morabaraba.  
Experience Setswana traditional life at Bahurutse Cultural Village and participate in a kgotla, a public meeting. 
Please note activities are based on past programs and subject to change at CIEE's discretion to adapt to local circumstances and participant feedback. Our goal when arranging activities is always to enhance your experience. 
"I met some of the best people I would've never had the chance to meet otherwise and experienced things that most people only see in National Geographic or on Animal Planet."

Chloe M., Global Navigator Alum

"I really enjoyed seeing all of the animals on my trip. There was one day where we went on a game drive at Khama Rhino Sanctuary and saw many giraffes, zebras, rhinos, impalas as well as other animals. It was very exciting and wonderful to see these beautiful creatures in the wild."

Cameron M., Global Navigator Alum

"I can't believe I got to experience the trip some people save for and dream of their whole lifetime at 16 and with an amazing price/scholarship. I got to see and do so much and make some amazing friends both from Botswana and all across the US. Honestly probably the highlight of my life so far!"

Gemma S., Global Navigator Alum

"The most memorable experience for me was going to the orphanage. It was a very heartwarming experience. I definitely think this was the high point for many students on the trip."

Bella C., Global Navigator Alum
Dates & Fees
Eligibility​
Program open to all current high school students: Freshmen, Sophomores, Juniors, and Seniors.  
For scholarship eligibility requirements, please check our Scholarship page.
This program involves engaging in moderate to high intensity physical activities such as nature walks, and extended observational time outdoors. 
For more information, refer to the detailed Program Essential Eligibility Criteria.
Application Fee
$25
Program scholarships and tuition include iNext Travel Insurance, but do not cover the cost of flights. Find additional details about what's included with your tuition.  
More questions? Find answers, get application support, sign up for virtual presentations or contact us.
Program

Application Due

Start Date

End Date

Costs

Program

Summer Session I 2024

3 weeks
Start Date

End Date

Costs

$5,750

Program

Summer Session II 2024

3 weeks
Start Date

End Date

Costs

$5,750
3 Meals/Day
(Dietary Needs Accommodated)
All Ground Transportation
(Once In-country)
Optional Flight Chaperone
(Flight Cost Not Included)
Pre-departure Advice and Orientation
Access to Local Phone and WIFI
All Cultural Activities and Excursions
Comprehensive Medical and Travel Protection
24/7 Emergency On-site Support
Our Staff
Ready to change your life?