Realizing Justice For All at the World Justice Forum
By Paul Runcan,  CIEE Exchange Ambassador Grants recipient 
Sometime in early April, in the span of a few days, I received a couple of emails that turned my world upside down.  It started out with an email from CIEE, asking me if I was interested in taking part in a project. Of course, I was more than happy to jump in, and found out that it is about a big conference held every 2 years by the World Justice Project, and that this year theme would be "Realizing Justice for All". A tiny bit of background info, I'm a law graduate, so naturally, I was really excited about the prospect of attending. 
A little while later followed another email, asking if I would be interested in volunteering as rapporteur. Again, I happily agreed. I was then contacted by Joel, a Director at the World Justice Project, and collaborator of CIEE, who spoke with me about the World Justice Project, about the Forum, its goals, and of course, about the work of the rapporteurs. I do not usually have anxiety, but I will admit that the prospect of documenting high-level legal discussions scared me. Joel however talked me through what my tasks would be and gave me the opportunity of choosing the working sessions I would be attending. 
I applied for, and received, a CIEE Exchange Ambassador Grant so that I could attend the Forum.  The awesome people at CIEE took great care and secured my flights and found me a cozy little hotel near Rotterdam, which allowed me to take in the breathtaking sights the Netherlands has to offer. The forum took place at the World Forum in The Hague, so each morning and afternoon I took a train to and from The Hague, which brought me through the very beautiful and green countryside.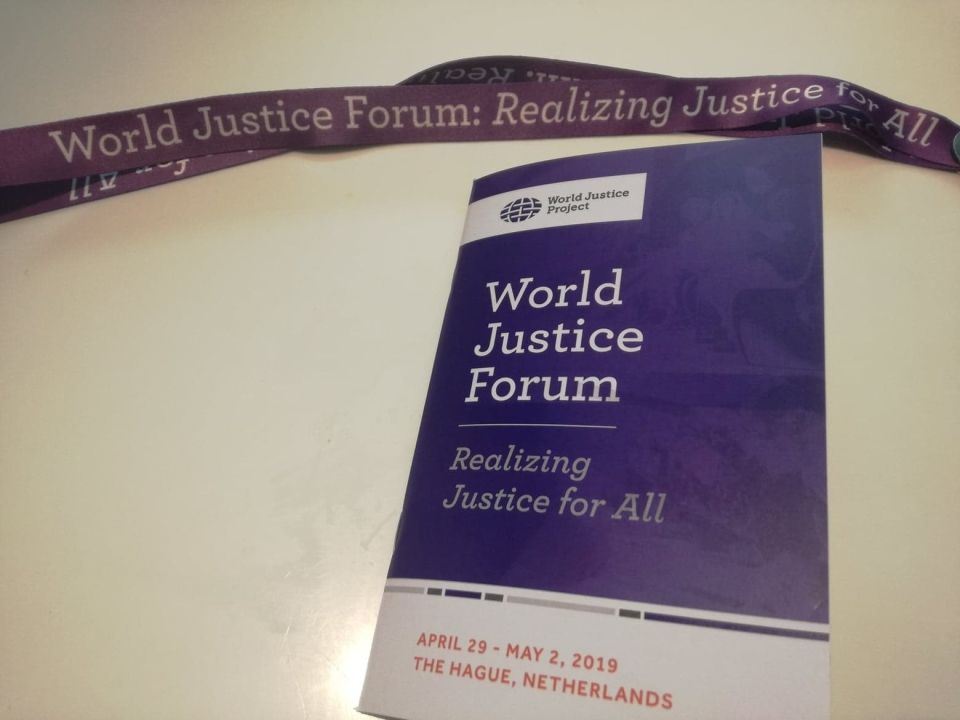 Then came the Forum itself. I arrived there early and naturally got lost in The Hague. I did not really mind, since it gave me the chance to do a little bit of exploring on the way. I passed by the Peace Palace, which houses the UN's International Court of Justice, the city's beautiful historical center, as well as a number of peaceful parks, the size of actual forests. Surprisingly, I got there eventually and was greeted by Joel, as well as a few of the other staff members. I also met other volunteers, and after we introduced ourselves, we were briefed on our tasks and schedules, on what we were supposed to do, and it was there that I finally found out which working sessions I would get the chance to attend. All of them sounded interesting, but I think I got lucky, because I ended up going to the ones I would have chosen anyway.
On the first day, there were not any working sessions, so I was free to attend the plenary and listen to a number of inspiring speeches about the importance of access to justice, about the UN's Sustainable Development Goals, and SDG 16 particular, and also hear about heartbreaking stories of abuse and corruption in disadvantaged communities. Afterwards, I again had a chance to walk through the beautiful streets of The Hague, and just take in the sights. The next day, work started in force. My first working session was on "Agenda 2030" and how states are working towards implementing SDG 16 and access to justice. I took notes on accounts from Sierra Leone, about its Legal Aid Boards and their work with the state in order to provide accessible legal aid for inaccessible communities who do not have enough legal defenders. 
The second session about the role of businesses in advancing access to justice and the rule of law. We spoke about tech companies which work on creating IT solutions to streamline court procedures, about companies which have spearheaded anti-bribery acts, about how companies in the private sector have pushed governments to create new policy and have signed contracts with other companies in order to create coalitions to promote SDG 16. We also spoke about case studies in which companies, which I won't name (you know who you are), have constantly refused to invest in fighting against crimes done or published through their platforms, even when provided with evidence. It was really eye opening and addressed issues which even if I had known in the back of my mind were happening, I had never had the chance to acknowledge them. 
Then came a session on leveling the playing field and regulating legal services in the 21st century. It was a really interesting conversation on the concepts of regulation vs. de-regulation, about who/what needs to be regulated, and I think the fundamental questions of "why" regulate and "how". 
The next one was on opportunities and challenges in documentary film making, and its role in furthering the rule of law and promoting access to justice. They showed two parts of two documentaries. I won't talk much about this one, since the scenes shown in one of them still make my skin crawl, but I will mention that one of them documented some of the most inhumane treatments suffered by inmates in prison. My heart goes out to those people, and all the others who have suffered abuse at the hands of corrupt systems. No matter what they may or may not have done, nobody deserves to be treated with abuse. Thankfully, the other documentary was a little more uplifting. It was about how the police and groups of vigilantes from Burkina Faso, with the help of the US Institute of Peace, have started putting aside their differences and are learning to collaborate in order to build a better and safer tomorrow.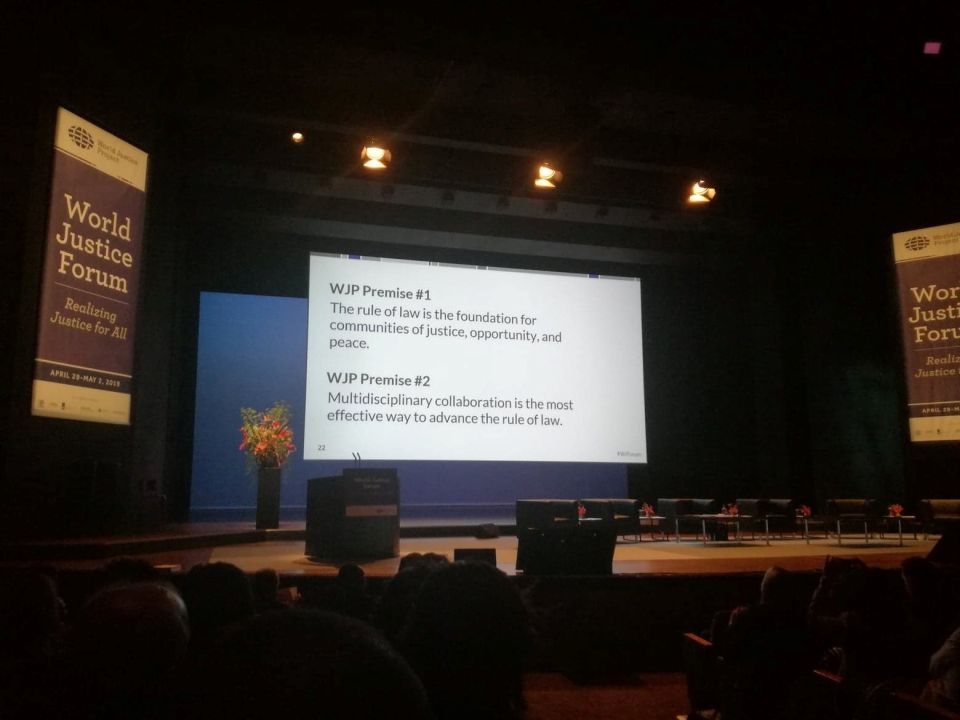 Next came the one that was probably my favorite, since it spoke about politics, and also took place in a beautiful setting. We were taken off-site, to the Dutch Parliament, and the session took place in one of the Senate committee rooms. We were hosted by two Dutch MP's, and spoke about a very interesting case on a special court based in Amsterdam, which puts on trial international commercial issues, but has the proceedings take place in English, instead of Dutch. We spoke about the digitalization of the court systems, about the independence of the judiciary, and about how MP's can help tackle these issues. An interesting bit of trivia, which stuck with me, was that the Dutch Senate is not a full-time job. They do not draw a full-time salary, but are instead paid a one-day salary, and have no staff. Even the secretaries work for the Parliament, not for their respective parties.
On the last day, I attended a session on the Open Government Partnership and how to use it to advance access to justice. We spoke on case studies from Moldova, Indonesia, Macedonia, Argentina, and Sierra Leone, and about OGP's influence in these countries.   I will not go into any more detail on the conclusions of the discussions, as I understand that the World Justice Project will release a paper on the Forum's conclusions. 
I feel that becuase of this opportunity I have grown both professionally and personally, far more than I would have in any other instance. I have CIEE to thank for that primarily, but also the World Justice Project, as well as the numerous people who have made these inspiring experiences possible. I am eternally grateful. Reinvigorated by observing global and community leaders sharing insights on the rule of law, I gained a great deal of personal and professional growth and will stive to continue to make a difference in my community.
To learn more about the CIEE Exchange Ambassador Grants, please visit our website.
By Paul Runcan, CIEE Work & Travel USA and Civic Leadership Summit alum, CIEE Exchange Ambassador Grant s recipient Sometime in early April, I received an email that turned my... keep reading