Let's Start the School Year with Empathy!
Written by Alexandra McIntosh.
Andrea Villasmil is a talented CIEE Work & Travel USA alumni from Ecuador, whose new children's book "Volamos Juntos" has taken the world by storm. We celebrate Andrea's remarkable accomplishment, and most importantly, the meaningful message behind her book, which centers on raising awareness on neurodiversity and inclusion. This story not only captivates young readers, but also delivers the important message of empathy and acceptance. 
Andrea's passion and determination for creating "Volamos Juntos" goes beyond her love for storytelling. It stems from a personal connection she developed while working closely with a young boy who is on the autism spectrum. His unique perspective and joyful spirit left a powerful impact on Andrea. As a believer in the power of education, Andrea set out on a mission to raise awareness and create a positive change in school environments to embrace neurodiversity.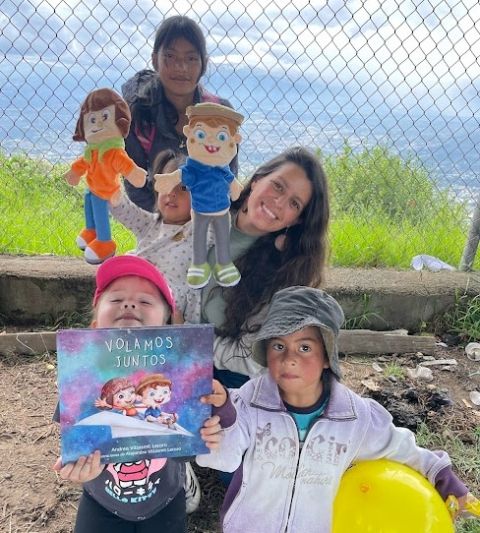 To help bring her vision to life, Andrea was awarded CIEE's Exchange Ambassador grant in 2019. This grant was established to support CIEE alumni who demonstrate outstanding dedication to making a positive impact in their communities and beyond. Andreas journey with CIEE started in 2015, when she participated in CIEE's Work & Travel USA program at Valleyfair a Cedar Fair Park. We are proud to have played a part in empowering Andrea to create "Volamos Juntos" and spread her message of neurodiversity and inclusion. This is a wonderful example of how the Work & Travel USA program opens doors for students and creates a network of opportunities across the world.  
Following the tremendous success of the original edition, we are thrilled to announce that the English version of "Volamos Juntos" (Fly Together) will be taking flight and spreading its powerful message to an even broader audience. The English version is available now on Amazon! "Fly Together" has reached #1 in new releases in Parenting books for Children with Disabilities! 
https://www.amazon.com/dp/B0CGP8F5QK  
As a global community, let's join hands to create supportive environments where everyone feels valued and respected. By supporting Andrea's initiative, we can contribute to spreading the message of empathy, acceptance, and unity.