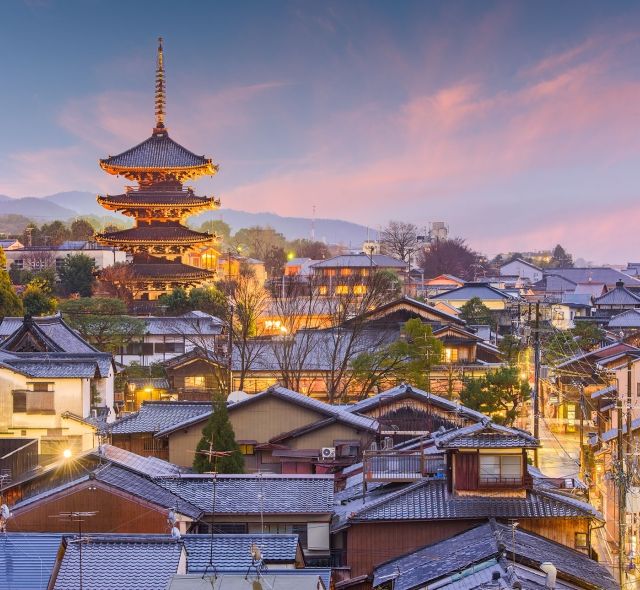 Japanese Language & Culture
Program Overview
Language Growth and Cultural Competence
Come home with a higher level of Japanese and a greater understanding of Japanese culture. Use your STAMP 4S language proficiency pre- and post-test scores to demonstrate your language growth and help you earn a Seal of Biliteracy.  
College Credit
Choose to earn 4 college credits toward your future college degree. Take advantage of the credits to stand out on your college applications or to satisfy college language requirements.
Lifelong Skills and Friendships
Return with greater self-confidence, independence, and adaptability. Enjoy a broader worldview and diverse friendships from across the U.S. 
60
hours of instruction with a native Japanese teacher
1
Life-changing Experience
The Destination
The Destination
Welcome to Kyoto, home of sublime gardens, temples, old-world culture, and manga. 
Kyoto stands at the heart of traditional Japanese culture. As the former imperial capital for over a thousand years, its name literally translates to "capital city." Instead of towering skyscrapers and neon lights, Kyoto dazzles with 1,600 temples, 400 shrines, lantern-lit streets, and machiyas (traditional wooden houses). This living, open-air museum boasts the largest collection of world heritage sites globally. Kyoto is a destination every Japanese person aspires to visit at least once in their lifetime. 
Here you'll find many fascinating things to indulge in. Karesansui (zen rock gardens) and serene bamboo forests provide a lovely contrast to modern shopping districts, video game arcades, and manga stores. Iconic city symbols like the Nijo Castle and the Fushimi Inari shrine await, and the vibrant food scene offers dishes you'll love—Kyoto-style ramen, Kyoto-style sushi, and tsukemono pickles just to name a few. Amidst the harmonious blend of old and new, Kyoto invites you to embrace natural beauty and contemporary expression, leaving you with cherished memories that will last a lifetime. 
Cultural Awareness
CIEE wants all our students to feel welcomed, supported, and empowered to succeed while studying abroad. Local CIEE staff have provided details about conditions and cultural attitudes that students with specific identities might encounter in Kyoto.
Daily Life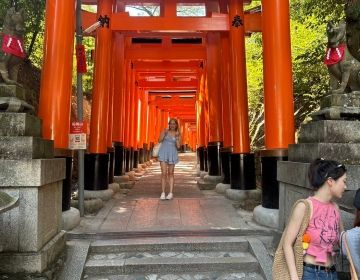 One of our last excursions took place at Fushimi Inari Taisha on August 1st, 2023
Activities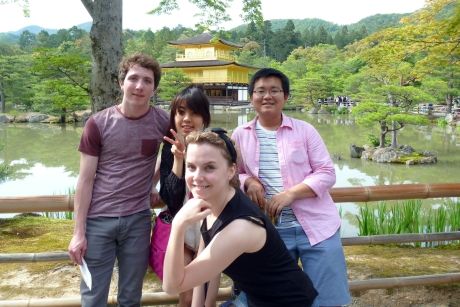 Just imagine all the fun you'll have!
Test your culinary skills with a ramen-making session at a ramen factory—and get to sample your work! 
Immerse yourself in the green tunnel of the Arashiyama bamboo forest. Watch the light from the sun dap the forest floor. 
Feed polite, bowing deer at the famous Deer Park in Nara. Visit the hall of the Great Buddha inside Todai-ji, the great temple of the East. 
Check out the Kyoto International Manga Museum and its collection of 300,000 comic books. Explore manga exhibits and choose a favorite among the 50,000 manga on open shelves. 
Travel to Osaka, a thriving port city full of trendy shops, flashy signs, excellent food spots, and youthful energy! 
Imagine what it would have been like to experience the 1995 earthquake of Kobe at the Earthquake Memorial Museum. 
Please note activities are based on past programs and subject to change at CIEE's discretion to adapt to local circumstances and participant feedback. Our goal when arranging activities is always to enhance your experience. 
"I loved being in Japan and getting the chance to learn a new language and culture, as well as making new friends and all the different environments I was exposed to!" 

Johny P., CIEE Global Navigator Alum

"I'm grateful to have had my host family and the opportunity to experience the Japanese culture at such close proximity." 

Denise A., CIEE Global Navigator Alum

"It's an incredible experience that offers great opportunities for many who would not be able to come to Japan on their own." 

Delaney L., CIEE Global Navigator Alum

"It was one of the best experiences I've ever had. I made some of the most amazing memories and made friends that will hopefully stay with me forever" 

Nazifa S., CIEE Global Navigator Alum
Dates & Fees
Eligibility
Program open to all current high school students—Freshmen, Sophomores, Juniors, and Seniors—of all Japanese language proficiency levels. 
For scholarship eligibility requirements, please check our scholarship Page.
For more information, refer to the detailed Program Essential Eligibility Criteria.
Application Fee
$25
Optional College Credit Fee
$150
Learn more about how to get college credit for your future college degree.
Program scholarships and tuition include iNext Travel Insurance, but do not cover the cost of flights. Find additional details about what's included with your tuition.
More questions? Find answers, get application support, sign up for virtual presentations or contact us!
Program

Application Due

Start Date

End Date

Costs

Program

Summer Session I 2024

4 weeks
Start Date

End Date

Costs

$7,750

Program

Summer Session II 2024

4 weeks
Start Date

End Date

Costs

$7,750
3 Meals/Day
(Dietary Needs Accommodated)
All Ground Transportation
(Once In-country)
Optional Flight Chaperone
(Flight Cost Not Included)
Pre-departure Advice and Orientation
Access to Local Phone and WIFI
All Cultural Activities and Excursions
Comprehensive Medical and Travel Protection
24/7 Emergency On-site Support
Ready to change your life?