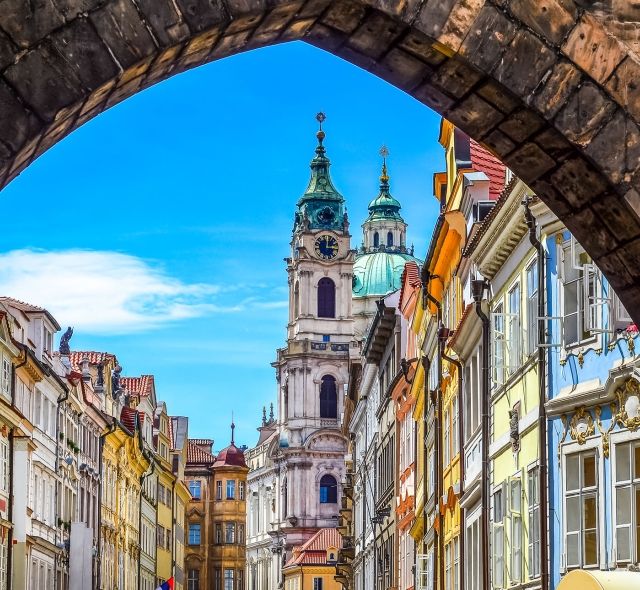 Art-Making in Prague's Creative Studios
Program Overview
Real-World Experience
Create a wide array of visual art in the inspirational, innovative culture of Prague and develop skills in traditional and new techniques. Come home with a creative portfolio of diverse works.
Credentials for Your Future
Topics for your college essays, experience to inform your future career, a portfolio to document your increasing artistic literacy and to showcase your work in varied media and techniques.
Life Skills and New Friendships
Return with greater self-confidence, independence, and improved communication skills. Enjoy a broader worldview and friends of different backgrounds from across the U.S.
45
Hours of Expert Instruction
3
Weeks Pursuing Your Passion
1
Life-Changing Experience
The Destination
The Destination
Welcome to Prague, a magical place of castles and cobblestone streets with a modern buzz.  
Set on both sides of the Vltava River, Prague is the capital of the Czech Republic and one of the world's most exquisite cities. Nicknamed "the City of a Hundred Spires," it's best known for its Old Town Square, with Baroque buildings, Gothic churches, and its medieval Astronomical Clock. Every day is a history lesson. And yet, Prague is a colorful mix of old and new, a center of innovation in one of the fastest-growing countries in the region. 
A walking tour of Prague takes you past architectural gems—look up onto the grounds of Prague Castle, look out at the panorama—past street musicians and installations of contemporary art, into bustling cafés and the exceptional greenery of Prague's many gardens and parks. 
Prague's galleries and museums boast offerings to suit a range of artistic tastes. From museums for Medieval and Classical art to the DOX Centre for Contemporary Art housed in a former factory, these creative spaces will inspire you to generate artistic ideas and work.  
Cultural Awareness
CIEE wants all our students to feel welcomed, supported, and empowered to succeed while studying abroad. Local CIEE staff have provided details about conditions and cultural attitudes that students with specific identities might encounter in Prague.
Settle into your new community and participate in the Painting Studio. Explore working with color, composition, perspective and proportion and start your Portfolio with abstract painting.
In the Graphic Studio, learn and apply two graphic techniques (drypoint and linocut) as you transfer your visual ideas to paper. Add the works to your Portfolio. 
In the Photography Studio, explore techniques using a digital camera or mobile phone to experiment with light and exposure. Play with theme, motif, perspective, and style in outdoor photography, making more art for your Portfolio. Present and discuss your Portfolio. 
Daily Life
This last weekend we traveled to Cesky Krumlov for the weekend and got to witness the beauty of a preserved medieval town. Upon our entrance into the town, we were... keep reading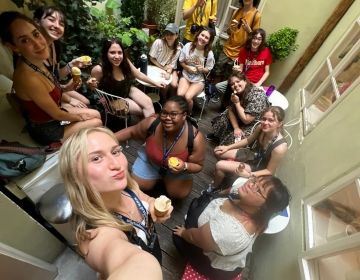 I have already been in Prague for a week for the HSSA Global Navigator program Art-Making in Prague, and so far it has been nothing short of wonderful. This past... keep reading
Wow, it is hard to believe I am writing this blog post and we have completed our first 24 hours in Prague. I feel extremely lucky to have the 14... keep reading
Activities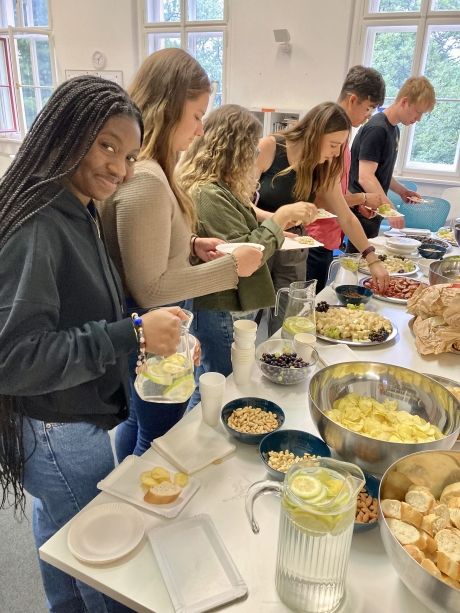 Just Imagine All the Fun You'll Have!
Cruise down the Vltava River and feast your eyes on the beauty of old Prague.  
Participate in a paint-by-enamel workshop, make unexpected friendships with Czech students, and share a ride together on pedal boats.   
View classical and modernist art at the National Gallery in Prague. Then, make your own artwork to communicate a social statement. 
Get dressed in your best for a performance in one of the many historical concert venues in Prague. See opera singers and ballet dancers in full costume—a beautiful mix of so many art forms!  
Prepare (and eat) Czech classics—beef goulash, potato pancakes, and sweet apple strudel—in a fun-filled cooking class. 
Please note activities are based on past programs and subject to change at CIEE's discretion to adapt to local circumstances and participant feedback. Our goal when arranging activities is always to enhance your experience. 
"I met so many amazing people and had so much fun exploring Prague. At the end of this program, I didn't want to leave."

Chloe H., Global Navigator Alum

"It was an experience that I will never forget! It has given me the freedom to navigate a city on my own, which has given me confidence in life! One of my goals was to expand outside of my comfort zone and the friends I made have allowed me to do just that." 

Yasmin A., Global Navigator Alum

"The invisible exhibition was by far the most amazing and educational experience I've had. I got to dance in the dark completely blind and it really got rid of a lot of my fears."

Harmony L., Global Navigator Alum

"My son had a fabulous trip. He was challenged in so many ways and grew socially, intellectually and artistically. He matured and learned to take care of himself. He made good friends from around the country. It was an excellent experience!"

Parent of Global Navigator Alum
Dates & Fees
Program

Application Due

Start Date

End Date

Costs

Program

Summer Session I 2024

3 weeks
Start Date

End Date

Costs

$5,750

Program

Summer Session II 2024

3 weeks
Start Date

End Date

Costs

$5,750
3 Meals/Day
(Dietary Needs Accommodated)
All Ground Transportation
(Once In-country)
Optional Flight Chaperone
(Flight Cost Not Included)
Pre-departure Advice and Orientation
Access to Local Phone and WIFI
All Cultural Activities and Excursions
Comprehensive Medical and Travel Protection
24/7 Emergency On-site Support
Ready to change your life?