Weekend Trip to the Ashanti Region
This weekend the Global Navigators made the beautiful, bumpy journey to the Ashanti region, visiting the city of Kumasi and two nearby villages to learn more about the rich culture of the Ashanti people. Students learned about the significance of the Hene, or king, of the Ashanti people throughout history at the Manhyia Palace Museum. Students then experienced Kejetia Market, the largest open air market in West Africa. Students wove their way through the busy market, escorted by their PLs and UPals, passing stalls selling everything from fabric to soap to fresh goat meat.
After a hot shower and refreshing night's sleep in the hotel, students were ready for day two of exploring the Ashanti region on Sunday. We traveled to Bonwire, where students learned about the history of Kente cloth, the process through which it is made, and the meaning behind some of the woven patterns. Students got to watch (and try!) the weaving of Kente, and purchase some to take home as well! We next traveled to Ntonso, where Adinkra symbols originated. Adinkra symbols have existed for centuries in West African culture, and each symbol conveys a meaning. Students participated in the process of creating dye for stamping the symbols, and each chose a symbol or two to stamp that they connected with. After a busy weekend, students rested on the bus as we headed back to Legon, preparing themselves for the final week of service, exploration, and learning here in Ghana.
-Sandra and Rachel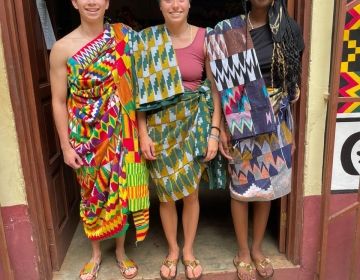 The conclusion of the second week allowed for the Global Navigators to travel to the powerful Asante Region. Asante is the most heavily populated region in Ghana and Kumasi has... keep reading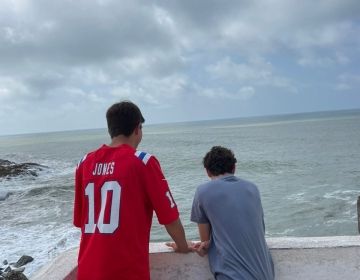 The Global Navigator's first week concluded with a trip to Cape Coast and the Kakum National Park. The group learned of the horrors of the Transatlantic Slave Trade through a... keep reading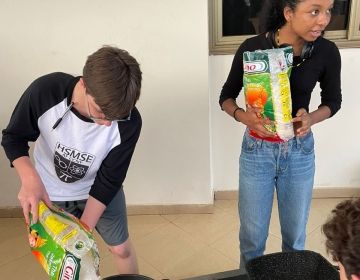 After their first official day of service, the Global Navigators continued to flex their inherit leadership skills by taking charge in the kitchen! The group traveled to Patty's Event Centre... keep reading