Storming the Castle! (and visiting the Palma History Museum)
On Tuesday and Wednesday of this week, we wrapped up the last of our program's cultural activities with a visit to Castillo Bellever and a walking tour of some graffiti and notable street art in the city center. Groups 3 & 4 had the pleasure of climbing the castle on Tuesday while the other half of the participants walked around the old town.
We met in Plaza de España at 10:30 am and caught the bus across town. From there we began a quick walk through a lovely little neighborhood of Palma built on the hillside. The Castle itself sits at 112 meters above the sea atop a hill to the east of the city. To arrive at the gates, we climbed some stairs under the beating sun after exiting the quaint little neighborhood, stopping halfway up to catch some shade in the shadow of a chapel (Capella de Sant Alonso Rodríguez​) that was constructed in 1885. 
Castell Bellever itself was built in the 14th century by the King James II of Mallorca. Chosen for its strategic position above the bay and easily defensible geography, the castle first served as a residence of the Kings of Mallorca, serving in conjunction with the Palacio de la Almudaina, which we visited earlier. It would go on to be used as a military prison as well. Today, the castle and grounds house the History Museum of Palma and also is employed to host cultural events like concerts from time to time.
It is one of a handful of castles in Europe that uses a circular design, many are ovular, but few are circular. The history museum circles the indoor portion of the lower level and second level, surrounding a lovely courtyard. To finish the tour, we spent some time soaking up the views and snapping photos for the gram from the roof. Up top, we were surrounded by beautiful vistas of the old town, the mountains, the port, and the surrounding forests. From there, the Cathedral looks small, but in relation to its surroundings, you still get a sense of its immense scale.
Oh! And our amigos españoles, Joaquín and Lucía, joined us along the way, providing interesting commentary and even better company!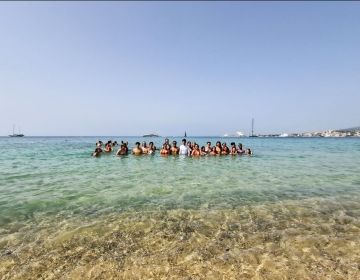 Alexander E., 17, spent four weeks practicing his Spanish language skills in Palma de Mallorca. Read about his early experiences with language immersion on program.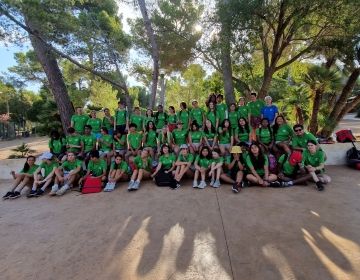 Over this past weekend, July 29 and 30, the whole group traveled to the north of the island for a weekend full of adventure and fun. We met early in... keep reading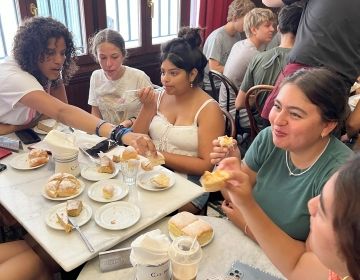 I´ll be back with a camping trip post tomorrow! For now, enjoy the words of my esteemed colleague, Rachel John, describing the students' experience sampling some traditional Mallorcan delicacies: Monday... keep reading