golden nine ten traveal a day
The first step Shuinandong parking lot at the intersection is the first stop for many people when they come to Jiufen. You can climb up to the viewing platform and enjoy the 360-degree view of the mountains and seas. You can overlook Keelung Mountain and Teapot Mountain and experience the vicissitudes of the thirteenth-story ruins at close range.  
Then we take taxi to golden springs.  The scenery here will really surprise people, because there will be golden springs among the dense forests, and a landscape of small waterfalls will be formed.
It is very colorful in the sun. It is said that the underground spring has undergone a chemical reaction of minerals, and it has become such a remarkable golden yellow.
At lunch time we arrive jiufen, it's hard to choice food.
when many people come to Jiufen, the first scenic spot that comes to mind is Jiufen Old Street. The entrance of the old street is Jishan Street. Here you can feel the excitement and prosperity of the old street. The streets of Jiufen Old Street have many stairs, which wind and connect the whole town. There are many specialty shops and delicious snacks. There are countless clog related products.
Afternoon,after lunch time.we arrive Shifen Waterfall  
The Shifen Waterfall has a width of about 40 meters and a height difference of 15 to 20 meters.
It is an anticlinic waterfall with rock formations and streams flowing in the opposite direction. It is a magnificent water waterfall with a majestic momentum.
It is the largest curtain waterfall in Taiwan. Because of its resemblance to Niagara Falls, it is called "Taiwan Niagara Falls".follow the tour guide,we go to shifen station.
Shifen Station is the place where most netizens check in to release sky lanterns. The scene of releasing sky lanterns on the railway in the well-known Taiwanese movie "The Girl We Chased Together in Those Years" is also Shifen Station! When you come to Shifen Station to release sky lanterns, you must be on the rails. Take a picture of the moment when you release the sky lanterns. If you are lucky, there will be trains passing by the railway where you just released the sky lanterns!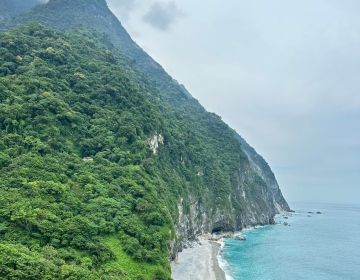 Afternoon take bus to Qingshui Cliff is located in the 22.7-kilometer section between Heping and Qingshui in Xiulin Township, Hualien County. It is mainly composed of marble, gneiss and green... keep reading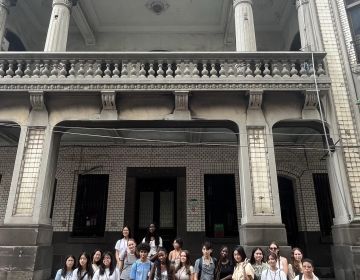 Today we visited the historic neighborhood of Da Dao Cheng. Established during the Japanese occupation of Taiwan, Da Dao Cheng originated as a trading post. The area's location immediately next... keep reading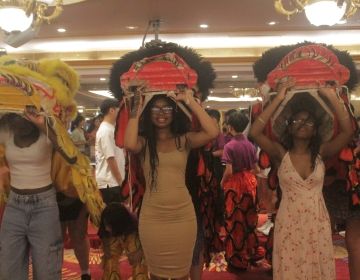 What better way to welcome session II Taipei students than by offering a dragon dance to celebrate and initiate their "classroom to the world."