Welcome to my New Life in Madrid
Hola! My name is Shelby. Welcome to my first ever blog post. I have always been dreaming of a life where I could see and explore the world. Up until 5 months ago, I had no plans of doing so; I had no plans passed living and working… until I discovered I could teach abroad with CIEE. At the age of 22, I am now beginning the life I once dreamed of.
I'll start with a little bit about me: I grew up in Massachusetts and then moved to Burlington, Vermont to study Psychology at the University of Vermont. I minored in environmental studies and nutrition. After graduating with no idea where my life was headed, I was feeling lost. I got a job as a behavioral interventionist during the day and worked in the taproom of a brewery at night. My work life felt secure but not fulfilling. My free time was spent hiking, reading, and exploring the outdoors with friends. Part of my heart will always belong to Burlington, but I couldn't ignore the aching desire to move away and start living my dreams.
I discovered the opportunity to teach abroad in Madrid through CIEE and applied with only days to spare before the deadline. Now here I am. This is my fourth week in Madrid. I've been drinking tintos de verano, enjoying siestas, spending 2 euros on coffees and 5 on tapas, learning the metro system, meeting like-minded friends, and beginning what may be the most pivotal and memorable year of my life. 
I will live in Madrid for the next ten months. I don't know what comes after this and as scary as the unknown is, it fills my heart with excitement. What is meant for me will be and I am super appreciative that I'm currently living a dream of mine.
Hasta pronto!
Shelby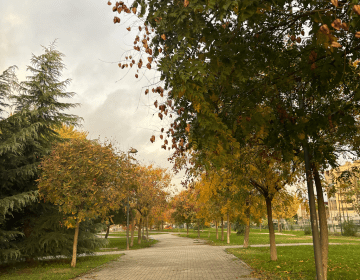 As I sit on the train on my way to my first day of school, I share some reflections on my first week as an Aux in Madrid.
For me, I would say it was a bit intimidating to walk into a large hotel with just a name and direction. Finding the CIEE, check in desk helped to... keep reading