A Getaway from the City: Reflections on Santiago de Compostela
One of the pastimes I enjoy most is searching Skyscanner and choosing "Explore Anywhere." The tangible representation of limitless possibilities make me giddy, and not to mention that my flexibility to venture anywhere makes my wallet happier.  On one nightly search, the cheapest tickets within Spain were to Santiago de Compostela, not breaking 30 euros. I called up some new auxiliar friends, and within an hour, we had our flights booked. Their openness and spontaneity reminded me how I always want to live my life. I had never even heard of this town before seeing it on Skyscanner, but two weeks later, we boarded a plane to the far northwest with eager anticipation of what I would discover in Santiago de Compostela.
Truthfully, I had few expectations because of my limited knowledge about the region, but any expectation would be shattered regardless. On the ride to our Airbnb, our taxi drove through the winding countryside, then zipped in and out of the Old Town of Santiago. The slim streets were lined with tall, rustic buildings, reminiscent of the Romanesque and Gothic architecture that were popular during the town's creation. To be in this town was to be thrown back in history, which I was constantly reminded of by the foot-aching, mismatched cobblestone streets. After dropping our luggage in the Airbnb, my travel buddies and I wandered through the quiet streets. It seemed that residents of the town took siesta very seriously, closing all the shops and restaurants for several hours in the afternoon; this was different than Madrid, where siesta was rather a suggestion than a requirement.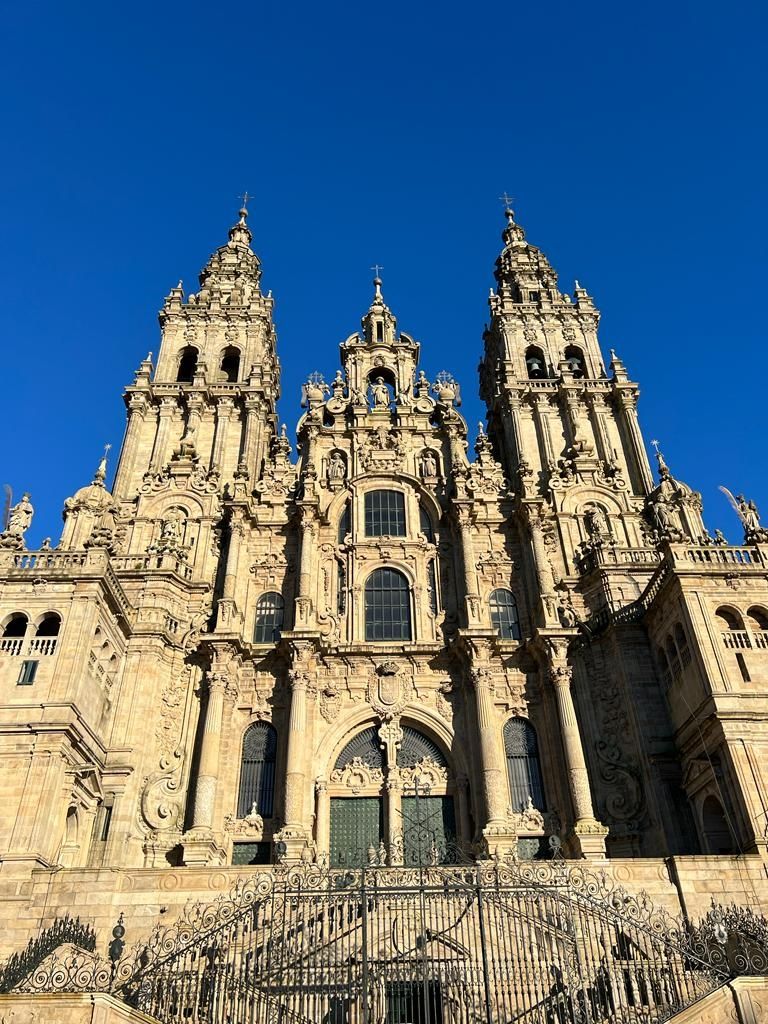 A few minutes into our leisurely stroll, we stumbled upon one of the most grandiose cathedrals I have ever laid eyes on. The height and immensity struck me into an awed silence. With construction beginning in the 11th century, this cathedral has stood the test of time, surviving wars and natural disasters throughout the ages. I always find myself marveling before these old constructions and getting chills when I think about the thousands of people that have seen this view before me. Here, I think about all the people that have stood in this spot, after walking the Camino de Santiago, with such a great sense of accomplishment and relief. This cathedral marks the end of the Camino, a network of routes stretching across Europe that pilgrims would walk to repent for their sins. Long after its creation, people hike the paths for enjoyment, self-actualization, and a myriad of other reasons. And all the paths lead to this same spot where I was standing. It is a humbling and reverent experience, to be just one human amongst the many in this place.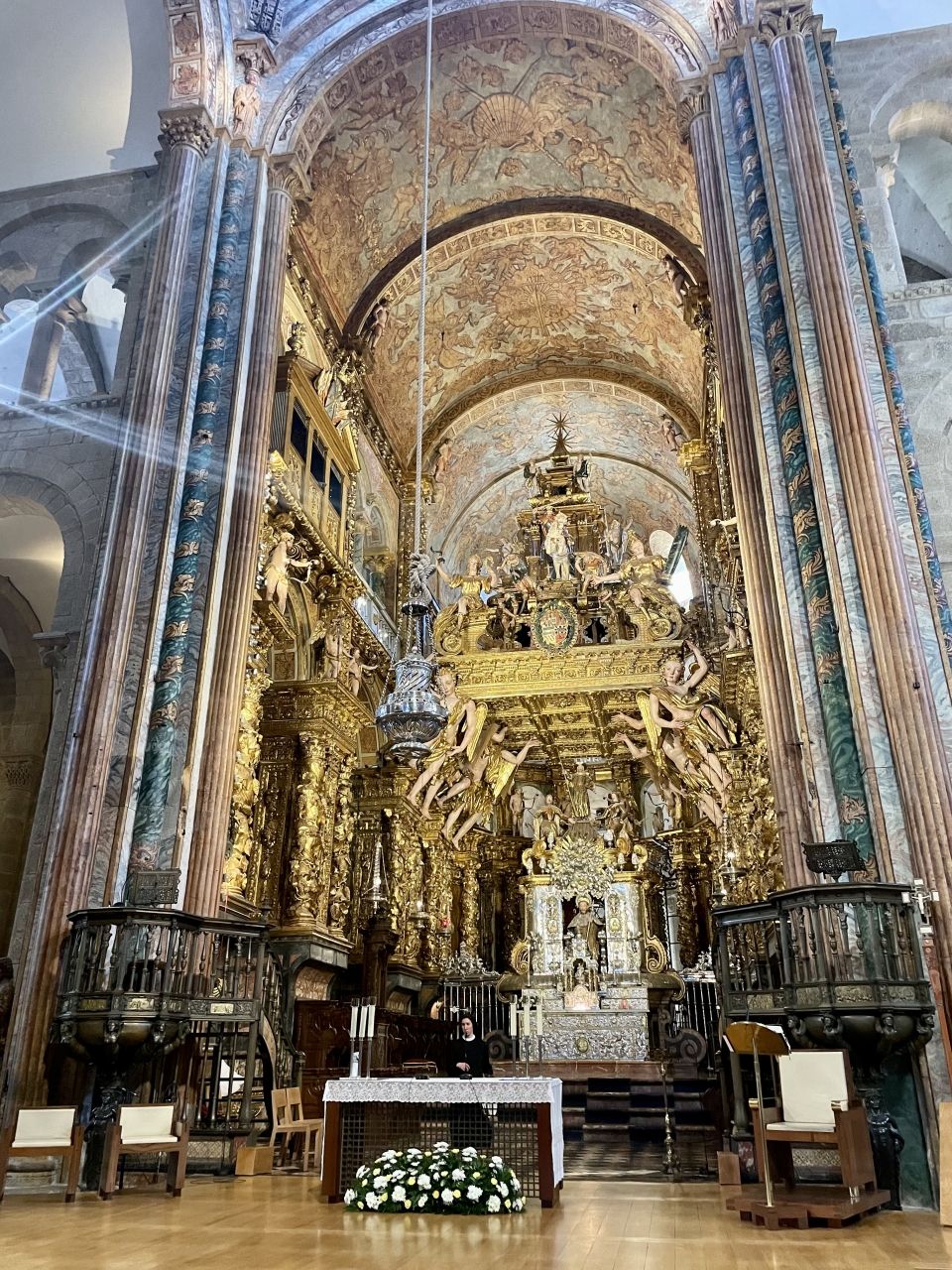 The following day, we had the opportunity to experience a mass inside the cathedral. Now this was too much. I could experience a mass ritual that had been performed thousands, likely hundreds of thousands of times before?! Of course I did not miss my chance of immerse myself into a traditional mass, which alongside being a standard mass, honored the pilgrims who finished the Camino that day. Unsurprisingly, the cathedral's inside matched the grandeur of the outside. The elaborate decoration of the altar, apse, and walls are immaculate, with many solid gold ornaments and hints of teal embellishments. This was my first mass at one of the great Romanesque cathedrals in Europe, and it will stick with me for the rest of my life.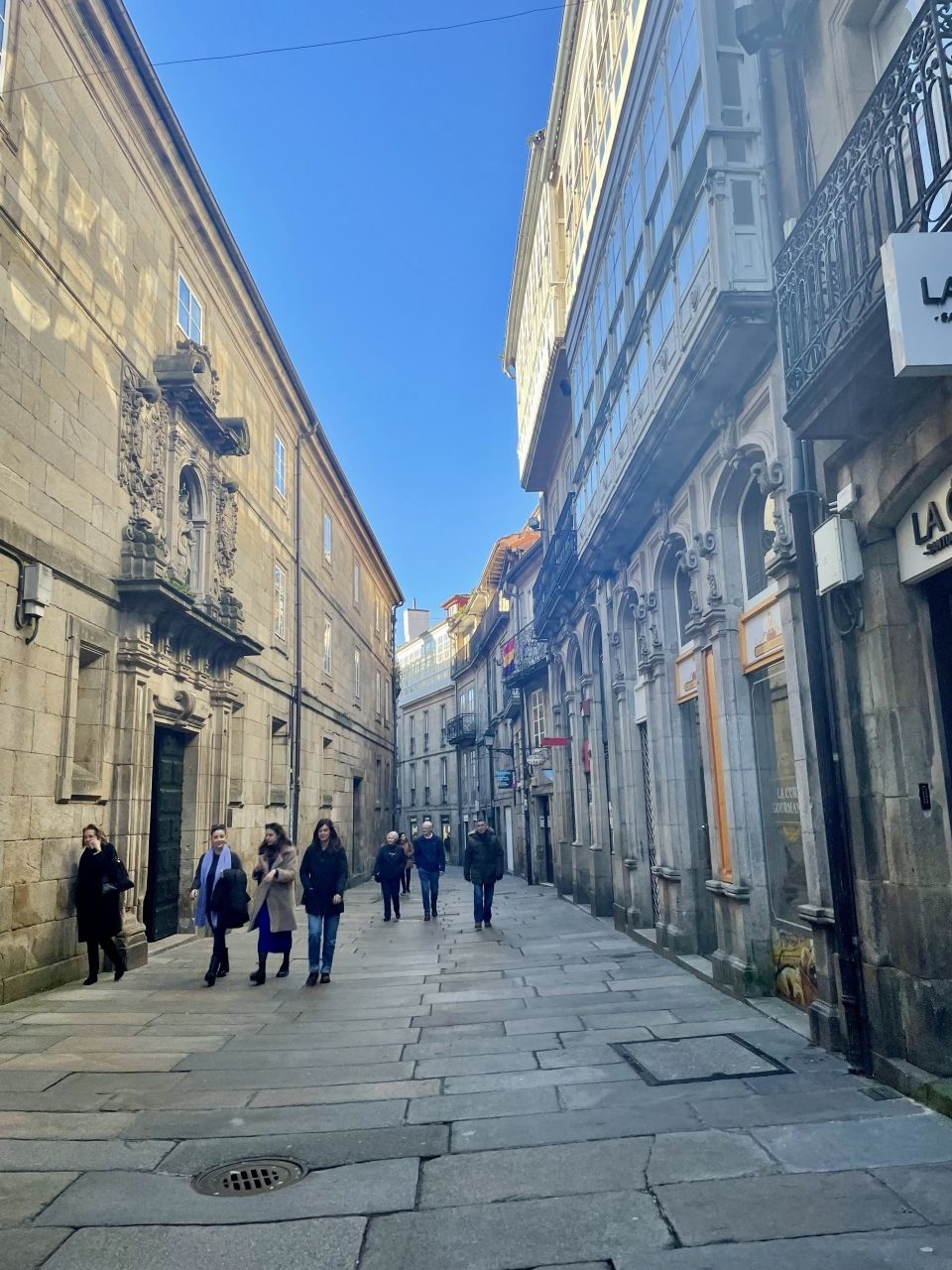 Despite being the end point for the Camino, Santiago de Compostela was not crowded by tourists, which was a relief from the hustle and bustle of Madrid. Locals sat outside with their espressos or ambled down the streets with nowhere to be. The pace of life here was slow and relaxed, something which I, an American, could definitely learn from. My friends and I followed suit, spending our weekend hopping from charming coffee shops to ice cream parlors to tapas bars, eating our way into the heart of Galician culture. It was a different than the other trips I'd been on during my time in Madrid, with no wild nights or planned tours; it felt special in the very nature of deeply enjoying the culture and lifestyle as the locals do, which is not easily done when taking short trips. The local lifestyle seemed to encourage long meals and connections between people—a type of slow living that forges a connection between you and your environment, rather than providing an easily attainable and purchasable experience of Santiago de Compostela. I couldn't purchase what makes Santiago de Compostela wonderful, because it is not a thing, it is a feeling of serenity. That's how I felt. Completely connected with myself and my companions, entirely peaceful and content with where I was.
It strikes me that I likely never would've sought out a trip to Santiago de Compostela specifically, yet this weekend has become one of my favorite trips in Spain. Santiago de Compostela will exist as a reminder to be open to new experiences and places that I would've otherwise looked past.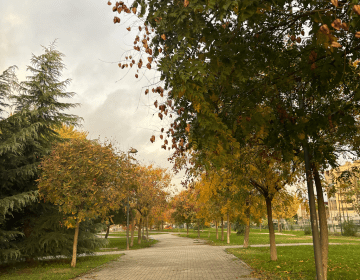 As I sit on the train on my way to my first day of school, I share some reflections on my first week as an Aux in Madrid.
For me, I would say it was a bit intimidating to walk into a large hotel with just a name and direction. Finding the CIEE, check in desk helped to... keep reading