Waterfalls, Ziplining, and REST.....Oh, My!
What a weekend we had! 
On Saturday morning we had our breakfast and then boarded the buses to head to El Tigre Waterfalls. El Tigre Waterfalls are know for hiking, 4 waterfalls, areas for swimming, 10 hanging bridges, and horseback riding at the end of the 8 kilometer loop. The best parts of the trip were being able to swim at the falls and then riding a horse back to the top of the mountain.  The girls had the opportunity to bond in a unique setting with lots of laughs in muddy conditions. Horse back riding was an experience many will not forget.  The horses had minds of their own with racing each other and nipping each other.  The end reward was an amazing lunch and wandering the gift shop! The evening brought more fun and laughs with karaoke night!  Lots of fun singing together with an eclectic list of songs from Taylor Swift all the way to Don McLean's, American Pie.
On Sunday, we again loaded the buses EARLY to beat the crowds at our zip lining destination, Selvatura. Many girls had never been zip lining before and some had fears of high places.  So we ventured into the tree tops to conquer our fears, see some beautiful landscapes and enjoy the adrenaline rush!  SO MUCH FUN! At the end we all just needed our water bottles and a nap!  Again, the girls had a great time with lots of laughs!
After such a full weekend of fun and adrenaline, Sunday afternoon was nothing but REST for some of us. Many spent the afternoon relaxing in their rooms, chilling with friends in the rec room, or...can you believe that some went for a hike or did their workouts for fall sports! In any case, everyone enjoyed the weekend regardless of how it ended!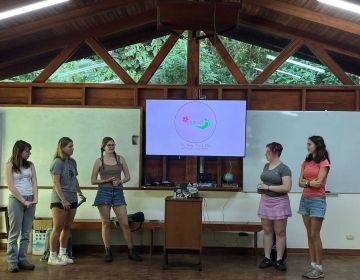 WOW! How can the program be coming to an end? Participants have been soaking up as much as they can during this last week. Each day during class time, participants spent time with their group preparing their final projects and presentations. Wednesday we went into Santa Elena for shopping and enjoying an amazing snack at the local cafe, Monteverde Cafe! They are known for their amazing pastries and banana bread! We also shopped at a Coop that is made up of women around the community selling their handmade items from embroidery and sewn items to jewelry, handmade paper and journals. Thursday we had students from the local high school visit and join us in our Bio-blast. We all downloaded an app called iNaturalist and documented flora, fauna, insects, and animals with pictures to add to their database. Per their website, the organization is now a non-profit that is dedicated to building community, with a focus on preserving biodiversity. The iNaturalist app is used by many to make conservation decision in their own communities. We enjoyed spending time with the students and practicing our Spanish too! Friday was presentation day for the participants projects. The creativity, technology use, research, and engineering time spent on each project was well thought out and presented with expertise. The groups and presentations are as follows: Ellie, Brave, Hazel, Hartson, & Baila - Native plant identification with QR codes, Google Site, and link to USDA for access to your own state's native plants. SaMyra, Zoey, Ellie, and Tory - Brochure on conservation for native bees in Costa Rica, along with how you can help pollinators in your own community.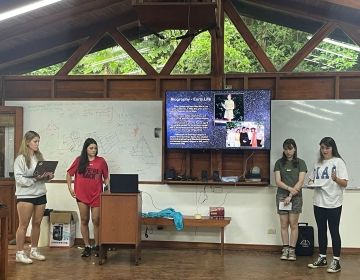 Participants have been working furiously on presentations regarding "Important Women in Stem." Groups presented on Madam Curie, Jane Goodall, Ellen Ochoa, Katherine Johnson, and Katherine Hayhoe. Amazing research and presentations... keep reading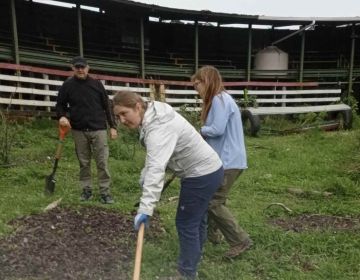 In the midst of the COVID-19 pandemic, the community members of Monteverde, Costa Rica had a problem: they needed access to fresh, local food for a low price. Nearby, in... keep reading