Through The Eyes Of A CIEE Alumni
There is a quote that says, "Take every chance you get in life, because some things only happen once." Study Abroad in Botswana was no exception. This was a once in a life time opportunity that changed everyone that traveled. From seeing first hand a world that isn't ours to seeing our world through different eyes. 
High School Summer Study Abroad in Botswana was unique and instantly immersed us in the environment and the charming community. With the start of our morning of in-depth lectures in conservation and history of Botswana, and hands on experiences of the real solutions and problems facing the conservation and country of Botswana.  
Arriving in Gaborone made me miss home being so far away. I wouldn't have thought a year ago that I would have had the chance to go to Africa, but because of the staff and incredible students made me not miss home as much. Seeing the wildlife running free, hearing random words of Setswana, and participating in traditional activities made me grow fond of Botswana. I didn't think that I would be able to leave to go across the world on my own, but I quickly learned that if you trust in yourself you can do things you never thought possible.
Throughout our adventures we saw the difficulties that the locals all across Botswana face everyday, but even in the face of those problems they make the most out of life. We were able to talk to them and hear directly from the residents what makes Botswana so unique and beautiful like the Mokoro rides, beautiful wooden carvings made by the welcoming citizens of Maun, variety of culture and traditions, and richness in biodiversity. 
Going on game drives through the wild Okavango with unusual noises emerging from unidentified animals how could I even put them into words. To soaring down the rich Okavango channels hearing the deep groaning of the hippos poking their head cautiously out of water warning to stay away.  
While staying at various nature reserves, sanctuary, and safaris across the country of Botswana gave us the opportunity to see and live with the wildlife unlike we have ever experienced before. With three weeks packed full of adventures, activities, opportunities, and learning experiences created and made possible by the supportive staff in the program, helped make this a once in a life time opportunity.
Parting with Botswana and the staff, who were more then we could ask for, made it harder then we thought. I didn't think I would ever get use to having soundless herds of impalas right outside my window, or a sassy zebra blocking the bus from leaving. Even the fresh local food made by the talented chefs, or the unforgettable taste of Nando's chicken in your mouth. I guess that is part of what makes going to Africa so worthwhile. We all sobbed as we parted at the airport leaving part of us in Botswana.
-Dallon Searle
This blog is to showcase the program from the perspective of a student.  Dallon carried a long zoom camera and wanted to share what he captured with his lens as well as what captured his heart in Botswana.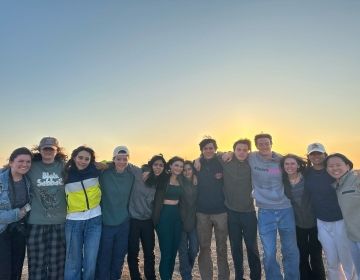 To our Session Two Students: Hi Friends, Alrighty, y'all already know we think that all of you are absolutely awesome…but strap in because we're gonna say it one more time... keep reading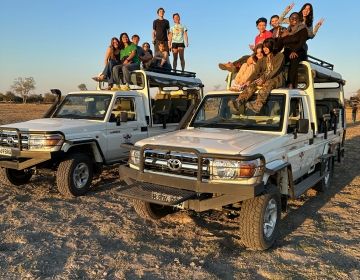 Lions, cheetahs, elephants, oh my! That's how it goes right?...well that fits perfectly with our time in the Okavango Delta! Monday we went on a game drive and were wowed... keep reading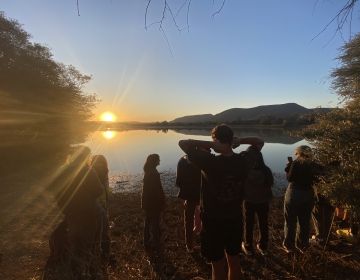 After a very busy few days, the Global Navigators had time to wind down on Sunday. However, they stopped by the kitchen in the morning to help the Mokolodi staff... keep reading