SO MUCH LEARNING - Cultural, Women in Stem, and giving back to San Luis
Participants have been working furiously on presentations regarding "Important Women in Stem."  Groups presented on Madam Curie, Jane Goodall, Ellen Ochoa, Katherine Johnson, and Katherine Hayhoe. Amazing research and presentations from all groups with captivating information and women to look up to for inspiration. Believe me when I say, the world is in good hands with these young ladies and their intelligence!
Besides working hard on presentations, they are also working hard on their final projects!  The amount of research, creativity, and labor put forth from each group is amazing!   Looking forward to seeing their projects come to life around campus.
The participants spent the afternoon on Monday giving back to the town of San Luis by cleaning and painting their community playground. Their was a lot to do and the park now has a fresh coat of paint to brighten the community.
We had a visit from a local Folkloric dance group, Monteverde Baila. If you want to learn more about them you can find them on Instagram at @monteverde_baila. The girls had a blast watching and dancing to traditional music with traditional dresses. Beautiful dancers!
We topped off one evening with a night hike around campus!  Who knew we had a tarantula!  We also found katydids, crickets, lizards, moths, and butterflies!  It was an adventure into the dark forest to see these nocturnal creatures!
We are all soaking up as much as we can during our final week!  Lots of work, lots of fun, and lots of local cultural learning for all of us!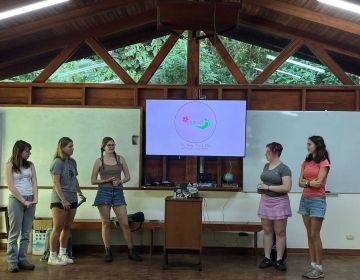 WOW! How can the program be coming to an end? Participants have been soaking up as much as they can during this last week. Each day during class time, participants spent time with their group preparing their final projects and presentations. Wednesday we went into Santa Elena for shopping and enjoying an amazing snack at the local cafe, Monteverde Cafe! They are known for their amazing pastries and banana bread! We also shopped at a Coop that is made up of women around the community selling their handmade items from embroidery and sewn items to jewelry, handmade paper and journals. Thursday we had students from the local high school visit and join us in our Bio-blast. We all downloaded an app called iNaturalist and documented flora, fauna, insects, and animals with pictures to add to their database. Per their website, the organization is now a non-profit that is dedicated to building community, with a focus on preserving biodiversity. The iNaturalist app is used by many to make conservation decision in their own communities. We enjoyed spending time with the students and practicing our Spanish too! Friday was presentation day for the participants projects. The creativity, technology use, research, and engineering time spent on each project was well thought out and presented with expertise. The groups and presentations are as follows: Ellie, Brave, Hazel, Hartson, & Baila - Native plant identification with QR codes, Google Site, and link to USDA for access to your own state's native plants. SaMyra, Zoey, Ellie, and Tory - Brochure on conservation for native bees in Costa Rica, along with how you can help pollinators in your own community.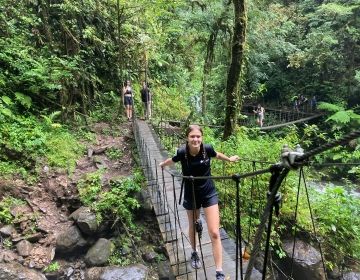 What a weekend we had! On Saturday morning we had our breakfast and then boarded the buses to head to El Tigre Waterfalls. El Tigre Waterfalls are know for hiking... keep reading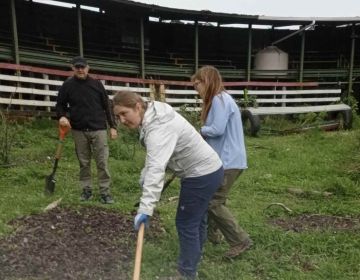 In the midst of the COVID-19 pandemic, the community members of Monteverde, Costa Rica had a problem: they needed access to fresh, local food for a low price. Nearby, in... keep reading