Ruins, Monkeys, and Cenotes
We had our big overnight trip this weekend and it was a blast. On Friday we left for Valladolid, where we enjoyed dinner and free time. Saturday was a long day that started off with Chichen Itza. The students had an incredible, informative tour on the history of the monuments, what all the different elements represent, and the significance of this site to the Mayan people. After the tour, the students had free time to explore the grounds on their own and pick up any souvenirs they might want. Then, we went to lunch where the students ate to their heart's content at an all-you-can-eat buffet. 
Our next adventure was at a spider monkey reserve called Otoch Ma'ax Yeetel Koh in Maya, or Punta Laguna in Spanish. Expert guides led us through the jungle, pointing out spider monkeys along the way and explaining how they live and what their society is like. We got to witness an ancient Mayan ceremony completed all in Maya, and go ziplining over a lagoon. After canoeing over the lagoon, we went to an underground cenote that you had to be lowered down into! It was around 40 feet down and you were lowered down through a small hole that opened up into a huge underground pool. This eventful day was finished off with dinner in Valladolid and a bit of free time in the city.
The third and final day of our journey was at yet another beautiful cenote, Cenote Xcajum. This one did not require you to be lowered down, however you did have to walk down about three flights of stairs to get to the water. It was open though so you could look up and see the blue sky and clouds above. It was a gorgeous, natural pool with vines hanging down the sides, wooden platforms to jump off of, and lifeguards making sure everyone stayed safe. We were able to spend about an hour swimming in the cenote, and then we made our way back up the stairs for another delicious buffet lunch. We finally returned to Merida in the afternoon so the students could get some much needed rest before starting their last week of the program.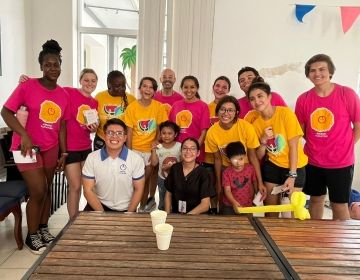 On Thursday our team organized a party to say goodbye to our AMANC family after our time together; it sure was not an easy task, but it turned out to... keep reading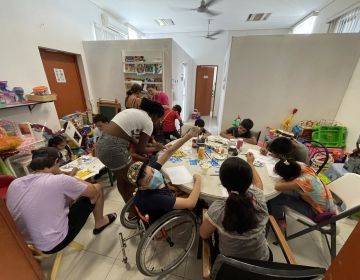 Wow, I can't believe our time here is coming to an end! We have been nonstop busy since we returned from last weekend's trip! We have spent almost every single... keep reading