Innovating projects and final fun!
WOW!  How can the program be coming to an end?  Participants have been soaking up as much as they can during this last week.
Each day during class time, participants spent time with their group preparing their final projects and presentations.
Wednesday we went into Santa Elena for shopping and enjoying an amazing snack at the local cafe, Monteverde Cafe!  They are known for their amazing pastries and banana bread! We also shopped at a Coop that is made up of women around the community selling their handmade items from embroidery and sewn items to jewelry, handmade paper and journals.
Thursday we had students from the local high school visit and join us in our Bio-blast.  We all downloaded an app called iNaturalist and documented flora, fauna, insects, and animals with pictures to add to their database. Per their website, the organization is now a non-profit that is dedicated to building community, with a focus on preserving biodiversity. The iNaturalist app is used by many to make conservation decision in their own communities.  We enjoyed spending time with the students and practicing our Spanish too!
To top off Thursday evening we made banana boats!  This was a new experience for many!  We cut bananas lengthwise, opened them up, and added all sorts of toppings such as, marshmellows, chocolate chips, dulce de leche, candies, and granola. Then we wrapped them in foil and heated them up in the fire until the banana is soft, like pudding!  YUM!  The experience was a blast plus we were able to eat our creations!
Friday was presentation day for the participants projects. The creativity, technology use, research, and engineering time spent on each project was well thought out and presented with expertise. The groups and presentations were as follows:
Ellie, Brave, Hazel, Hartson, & Baila - Native plant identification with QR codes, Google Site, and link to USDA for access to your own state's native plants.
SaMyra, Zoey, Ellie, and Tory - Brochure on conservation for native bees in Costa Rica, along with how you can help pollinators in your own community.
Brave, Ava, Avery, Sarah, and Sarabelle - Ecobricks - What are they and how they can be used? They presented ideas of how to use Ecobricks (plastics that are not biodegradable).
Ashley, Olivia, Zoe, and Emily - Sustainable, eco-friendly gym. How to build this on Monteverde campus.
Maggie, Mary, Emi, Nadia, Peyton - Vertical farming - The benefits and blueprint of how to build a vertical farming structure.
The world is in good hands with these young ladies. They have powerful passions, creative ideas, and hope to make the world a better place for all of us to live!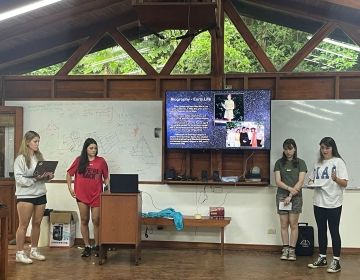 Participants have been working furiously on presentations regarding "Important Women in Stem." Groups presented on Madam Curie, Jane Goodall, Ellen Ochoa, Katherine Johnson, and Katherine Hayhoe. Amazing research and presentations... keep reading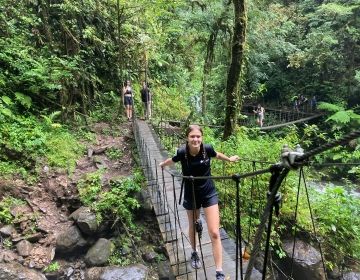 What a weekend we had! On Saturday morning we had our breakfast and then boarded the buses to head to El Tigre Waterfalls. El Tigre Waterfalls are know for hiking... keep reading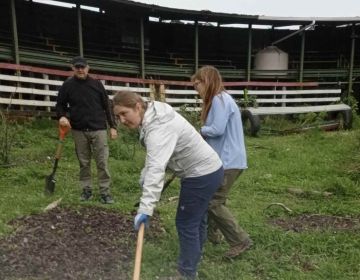 In the midst of the COVID-19 pandemic, the community members of Monteverde, Costa Rica had a problem: they needed access to fresh, local food for a low price. Nearby, in... keep reading