Our first trip outside of Prague was to kutna hora. Only about an hour drive from Prague we first visited the Sedluc Ossunary, nicknamed the "bone church". We learned about the bones all throughout the former chapel, many from deaths due to the Plague. With a long history as far back as the 13th century, the focal piece upon entry to the base of the chapel is the bone chandelier composed of almost every bone in a human body.
After a quick drive from the ossuary, we arrived to St. Barbara cathedral, a UNESCO heritage site. The Gothic style catholic church whose interior is decorated with frescos that depict the medieval mining town of Kutna Hora, was restored in the early 18th century.
Before coin stamping at the former Mint of the Bohemian region, we enjoyed a traditional Czech meal at a nearby eatery. Our artistic spray painting workshop at GASK was the conclusion to our trip to Kutna Hora before the drive back to Prague.






 
This last weekend we traveled to Cesky Krumlov for the weekend and got to witness the beauty of a preserved medieval town. Upon our entrance into the town, we were... keep reading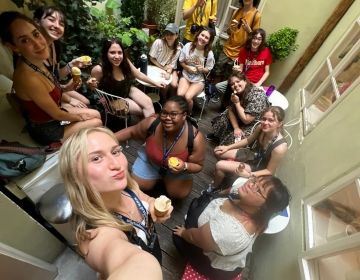 I have already been in Prague for a week for the HSSA Global Navigator program Art-Making in Prague, and so far it has been nothing short of wonderful. This past... keep reading
Wow, it is hard to believe I am writing this blog post and we have completed our first 24 hours in Prague. I feel extremely lucky to have the 14... keep reading