Coffee Break. Water Break. Clucking and Clomping.
As students have come to realize, each day in Monteverde is a series of adventure-based learning. 
We continued midway through our week at La Finca Florencia. The tour was led by Don Mauricio, whose family as far as several generations back have tended to the land, adapting to a changing climate and adjusting to the needs of the harvest, as species both endemic and invasive face or introduce certain challenges. Mauricio, who largely communicates in Spanish, explained a variety of tools and plants that were growing on the farm, allowing students to practice their language comprehension. Ensuring that everyone could follow along, students assisted with translations while la profesora, Carolina, clarified any new words or concepts in English.
The tour ended with a bountiful offering of fresh fruits, such as bananas, oranges, and even tomatoes. Students also got to enjoy a cup of caña; fresh sugar cane juice. Energized for the hike back and ready for a lunch break, we re-fueled for one of the most important campus events yet: a student and staff soccer game. While most students had little formal experience with the game, nearly all found a place on the field playing through sun and rain. Those who weren't part of the field action were found cheering on the sidelines, even retrieving out-of-bounds kicks. A group effort all-around, students got to explore a new sense of trust, fun, and team-building. 
The following morning, the group was still up and out early, some even opting for a 6 AM cow-milking. As a class, we visited a local herb garden, as well as the farm area to see something we hadn't focused on before: the biodigester. Students were able to learn about this mechanism used here in Monteverde that helps maximize reuse potential and minimize carbon footprint. After solidifying some ideas for possible final projects, they ended on a chirpy note with the local farm chickens. 
But the day didn't end there. Invigorated by their morning visit, students continued to work as we arrived in Santa Elena at a community garden center that helps plant herbs for consumption at a nearby school. Students participated actively in their service hours, assisting the garden in removing harmful weeds to help make way for fresh soil and new seed beds. But when thunder cracked and rain took over, it was time to take shelter. With no desire to be idle, one of the students led a mini Cumbia and Bachata lesson, as they continue to find ways to adapt to the elements themselves. 
It all led up to our first big trip away from the Monteverde Campus to El Tigre Waterfalls. Full of steep inclines and suspended bridges, students braved the narrow path rewarding themselves with a dip in a pooled river area. Enlivened by the crisp water, we had just enough momentum to make it up to the top of the hill where students enjoyed a tranquil horse ride up the mountain to end the day.
Most riding for their very first time, the students continue to show that in the face of new challenges and events, they find confidence in trust in themselves and in their community, much like the people of Costa Rica have demonstrated along the way. 
Copy and photos by Alana Zick (they/them)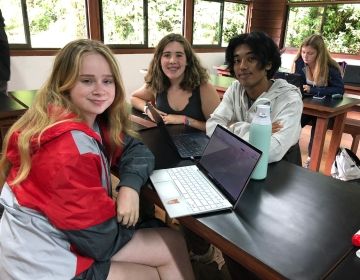 As the students wrap up their final days on campus, they've spent extensive time this week working on final projects, enjoying cultural activities and community service events, and hanging out... keep reading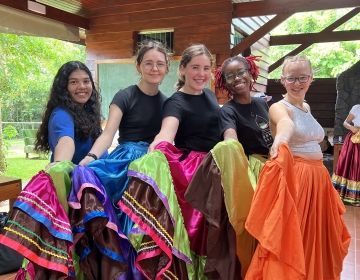 Some of our favorite activities throughout our time on campus are the cultural experiences we get to partake in with our Center Staff and local friends. Two of these activities... keep reading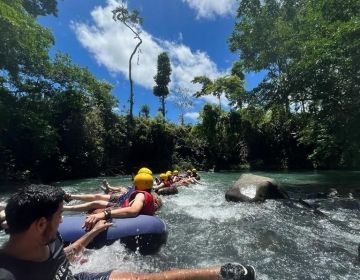 As Week 2 comes to an end and we begin the final week of Session II's Climate Change Mitigation program here in Monteverde, the students prepared for their overnight excursion... keep reading