CIEE honors the following Host Families for the bridges of friendship and mutual respect they build by welcoming students from other countries into their homes and hearts. Assuming the roles of surrogate parents, cultural ambassadors, and mentors, these generous and empathetic hosts have truly humanized international relations by building meaningful, life-long relationships across cultures.
Homestay Hosts Outside the United States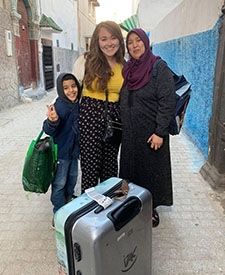 Bahlous Family
CIEE honors the Bahlous family of Morocco in recognition of the generous welcome they provide the CIEE students they host in their home located in the traditional medina (old city) of Rabat. In their five years as hosts, Naima Bahlous and her family have forged unique bonds with students and offered high quality professional and personal experiences that resulted in deep and impactful cultural exchange.
Naima and her family invite students to family occasions, teach students how to cook traditional Moroccan cuisine, share cultural traditions and stories, and introduce students to artisans, shopkeepers, and other members of their neighborhood. They also train other homestays in intercultural leadership and the integrated homestay curriculum to reinforce Arabic language.
Many stories exist of the ways in which Naima has worked to create a safe and inclusive environment for CIEE students. For example, there was a student who faced serious mental health challenges during her stay. The Balhous family was highly professional and was able to retain the student's trust while sharing only the critical information that allowed CIEE to offer the best support for the student. The student has been back to visit the Bahlous family twice.
On another occasion, the family hosted a transgender student who was transitioning while on site. Naima's family was inclusive and supportive throughout the student's stay, helping him navigate the local culture and other challenges he faced. The Bahlous family made a real effort to learn about gender orientation and inclusive practices and have been a model for other host families in this regard.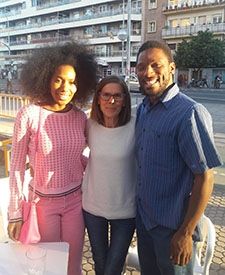 Haza Family
CIEE honors the Haza family of Seville, Spain in recognition of the truly welcoming experience they have provided to the CIEE students they have hosted over the last two decades, and for their continued commitment to internationalizing Seville, Spain. Over the years, Cecilia and her three children have provided a positive and culturally rich experience to more than 50 students. Many students have returned to Seville for Haza family weddings and other local events and festivals, and the family remains in touch with students after their time abroad concludes.
"International Exchange has changed my life for the better, especially after the loss of my dear husband. I have always taken care of the students as my own children, even accompanying some of them in hospitals. They have been part of our family. Many students have come back to Seville for my children's weddings or other family events. It has been very rewarding to host CIEE students at home, especially when my children have left to create their own families. In the last years, and after the pandemic, it was reassuring to know that there were other people sleeping at home, that I won't be waking up alone. I really enjoy cooking different recipes every day for my students, listening to their travelling experiences, or helping them to improve their Spanish skills while we watch the News or a reality show. "– Cecilia Haza, homestay host in Seville, Spain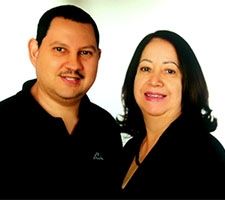 Maria "Maruca" García Ureña
CIEE honors Maria "Maruca" García Ureña and her family for opening their home to welcome CIEE students in Santiago, DR for more than 15 years. The Ureñas always uphold the highest standards of hospitality, providing the best company and care to all students and faculty that have stayed with them.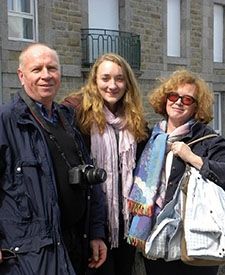 Mercier Family
CIEE honors Patrick and Claudine Mercier of Rennes, France for their warmth and thoughtfulness as homestay hosts for CIEE college and high school study abroad students since 2012. The Mercier's unwavering commitment to international education and intercultural exchange is part of their DNA: both host parents and their children have had an extended international experience. The Mercier family hosted School Year Abroad participants until their children were high schoolers. Once their children entered college, naturally, they studied abroad through CIEE.
The Mercier family has established a reputation for providing students with an unforgettable experience in Rennes – integrating them in many family activities and outings, trips throughout France, and even quizzes to reinforce what students learned during program excursions. Patrick has hosted cooking classes for CIEE students, and the family has helped former students find summer jobs in France.
During the pandemic, as they really wanted to keep hosting students, the Merciers underwent home improvements and built a private bathroom so they could continue serving students in accordance with COVID-19 protocols.
Students who have lived with the Merciers consistently report it as a rewarding experience: A student who stayed with them in 2015 described the impact of her host family on her overall experience by writing: "I have been able to learn so much more sharing the experience with [the Merciers] than I ever would have on my own. I am deeply grateful for all the small gestures and the warm intention behind them. Living with a host family has completely transformed my study abroad experience for the better."
"The idea to host students from US colleges was first born from our wish that our youngest daughter Mathilde become comfortable with the English language. For nearly fifteen years, we have been welcoming students who come to speak French, and who tell us about their experiences as a youth, in a French language that can often be described as approximate at the beginning of their stay. The language is therefore not what we discover through their stories, but it is the culture, the social and family lives of these young people that we welcome. And we take this opportunity to exchange our French life with them…
The students are part of our lives like our children. They are more numerous, and the memories are therefore richer, because each of them has her own way and unique story, and each story interests us and makes us grow. We travel to the US as few people can, and all this from our sofa in the living room, where we listen attentively to what life has already brought to these young students. Of course, there is one, sometimes two departures a year, and each time it's moving to see them leave, with a little souvenir from Rennes. Lots of emotions, but also happiness to know that they will continue to grow up on the other side of the world with some images of a Rennaise family who loves them, in thought." –M. and Mme. Mercier, homestay hosts in Rennes, France
Read more from the Mercier family and reflections by other host families.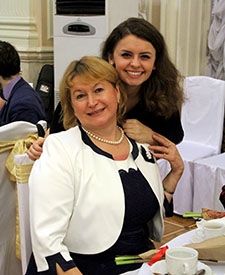 Naumov Family
CIEE honors the Naumov family, Tatiana Vasilievna and Sergey Serafimovich, in recognition of their exemplary service to the students of CIEE St. Petersburg. Since they started hosting students in 2011, Tatiana and Sergey have earned a reputation as a caring, warm host family who successfully adapt to students' unique personalities, needs, and interests.
Students who have stayed with the family laud the experience. A student shared: "I love this family. They invited me to be involved with their lives and let me have lots of alone time and space for myself. I was very nervous about living with a host family, but they made it happy and worthwhile."
"From the first days of our work, we tried our best to create a home-like environment and be supportive of every student. One of the most memorable times was taking our first-ever student on an unforgettable trip to our dacha in the Novgorod region, where for the first time she learned what "Russian bath" and "Russian cuisine" really are. We enjoyed so many wonderful breakfasts and dinners together! Usually, our evening chats with Sarah lasted for a long time – we could talk for hours, not noticing how time flies and talk about everything in the world! And even five years later (and Sarah was already working in the US and matured as a young woman), when she came to St. Petersburg with her grandparents, we could not get enough of talking to her.
Such visits after the programs are not uncommon - it's even hard to say how many students' parents came to visit us over the years! We always felt like one big family with them. Perhaps this is the main experience that we have gained from working with CIEE and hosting students from the U.S. We were always happy to teach the students something and learn something ourselves." -- Tatiana Vasilievna Naumov, homestay host in St. Petersburg, Russia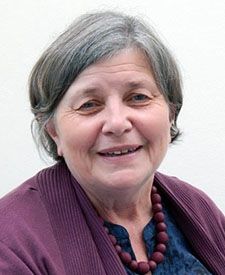 Radka Procházková
CIEE honors Radka Procházková in recognition of her almost two decades of service as a homestay mother for international students in Prague, Czech Republic. Homestay as an option for international students is not very common in the Czech Republic, in part a legacy of distrust from the years of communism. Radka was one of the earliest homestay families for CIEE Prague and has hosted many dozens of CIEE students until her retirement from homestay at the end of the Fall 2021 semester.
Radka is herself an international educator and innovator. In addition to her work overseeing students, she is Director of AKCENT International House Prague. Founded by Radka in 1990, it is one of the largest private language schools in the Czech Republic and offers courses on English, German, Czech, Spanish, and French pedagogy for English teachers.
"I have been involved in the CEE host family program for over 20 years. At the beginning I was approached by an ex-colleague of mine whose new job was CIEE accommodation officer. As at that time the concept of homestay was still rather unknown in the Czech Republic it was difficult to find the families. Working at a language school I had a rough idea how host family system worked for language courses in Britain. I said to myself: "It is only for several months, I have to cook anyway for my son and myself…., "so I agreed.
After my husband had died and three older children had already left our house, I was at home only with my youngest son, Simon, who was 10 at that time. Our first student Rebecca was great and with her in the house the family was suddenly more complete. Back home Rebecca had younger siblings with whom she used to spend a lot of time. Her mum had died of cancer, which also happened to Simon´s father. Immediately Rebecca made a good team with Simon. I think with Rebecca it was really mutual service that we all experienced.
I think in ideal case the student homestay may be enriching and rewarding to both sides. We can enjoy learning about the experiences of the people from the other end of the world. We can compare issues and attitudes and try to understand matters that are different. We can learn languages as well. I love watching my young grandchildren (I have seven now) when they are in contact with the students, and they all try to communicate without deep knowledge of the languages the other side speaks.
I am not in contact with all the students, I am not a very good at writing emails , following social media,  and I am a not very good Facebook user, but I know that in the US or somewhere in the world there are tens of friendly young people that spent some time with me and us in my house in Prague and  I am grateful for the experience."
Read more from Radka and reflections by other host families.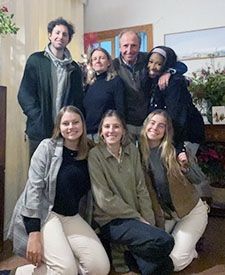 Ysasi Family
CIEE honors the Ysasi Family of Seville, Spain in recognition of their efforts to provide wonderful homestay experiences to both college and high school students. They have hosted 60 CIEE students in their home since 1999. The Ysasi Family has established a reputation as a host family who offers a truly welcoming experience to students, and they have demonstrated a continued commitment to internationalizing Seville. The Ysasi Family loves spending time with participants, sharing meals and traditions. They really involve students in their daily lives.
"[Our experiences hosting American students have had] an important socio-cultural impact in our three children's lives, who are now three open minded adults, working for international schools/companies in Seville. They have grown with American students and this semester, Spring 2022, it is the first time that the CIEE students are the youngest girls in our home, as our third daughter just turned 22 years old."–Juan Ysasi, homestay host in Seville, Spain.
Read more from Juan and reflections by other host families.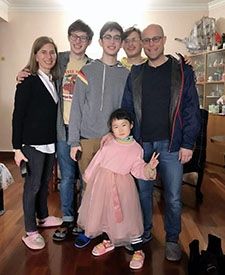 Zhang Family
CIEE honors Yaqian Zhang and her family in recognition of nearly two decades hosting CIEE students in Shanghai, China. When CIEE opened a site in Shanghai in 2004, the Zhang family was one of the first host families. Since then, they have hosted 68 CIEE students. Yaqian Zhang has also provided dedicated support for local staff in developing a pool of host families ­­– sharing her experience with new host families, participating in cultural acclivities, and hosting CIEE faculty-led programs for local family visits.
Yaqian Zhang's impact spans across both borders and generations. For example, in 2014 Yaquan Zhang hosted a CIEE GAP student, who returned home with a wealth of positive memories from the family. In 2019, five years after that exchange, the student's little brother requested to live with this same host family when he came to study at CIEE Shanghai. At the end of the year, the student's entire family traveled to Shanghai to visit, and the two families keep close connections today.
Volunteer Host Families in the U.S.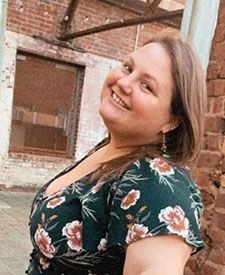 Angel Branch
CIEE honors Angel Branch from Georgia for her longstanding support of international exchange. In her nearly two decades of work at CIEE, Angel raised her family of five children while hosting exchange student "brothers" and "sisters" in her home. Her biological children and exchange "children" built lifelong sibling bonds and have traveled the world to visit each other.
As a veteran Local Coordinator, Angel places upwards of 20 international high school students with host families each year. She is a devoted advocate for students, schools, and host families. She has a wealth of knowledge, a passion for helping others, and is willing to step in and help, whenever and however she can.
"My experience with international exchange began when I was a child. Two of my aunts hosted exchange students and I was completely fascinated by it. So, when I saw an advertisement hiring for a CIEE local coordinator it caught my attention right away. Little did I know that answering that ad would change the trajectory of my life and my family's lives forever. The experiences and relationships we have built through hosting, supervising, and travel have enhanced our lives in a way that feels too incredible and deep for words to convey. 
[Shortly after becoming a Local Coordinator] there was a student from Germany who was having a difficult time. I remember the moment I turned to look at her and realized that I knew how to help her. That was a really important realization for me. I thought how if one of my children were taking on such a journey, I would want someone there who could help, guide, or even just be there for them…I try to always remember I get to have the incredible honor and joy of being that person for these amazingly brave humans that choose to take on this special exchange experience. I have expanded my knowledge, heart, family, cultural understanding, and passport usage. I am in awe and so grateful for all that it has brought me." – Angel Branch, Local Coordinator and volunteer host mother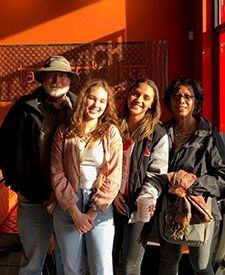 Edwina MacDonald
CIEE honors Edwina MacDonald from Indiana in recognition of her unparalleled support and dedication to high school exchange over the last 20+ years. Edwina's start in international education began with her own exchange experience in 1979. Since then, Edwina and her husband, Peter, have hosted nearly 50 students from all around the world. She served as a Local Coordinator with CIEE for many years as well as a Regional Director, primarily placing and supporting students in her home state until her retirement in 2021. She remains close to her students and a friend and mentor to those whose lives she has touched over the years.
"We started hosting [in 1994] with a student from Macedonia, adding 'sons' and 'daughters' from many countries under the sun. We finished off, during the pandemic, with our 49th and 50th students from South Africa and Brazil. Our home was blessed with and exposed to the humanity of teenagers from so many cultures, so many perspectives, and so many experiences. Our lives were forever changed and enriched… Our relationships with all of these students never ended. We still stay in touch with our very first student who is now in his mid-forties." – Edwina MacDonald, Local Coordinator and volunteer host mother
Read more from Edwina and other reflections from host families.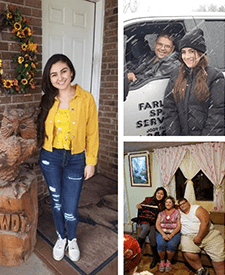 Farley Family
CIEE honors the Farley family from Missouri in recognition of their commitment to hosting high school exchange students. In the last six years, they have hosted five exchange students from Ecuador. The Farleys provide wonderful cultural experiences for their students, from Christmas and vacations to snow days and lake adventures. The Farleys have visited their new extended family in Ecuador multiple times over the years and continue to play a big role in the lives of students who have come through their home.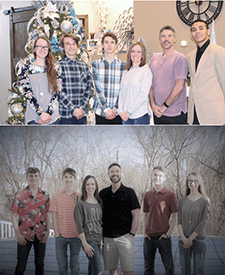 Gibbs Family
CIEE honors the Gibbs family from Missouri in recognition of the affectionate and thoughtful way in which they welcome international high school exchange students. A mother whose son lived with the Gibbs during his time as an exchange student in the United States describes the family as "excellent people, human, attentive, and pleasant."
"So many memories have been created with each of the students we have hosted. Sharing different holidays and customs from our country is only a part of the experience. Just as enjoyable, we have learned about the customs from each of the student's countries as well. There is so much to be learned by opening your home to these students." – Sheila Gibbs, volunteer host mother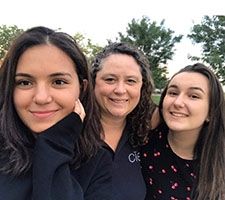 Laurel Sapp
CIEE honors Laurel Sapp, a longtime Local Coordinator for the High School USA program, in recognition of her efforts in support of high school international exchange. For 13 years, beginning in 2004, Laurel placed around 20 students each year with volunteer host families in the Chattanooga, Tennessee area. When she moved to Idaho, she continued her work, successfully supervising student placements as well as hosting CIEE students in her home. Laurel is kind, patient, and always willing to help with any situation.
"I love all my kids that I have coordinated and hosted! I love connecting these amazing students with families in my community for a wonderful experience and helping them through the year... I love getting to know them as well and staying in touch through the years after their exchange. It's a wonderful, life changing experience!"  – Laurel Sapp, Local Coordinator and volunteer host mother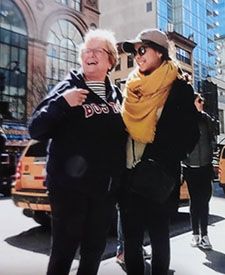 Ronnie Newman
CIEE honors Ronnie Newman from Rhode Island in recognition of her support and dedication to high school exchange as both a Local Coordinator (LC) and host family for CIEE for more than 20 years. Ronnie has been with CIEE since the high school inbound program began in the 90s. She is our most veteran LC, a former host mom to many around the world, and a fierce advocate of high school exchange. She has also referred various students for CIEE outbound programs. Her no-nonsense approach has made her a highly respected and valuable part of the CIEE family.
Ronnie has been an integral part of the CIEE community for many years. Throughout her tenure as an LC, she has placed and hosted countless high school participants with families and schools across Rhode Island. As a former exchange student herself, she knows first-hand the value of international exchange. Every year Ronnie works tirelessly to connect exchange students with compatible host families, and to support these students and families through the ups and downs of their exchange experiences. Ronnie has been a long-term fixture at CIEE's annual high school meetings, and the experience, dedication, and enthusiasm she brings to the CIEE community is invaluable.
"I have been working with foreign exchange students, host families, and high schools for about 45 years. [This rewarding work for me began] in the summer of 1962 when I was 15 years old and I traveled to 10 countries for 10 weeks in Europe with my Girl Scout troop. In a few of those countries we lived with host families whose daughters were Girl Guides and had been our pen pals for a few years.
I have met and maintained relationships with so many foreign students, host families, natural parents, and high school officials that my stories could fill volumes!" – Ronnie Newman, Local Coordinator and volunteer host mother.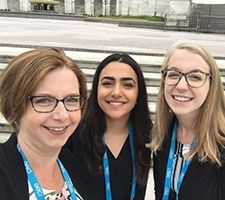 Barber Family
CIEE honors the Barber Family from Virginia in recognition of their continued support of both inbound and outbound high school exchange programs. Stacy and Piet have consistently hosted international exchange students through CIEE, including five high school students from four different countries. The Barber's daughter Cecilia studied abroad in Germany during high school through the Congress-Bundestag youth exchange (CBYX) in 2016-2017, and she remains an active and engaged alumna, participating in CBYX orientations and interview events.
In 2019, Stacy, Cecilia, and their then exchange student Lea participated in the CIEE Advocacy Forum in Washington, D.C. and spoke to Congressional members on Capitol Hill about the importance of international education and exchange.
Bringing the World Together Since 1947
CIEE is presenting 75 CIEE Bridge Builder Awards to those individuals and institutions – from host families to study abroad advisors, from politicians to employers – whose efforts and influence over the last 75 years have strengthened international education and exchange.