Lesson #1 - Take More Pictures!
No seriously, I have experienced so much in my first week in Spain and what do I have to show for it (other than several wonderful new friendships and a lovely piso, of course) except an almost empty camera roll? I have been so entranced by my time in Spain and have been moving around this city so much that I've hardly taken out my phone for a photo. I've always been more of a living-in-the-moment type of person–I just wish I was also a person who thought about taking more pictures to send to friends and family. 
But then this same realization hits me, the way that it has at least once a day this past week: I don't need to rush to preserve every moment. I'm going to be living in this beautiful country (God-willing, I have my legal paperwork in order) for ten whole months. I've got time to learn more Spanish, teach more English, see all the sights, make even more friends, and perfect the photographic rule of thirds. I am lucky enough to be able to live one day at a time here. 
I'm coming to Madrid fresh out of four years spent as an undergraduate at Coe College in Cedar Rapids, Iowa where I earned my degree in Religion and Creative Writing. And while I love and appreciate the folks I met in Iowa and all that I learned there, I'm looking forward to a change of pace. Clearly, I took a pretty extreme route by leaving the U.S. altogether. All of my life, people have told me that there will never be a time when it's easier to make big, bold, changes and start anew than when I'm already in a time of transition. I've been fortunate enough to feel super supported by my family and friends at home, and now that I'm here in Spain, by CIEE. I hope that this year will be one full of growth and new experiences and I'll try to take you along on as many journeys as I can! 
-Rose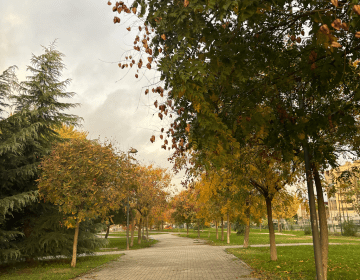 As I sit on the train on my way to my first day of school, I share some reflections on my first week as an Aux in Madrid.
For me, I would say it was a bit intimidating to walk into a large hotel with just a name and direction. Finding the CIEE, check in desk helped to... keep reading