OVERVIEW
As the capital of a country with the world's third largest economy, Tokyo is an ideal location to deepen one's understanding of business. From small companies to leading global firms, students have numerous and various opportunities to engage with the business world and learn how Japanese culture influences business practices. Students will encounter incredibly advanced technology through company site visits, as well as vestiges of the past through exploration of local areas. Despite having a population of roughly 13 million, Tokyo boasts a strong reputation as a clean and safe city.
DESTINATION
Destination
Tokyo is absolutely unique, you have to experience it to believe it. While it is incredibly crowded, with a population of roughly 13 million, it is extremely clean and very safe compared to most other metropolises. Trains run on time, space is used in creative and ingenious ways, and the variety of shopping and entertainment available is astounding. Japan might be considered the vending machine capital of the world (There are even vending machines on Mt. Fuji!) yet customers in stores are treated royally, and clerks try to be as helpful as possible. Despite the crowds in Tokyo, it is possible to find quiet oases, pockets of nature to enjoy, and vestiges of the past, if you know where to look.
LECTURES & SITE VISITS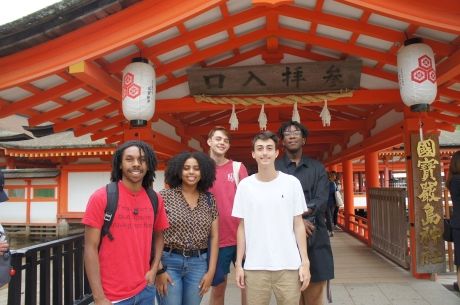 LECTURES
The Japanese Business, Technology, and Culture program in Tokyo includes two guest lectures on topics such as:
Japanese Business, Culture, and Etiquette
Business Sustainability
Mirairo - How We Transform Diversity into Power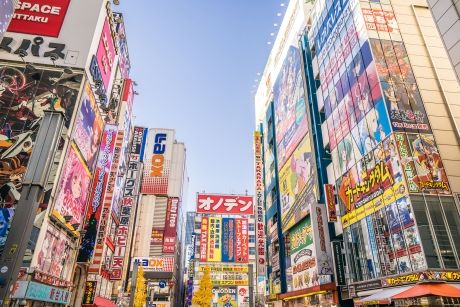 SITE VISITS
Every CIEE Faculty-Led & Custom program is a unique combination of high-quality academics and co-curricular activities and excursions that offer real-world experiences to enhance classroom learning. Here are just a few of the possibilities for co-curricular activities and excursions in Tokyo:
City Bus Tour: A guided bus tour is the quickest way to get to know Tokyo and some of its famous landmarks such as Tokyo Tower, the beautiful Kabukiza Theater, the governmental National Diet Building where both the House of Councillors and the Lower House sit, and more.
Nissan Motor Factory Tour: Students will gain insight into one of the world's leading automotive manufacturers; observe the engine assembly line in addition to the Yokohama Plant Guest Hall and the Nissan Engine Museum; and have a Q&A session with Nissan personnel.
Tea Ceremony: Students will witness the Japanese tradition of preparing, serving, and drinking tea in a ceremonial fashion. The process is meditative, involving prescribed movements and tools in order to create an atmosphere of respect, tranquility, harmony, and peace.
Asakusa: Freely explore this famous and historical area. Notable sites in Asakusa include Sensoji Temple, the oldest Buddhist Temple in Tokyo, and Asakusa Shrine, located right next to Sensoji Temple.
Kawasaki Robostage: Students get hands-on look at Kawasaki's latest robots and devices in their robot showroom.
The SEIKO Museum: Established in 1881, SEIKO has been a global leader in the timepiece industry. Through an informative guided tour in English, participants will learn about the evolution of time-keeping instruments, the development of SEIKO, and the company's legacy.
Day trip to Yokohama: Visit the second largest city in Japan, roughly 45 minutes away from Tokyo by train. Yokohama is a port city located directly south of Tokyo and it is home to engine development.
Overnight excursion to Nikko: Stunning natural beauty and ancient architecture combine in this UNESCO World Heritage Site, just a two-hour train ride from Tokyo. Nestled in the mountains of Tochigi prefecture, Nikko is home to a world-famous complex of shrines and temples, including the 400-year old Toshogu shrine. During their trip, students will have the chance to experience the history and culture of this revered site ending with a visit to the Edo Wonderland theme park. Transportation to, from, and around Nikko are all included.
WHAT'S INCLUDED
What's Included
Every program is tailored to suit the needs of your academic goals – so every program is unique. But all programs include on-site orientation, 24/7 emergency support, in-country transportation, accommodations, some meals, classroom space, cultural and theme-related site visits, guest lectures, comprehensive insurance coverage and logistical support from our on-site CIEE staff. We also supply customized advertising materials and other valuable tools to help you get the word out to students.
ACCOMMODATIONS INCLUDE:
Western-style hotel accommodations for students and faculty, including breakfast and Wi-Fi.  
MEALS:
Daily breakfast, welcome dinner, farewell dinner and two group lunches and one group dinner during excursions.
PLEASE CONTACT US FOR PRICING.
These "ready-to-run" programs are based on a duration of 2 weeks with a minimum 15 students, but we can customize to meet your specific needs.
SAFETY
Safety
Our No. 1 priority is keeping you and your students safe. With more than 70 years of experience creating safe, reliable, study abroad programs around the world, we have an excellent safety record. Each of our sites is regularly assessed using international risk management standards to make certain our programs can be safely and successfully run. In addition, your program includes the peace of mind of iNext medical insurance, the support of the CIEE staff members who are experts in international safety and security, and 24/7 emergency support in-country.