OVERVIEW
The thriving global city of Berlin has been built over centuries around the River Spree. Home to nearly 3.5 million people, it's a place of vigorous growth and change. As the capital of Germany, business and governmental decisions made in Berlin reverberate throughout the European Union and the world. Berlin houses countless small start-up businesses, with growing communications, life sciences, environmental services, media and music, and digital sectors. Once again, as in 2017, U.S. News and World Report ranked Germany #1 in entrepreneurship, making this an ideal location for study abroad business majors.
DESTINATION
Destination
As a result of reasonable living costs, excellent public transportation, and easy access to parks and playgrounds, Berlin is ranked among the top of global urban quality-of-life indices. It offers locals and visitors alike a multitude of universities, research institutes, orchestras, museums, festivals, and historical landmarks to explore.
LECTURES & SITE VISITS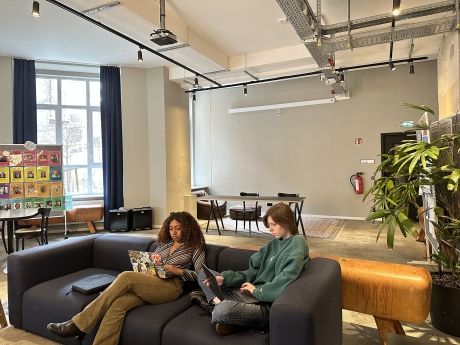 LECTURES
The Business in Berlin program includes two guest lectures on topics such as:
Industry 4.0 and the Internet of Things
Berlin's Startup Ecosystem
Urban Mobility Solutions
Energy, Sustainability, and Mobility
The German Automotive Industry Past and Present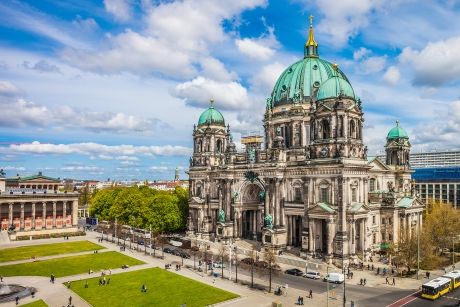 SITE VISITS
Every CIEE Faculty-Led & Custom program is a unique combination of high-quality academics and co-curricular activities and excursions that offer real-world experiences to enhance classroom learning. Here are just a few of the possibilities for co-curricular activities and excursions in Berlin:
Betahaus Tour: Betahaus is a co-working community where students can witness the open exchange of knowledge, ideas, and inspiration and sit in on startup pitches.
Berlin Wall Memorial Tour: The fall of the Berlin Wall is the most remarkable event in recent German history. Visit the Berlin Wall Memorial at Bernauer Straße and learn about the division and reunification of Berlin and Germany.
The German Tech Entrepreneurship Center: Visit the campus of GTEC where entrepreneurship is promoted on a global scale through a diverse set of education programs, innovation awards, talks, workshops, industry meetups and networking.
Visit the EUREF campus, which serves as a home base for companies working in energy, sustainability and mobility including major international companies such as Cisco, Schneider Electric and Deutsche Bahn, in addition to numerous start-ups.
Bicicli Site Visit: Founded by two scientist/professors, Bicicli's goal is to re-introduce the bicycle as the ultimate urban mobility solution.
Stone Brewing Tour: Founded by Greg Koch and Steve Wagner in 1996 in San Diego, Stone Brewing opened this Berlin brewery in September 2016. It recently won the Bier, Bars and Brauer Awards for Best Beer Gastronomy in Germany.
Waste Processing Plant: Visit a waste processing facility that has been defining and redefining what Berlin does with what Berliners throw away. A tour of the facility follows the various steps involved in this multi-faceted process.
Day Trip to Wolfsburg: Located on the river Aller, Wolfsburg is the home to Volkswagen A.G. Headquarters (the world's biggest automotive plant) and the Autostadt where participants will learn about the success of the automotive industry in Germany.
Overnight Excursion to Dresden: The 800-year-old city, bombed in World War Two and subsequently rebuilt, is a major economic and cultural center of Eastern Germany. From the Baroque architecture of the inner city to Volkswagen's electric vehicle production facility, there is much to explore in Saxony's capital.
WHAT'S INCLUDED
What's Included
Every program is tailored to suit the needs of your academic goals – so every program is unique. But all programs include on-site orientation, 24/7 emergency support, in-country transportation, accommodations, some meals, classroom space, cultural and theme-related site visits, guest lectures, comprehensive insurance coverage and logistical support from our on-site CIEE staff. We also supply customized advertising materials and other valuable tools to help you get the word out to students.
ACCOMMODATIONS
Double occupancy hostels for students with breakfast included. Single occupancy hostels for faculty with breakfast included. 
MEALS
Daily breakfast, welcome dinner, farewell dinner and two group lunches and one group dinner during excursions.
PLEASE CONTACT US FOR PRICING.
These "ready-to-run" programs are based on a duration of 2 weeks with a minimum 15 students, but we can customize to meet your specific needs.
SAFETY
Safety
Our No. 1 priority is keeping you and your students safe. With more than 70 years of experience creating safe, reliable, study abroad programs around the world, we have an excellent safety record. Each of our sites is regularly assessed using international risk management standards to make certain our programs can be safely and successfully run. In addition, your program includes the peace of mind of iNext medical insurance, the support of the CIEE staff members who are experts in international safety and security, and 24/7 emergency support in-country.