OVERVIEW
Almost one-third of the Netherlands is situated below sea level, including its capital city - Amsterdam - which is on track to become one of the most sustainable cities in Europe.  In this innovative program students explore the history of Dutch water and wind control and how these resources have been harnessed over the years. Study of the Dutch political framework and economic climate compared to the European and U.S. agendas will offer insight into Dutch sustainability efforts. Students will develop strategic ways of thinking about how Dutch businesses use the environment to create profits, how the Dutch government is investing in clean technologies, and how Dutch society is becoming more conscious about issues regarding the environment. Finally, students will learn about the trends and technologies that could possibly change the world in the coming years.
DESTINATION
Destination
Idyllic Amsterdam with its quaint canals and storybook windmills is also one of the world's most progressive cities, not to mention, one of its most technologically advanced. It offers all the amenities of a cosmopolitan city – renowned museums, art galleries, music clubs, and theaters – but with a small-town feel where most residents choose bicycles over cars for transportation.
LECTURES & SITE VISITS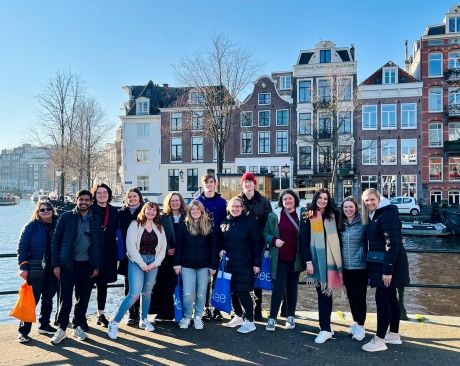 LECTURES
The Environmental Studies program in Amsterdam includes two guest lectures on topics such as:
The History of Business and Sustainability in The Netherlands
Trust, Decision-Making and New Forms of Morality
The Start-up Sector in Amsterdam
The Amsterdam Economic Board: A Perspective on Tackling Urban Challenges Facing the Metropolis of the Future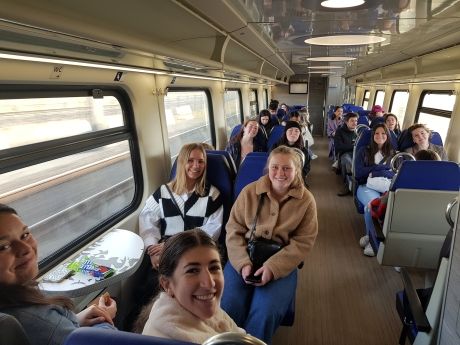 SITE VISITS
Every CIEE Faculty-Led & Custom program is a unique combination of high-quality academics and co-curricular activities and excursions that offer real-world experiences to enhance classroom learning. Here are just a few of the possibilities for co-curricular activities and excursions in Amsterdam:
Tour of Stadsboerfeij Almere, an organic farm outside of Amsterdam
Guided evening canal tour to explore the 400-year-old canal ring by boat
Visit to progressive businesses like APG to understand how they balance people, planet and profit
City bike tour to take in the cities most talked about landmarks like the harbor, Jordaan quarter, Anne Frank's House, the Rijksmuseum and more
Day trip to Wageningen University & Research – the only university in The Netherlands to focus on healthy food and the living environment
Overnight excursion to Delft – the center of technological research where remarkable strides are being made to save the world's oceans
WHAT'S INCLUDED
What's Included
Every program is tailored to suit the needs of your academic goals – so every program is unique. But all programs include on-site orientation, 24/7 emergency support, in-country transportation, accommodations, some meals, classroom space, cultural and theme-related site visits, guest lectures, comprehensive insurance coverage and logistical support from our on-site CIEE staff. We also supply customized advertising materials and other valuable tools to help you get the word out to students.
ACCOMMODATIONS INCLUDE:
Triple occupancy hostels for students with breakfast and linens included. Single occupancy hostels for faculty with breakfast and linens included.
MEALS:
Daily breakfast, welcome dinner, farewell dinner, one group lunch included in day trip, two group lunches and one group dinner included in overnight trip.
PLEASE CONTACT US FOR PRICING.
These "ready-to-run" programs are based on a duration of 2 weeks with a minimum 15 students, but we can customize to meet your specific needs.
SAFETY
Safety
Our No. 1 priority is keeping you and your students safe. With more than 70 years of experience creating safe, reliable, study abroad programs around the world, we have an excellent safety record. Each of our sites is regularly assessed using international risk management standards to make certain our programs can be safely and successfully run. In addition, your program includes the peace of mind of iNext medical insurance, the support of the CIEE staff members who are experts in international safety and security, and 24/7 emergency support in-country.