Ambassadors Fund for Summer Work Travel Seminar in NYC
CIEE was honored to again this year partner with InterExchange to oversee the Ambassadors Fund for Summer Work Travel Scholarship funded by the U.S. Department of State. The highly competitive scholarship offers a unique opportunity for young people who couldn't otherwise afford to participate in the BridgeUSA Summer Work Travel Program. The scholarship was offered to 89 recipients hailing from Albania, Armenia, Azerbaijan, Bulgaria, Estonia, Latvia, Lithuania, Georgia, and Greece. 
Last week, CIEE and InterExchange hosted a 3-day arrival seminar in New York City for 33 Ambassador Fund Scholarship recipients from Armenia, Azerbaijan, Bulgaria, and Georgia. The seminar brought participants together to develop leadership skills, foster professional growth, and advance intercultural understanding. 
The event kicked off with Mentor Dida leading the participants through the 'Ambassador Fund Changemaker Challenge' guiding them to find their voice and understand the power of storytelling. The group was tasked to select a social issue and create a pitch on how to inspire change. The social issues included topics such as youth empowerment, cultural preservation, wealth disparity, mental health, and negative effects of social media. 
Molly McCarthy and Jessica Kissell presented a section on misinformation and disinformation giving participants the tools to form an independent opinion and understanding of American culture and values, which will allow them to assess news and information about the United States through fresh eyes. 
In addition, the participants also took a tour of the United Nations and traveled by ferry under the Brooklyn Bridge. 
Kevin Saba and David Benze from the Bureau of Educational and Cultural Affairs (ECA) spoke to the group before the participants gave their capstone presentations. Kristin duBois, and Katie Knoch also from ECA joined the event. 
After the seminar, the participants dispersed across the United States to begin their jobs at host employers such as Cedar Point, Morey's Piers, and Sun Valley.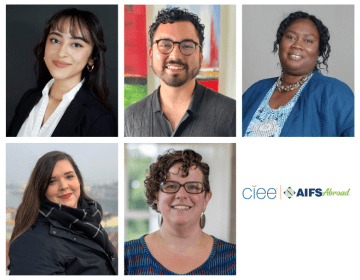 CIEE and AIFS are excited to announce the third cohort of higher education professionals to receive the Ping Taylor Professional Fellows Grant, a development program to fund participation at national... keep reading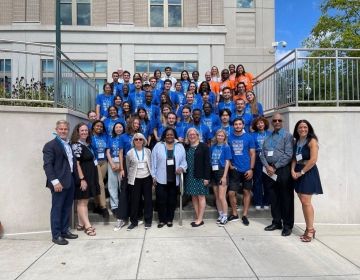 Since 2013, CIEE has hosted the Ambassador Johnny and Mrs. Angie Young Civic Leadership Summit (Y-CLS) . CIEE's annual summit for international changemakers is named for Ambassador Johnny and Mrs... keep reading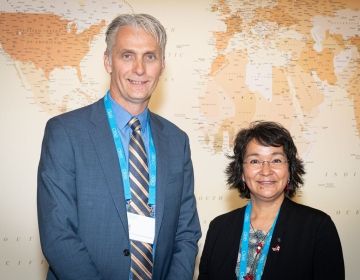 CIEE was honored to host Greenlandic Foreign Minister Ane Lone Bagger and a Greenlandic government delegation at CIEE yesterday. Minister Bagger, who is Greenland's Minister of Education, Culture, Church, and... keep reading