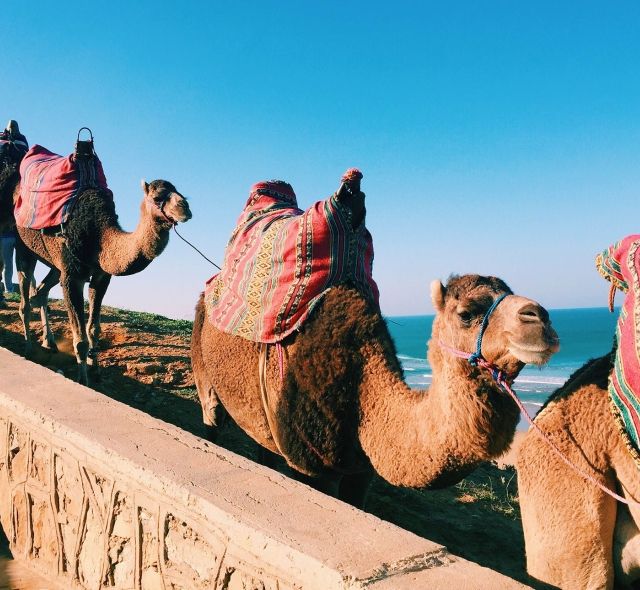 Arabic Language & Culture
Arts & Culture
Language & Culture
Program Overview
Language Proficiency
15-20 hours per week of language instruction in Modern Standard Arabic and Darija (the Moroccan Arabic dialect)
Global Perspective
Build a strong foundation in the core components of intercultural learning. Come home with an improved sense of self and awareness of what shapes others.
Certificate
Earn a Certificate of Learning in Arabic
96%
of alumni said their language skills improved
94%
said they learned to interact with different cultural backgrounds
89%
said their level of independence increased
The Destination
The Destination
A unique mix of traditions with Arab, Spanish, French, and African influences.
Life in Rabat offers an enticing mix of traditional and modern Morocco, and a mosaic of Arab, Spanish, French, and African influences. Take time to explore the city's art, architecture, cuisine, and cultural heritage and see why many consider it to be one of the region's best kept secrets.

By all accounts, Rabat is one of the most welcoming cities you'll find. It's relaxed and full of history, ideally located on the Atlantic coast, and an easy train ride from many other desirable destinations.

Rabat is known as an open and progressive society. Strolling through the city, you'll hear locals speaking Arabic and French, and the five daily Muslim calls to prayer echoing through the streets and ancient markets. Rabat is a livable city, with many lush gardens and calming palm tree-lined boulevards to relax and recharge you.

Morocco is also known for its diverse geography, with cities, mountains, beaches, and deserts all within easy access for you to explore. From Rabat, you can easily visit cities like Marrakech, Casablanca, Chefchaoune and Fez. Dreaming of Paris? You're a cheap plane trip from Western Europe, so the opportunities will seem endless.
Daily Life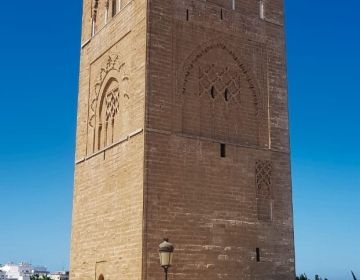 It simultaneously feels like I landed yesterday, and like I've been living here my entire life. I guess that's what happens while living on Moroccan time. But in reality, I've... keep reading
Two weeks ago, CIEE Rabat hosted what we've dubbed amongst ourselves "the worldwide conference"—a gathering for CIEE directors around the globe, over a hundred in total. It goes without saying... keep reading
I still can't decipher whether anxiety or excitement took center stage last Monday as I took the tram to the CIEE study center in Rabat for the first time in... keep reading
Activities
Sample Activities
Take a tajine workshop to learn how to prepare this classic North African Berber dish
Watch a traditional Moroccan women's band perform, and get artsy yourself at a henna party or carpet-weaving or brass etching workshop 
Check out world-class art at the Bab Rouah gallery or Villa des Arts or traditional art at the Oulja Potter Co-op. Take part in an artisan tour of the old city where you meet the masters and their apprentices and learn about the transmission of these traditional skills through generations.
Trace ancient history at the Rabat Archaeological Museum or through a comparative religion tour of the Jewish quarter in the old medina
The program fee also includes two day trips and two multiday excursions hosted by CIEE staff per semester, so you'll get the chance to take part in the following jaunts.
Visit Rabat's beaches to explore the tidal basins and learn about Morocco's geographical diversity while watching the incredible Moroccan sunsets with language and culture peers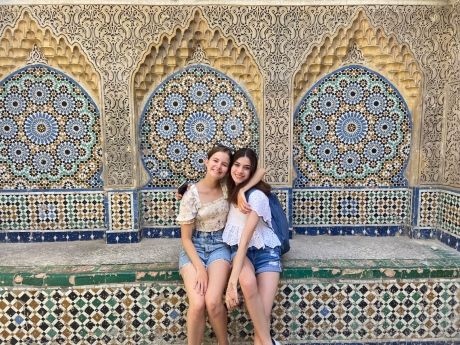 Sample Day Trips
Experience Northern Morocco with a visit to Tangier, the largest Moroccan port on the Strait of Gibraltar, and Asilah, a fortified town with its ramparts and gateworks still intact.
Visit the medina, explore the Caves of Hercules, explore the Northwestern tip of Africa (Cape Spartal) while glancing over at mainland Spain, and catch some sun at one of several beaches that line the port.
Head over to the historic imperial city of Meknes to see cool archaeological sites like Volubilis, a partly excavated Berber and Roman city dating from the 3rdcentury B.C. Explore mosaics and ruins at this peaceful UNESCO World Heritage Site, and make a stop in the medina to check out local handicrafts.
Take a train to Casablanca, the largest city in Morocco and its economic and business capital. Visit the Hassan II Mosque – the largest mosque in Morocco and the only one that allows non-Muslims to enter. During your free time, you can grab a coffee at Rick's Café, the infamous setting of the movie "Casablanca."
Please note this list of activities is based on past programs and subject to change at CIEE's discretion to both adapt to local circumstances and participant feedback. Our goal when revising itineraries is always to enhance your experience. Every activity is designed to provide you with a deep immersion in your topic, local culture and sights. Get ready for maximum fun!
Dates & Fees
Eligibility
Program open to recent high school graduates (no more that 1 year post-graduation) who:
Are at least 18 years old at the time of their departure
Are in good academic standing
Demonstrate—through the application and interview process—flexibility and maturity.
No previous language experience required.
Please note Gap participants may volunteer at local organizations with prior authorization from CIEE. Gap participants however, are not authorized to take any job or seek employment during their stay.
For more information, refer to our detailed GAP eligibility criteria.
Fees
$50
Priority deadline discount: Apply to a fall semester or academic year by June 1 and get a $400 discount. Apply to a spring semester by October 1 and get a $400 discount. Discounts are deducted from final balance.
Program fee includes iNext travel insurance. Full inclusions are found online.
Program

Application Due

Start Date

End Date

Costs

Program

Spring 2024

12 weeks
Application Due

Deadline Passed

Start Date

End Date

Costs

$15,000

Program

Academic Year 2023

34 weeks
Application Due

Deadline Passed

Start Date

End Date

Costs

$27,000

Program

Fall 2023

12 weeks
Application Due

Deadline Passed

Start Date

End Date

Costs

$15,000