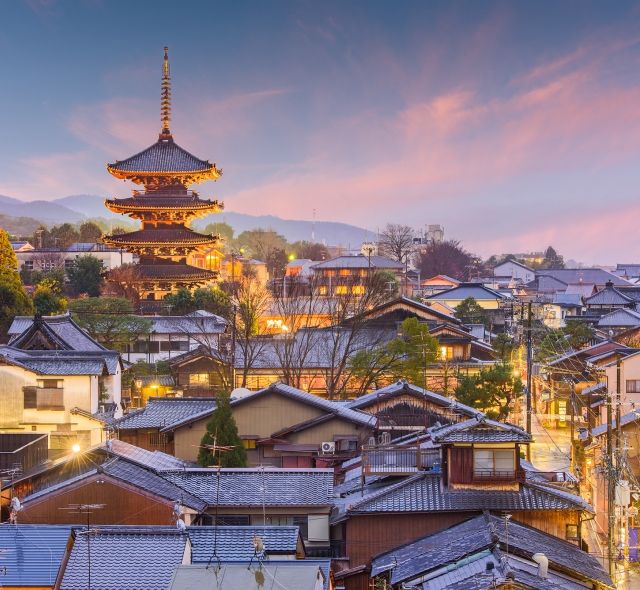 Japanese Language & Culture
Program Overview
Language Proficiency
15-20 hours per week of Japanese language learning designed to improve real world language skills
Global Perspective
Build a strong foundation in the core components of intercultural learning. Come home with an improved sense of self and awareness of what shapes others
Certificate
Earn a Certificate of Learning in Japanese
96%
of alumni said their language skills improved
94%
said they learned to interact with different cultural backgrounds
89%
said their level of independence increased
The Destination
The Destination
Japan's most historic city remains the hub of traditional old-world culture — and a perfect place to study traditional art, architecture and history
Did you know? Kyoto is home to more than 1,600 temples and 400 shrines. 
While Tokyo is the official capital of Japan, Kyoto is often called the country's "cultural capital." With a wealth of well-preserved historical and religious landmarks (including 17 UNESCO World Heritage Sites), Kyoto is like a living, open-air museum — and a perfect place for studying Japanese language and culture.
Here you'll see sacred shrines rather than skyscrapers; lanterns in place of neon lights. The narrow stone streets in the center are lined with old wooden houses, traditional teahouses, and quiet gardens. But all around you'll find modern shops selling snacks (for your fix of Pocky and Matcha Kit Kat!) and noodle or curry houses catering to hungry students. 
Adventurous eaters will love Nishiki Market, which has over 100 food stalls and shops of its own. You can fill up on samples, skewers, gyoza dumplings, noodles and more noodles, and pickled everything! Mountains of rice-cake mochi and other wagashi confections come in all shapes and colors. Go for a grilled baby octopus on a stick if you dare! 
CIEE wants all our students to feel welcomed, supported, and empowered to succeed while studying abroad. Local CIEE staff have provided details about conditions and cultural attitudes that students with specific identities might encounter in Kyoto.
Daily Life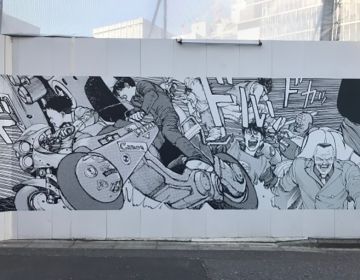 Well, my time here in Japan is coming to a close and I'm honestly really upset about it. I mean, it hasn't actually hit me that I'm leaving, but the... keep reading
The choice to take a gap year is, obviously, different for everybody. It takes a lot of consideration and several variables to even begin considering if taking a year between... keep reading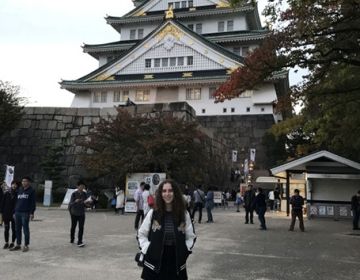 Hi everyone, it's been some time since my last blog entry. I know the end of the month is quickly approaching and you all were waiting for me to post... keep reading
Activities
Sample Excursions
Practice the ancient arts of Japanese calligraphy and tea ceremony.
Visit the Kyoto Imperial Palace, where former emperors lived in high style. 
Climb to the Fushimi Inari Shrine, ascending Inari Mountain while passing through thousands of bright-orange torii gates.
Check out the Kyoto International Manga Museum and its collection of 300,000 comic books! See manga-related exhibits and read any manga (comic book) you like.
Eat up at world-famous Nishiki Market, or sample traditional tofu, yuba, and saikyo-yaki — Kyoto-style grilled fish.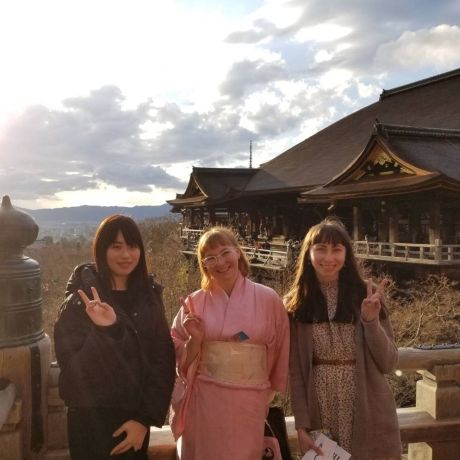 Sample Day Trips
Head to the historical city of Nara to see eight UNESCO World Heritage Sites, including the Great Buddha Hall of Todaiji Temple and the Kasuga Grand Shrine.
Visit Osaka, a thriving port city known for trendy shops, flashy signs, excellent eateries and youthful energy!
Take in gorgeous views on a daytrip to Kobe – an historic harbor city nestled between mountains and the sea. Look for the iconic port tower and its signature dish, Kobe beef. 
Please note this list of activities is based on past programs and subject to change at CIEE's discretion to both adapt to local circumstances and participant feedback. Our goal when revising itineraries is always to enhance your experience. Every activity is designed to provide you with a deep immersion in your topic, local culture and sights. Get ready for maximum fun!
Dates & Fees
Eligibility
Program open to recent high school graduates (no more that 1 year post-graduation) who:
Are at least 18 years old at the time of their departure
Are in good academic standing
Demonstrate—through the application and interview process—flexibility and maturity.
No previous language experience required.
Please note Gap participants may volunteer at local organizations with prior authorization from CIEE. Gap participants however, are not authorized to take any job or seek employment during their stay.
For more information, refer to our detailed GAP eligibility criteria.
Fees
$50
Priority deadline discount: Apply to a fall semester or academic year by June 1 and get a $400 discount. Apply to a spring semester by October 1 and get a $400 discount. Discounts are deducted from final balance.
Program fee includes iNext travel insurance. Full inclusions are found online.
Program

Application Due

Start Date

End Date

Costs

Program

Spring 2024

11 weeks
Application Due

Deadline Passed

Start Date

End Date

Costs

$17,000

Program

Academic Year 2023

29 weeks
Application Due

Deadline Passed

Start Date

End Date

Costs

$30,600

Program

Fall 2023

11 weeks
Application Due

Deadline Passed

Start Date

End Date

Costs

$17,000