CIEE wants all our students to feel welcomed, supported, and empowered to succeed while studying abroad. On this page, local CIEE staff have provided details about conditions and cultural attitudes that students with specific identities might encounter at their location. The information below is just a broad overview so if you have specific questions or concerns not covered here, please email inclusion@ciee.org. We would be glad to have local staff share their perspectives, talk with you about accommodations, connect you with resources, and/or put you in touch with a program alum who could speak about their experiences navigating a program in this location.
No matter where you choose to study abroad with CIEE, our staff—all of whom receive regular and comprehensive training in diversity, equity, and inclusion—will be on hand throughout your program to provide advice, resources, and support regarding these issues.
BODY SIZE/IMAGE
In general, people in Costa Rica do not treat anyone differently according to their weight or physical appearance.  Occasionally, if the weight is extreme one way or another it is likely to be commented upon although not in a derogatory way. In the recent past, there has been a strong tendency to exercise, go to the gym, stay in shape, and eat healthy. It is uncommon for a person to be discriminated against because of their weight, skin color, or height. Costa Rican Labor Law has established clear directives addressing any type of discrimination.
DISABILITY
There is an equal opportunities law in Costa Rica for persons with disabilities that establishes the comprehensive development of the population with disabilities under equal conditions of quality, opportunity, rights, and duties. It requires all public and private institutions to meet the necessary infrastructure and signage conditions so facilities can be used by all people. Plus, it aims to better adapt the different types of public transportation, such as buses and taxis so they have adequate spaces for people who need it.
GENDER AND GENDER IDENTITY
Costa Rica has been a patriarchal society and much effort has been put into creating an environment where gender identity, expression, and equality is valued. Typically, especially in older generations and outside the Central Valley, gender roles and expectations have been clearly separated between men and women. However, this view is slowly changing. In recent years and in the younger generation, we can see a difference from how things were before. Many Costa Ricans have created groups and committees, to fight for a new way of seeing gender identity, expression, awareness, roles, and expectations. During orientation and throughout your program, CIEE staff are on hand to provide advice and support regarding these issues.
X Gender Marker
Costa Rica is a country that recognizes and supports the rights of non-binary and X gender marker individuals. In 2018, the Costa Rican government introduced a third gender option, X, for passports, allowing individuals who do not identify as exclusively male or female to have legal documentation that reflects their gender identity. This makes Costa Rica one of the most progressive countries in Latin America when it comes to recognizing non-binary and X gender marker identities.
For non-binary and X gender marker individuals living in or traveling to Monteverde, it is important to be aware of their legal rights and protections. In addition to having the option to choose X on their passports, non-binary and X gender marker individuals are also protected under national anti-discrimination laws. These laws prohibit discrimination based on gender identity in areas such as employment, education, and public accommodations.
There are also resources and support available for non-binary and X gender marker individuals in Monteverde. Community organizations and advocacy groups provide support, education, and advocacy for non-binary and X gender marker individuals. These organizations can help individuals connect with others who share similar experiences and provide information about accessing healthcare and other services. Casa Rara (https://casararacr.wordpress.com) is one of these organizations who work giving support and helping with issues of bias and discrimination for members of the LGBTQIA+ community; this organization comes to Monteverde 3 – 4 times a year to give workshops for the community.
By staying informed and connected, non-binary and X gender marker individuals can ensure their full inclusion and participation in society and enjoy the diverse and inclusive community that Monteverde has to offer.
RACIAL AND ETHNIC IDENTITY
Costa Rica enjoys a great diversity of multi-ethnic and multicultural groups. Costa Rica is an attractive country to visit and settle and thus has a unique richness of culture. The Costa Rican people are friendly and accepting of other ways of thinking and customs. They are genuinely interested in learning about other cultures. The CIEE Study Center is located in a very diverse, multicultural area where families are used to receiving students from many different backgrounds.
RELIGION
Costa Rica is a country that boasts of freedom of worship/religion. Costa Rica's official religion is Catholicism and approximately 76% of the population identifies as Catholic. Many other religions are represented; a large percentage being Evangelical denominations, as well as Judaism, Buddhism, Hinduism, Islam, Quakers, Seventh Day Adventists, and other smaller denominations.
SEXUAL ORIENTATION
Through education, Costa Rica has made great progress on the topic of sexual orientation. While the country's population is generally tolerant of diverse views such as religion, sexual orientation, customs, diets, etc., much work is still needed to completely eradicate the non-inclusive mentality of the past.
Monteverde is unique in that many cultures and people come to live or visit which makes it a very attractive place to settle since the mindset is one of tolerance and acceptance. The CIEE Monteverde staff (occasional or full time) are always hospitable and friendly to any visiting student, staff, or guest.
SOCIOECONOMIC STATUS
The costs of everyday living are covered in the fees that CIEE charges and students who come on any given program will have the majority of their expenses covered while in the country. There are a few examples of places or excursions where students will be expected to pay out of pocket for things like snacks, souvenirs, gifts to take back home, etc.
Costa Rica is a country where, in general, goods are affordable to travelers. Because Costa Rica is a world-renowned travel destination, it has a wide range of options for housing, eating, tours, and many other offerings. The CIEE onsite staff is locally savvy and is willing and able to orient students needing any information on inexpensive options in the area.
Live from Monteverde
Located in northwestern Costa Rica, Monteverde lies along the continental divide at the crest of the Cordillera de Tilarán mountain chain, which is blanketed by a cool, wet cloud forest extending down into the Atlantic lowlands. The cloud forest provides a striking contrast to the deciduous forest on the Pacific side. Learn more about programs in Monteverde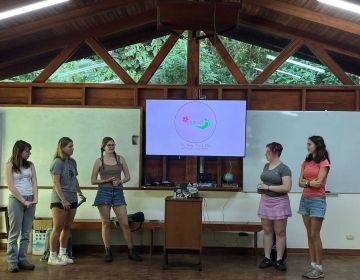 WOW! How can the program be coming to an end? Participants have been soaking up as much as they can during this last week. Each day during class time, participants spent time with their group preparing their final projects and presentations. Wednesday we went into Santa Elena for shopping and enjoying an amazing snack at the local cafe, Monteverde Cafe! They are known for their amazing pastries and banana bread! We also shopped at a Coop that is made up of women around the community selling their handmade items from embroidery and sewn items to jewelry, handmade paper and journals. Thursday we had students from the local high school visit and join us in our Bio-blast. We all downloaded an app called iNaturalist and documented flora, fauna, insects, and animals with pictures to add to their database. Per their website, the organization is now a non-profit that is dedicated to building community, with a focus on preserving biodiversity. The iNaturalist app is used by many to make conservation decision in their own communities. We enjoyed spending time with the students and practicing our Spanish too! Friday was presentation day for the participants projects. The creativity, technology use, research, and engineering time spent on each project was well thought out and presented with expertise. The groups and presentations are as follows: Ellie, Brave, Hazel, Hartson, & Baila - Native plant identification with QR codes, Google Site, and link to USDA for access to your own state's native plants. SaMyra, Zoey, Ellie, and Tory - Brochure on conservation for native bees in Costa Rica, along with how you can help pollinators in your own community.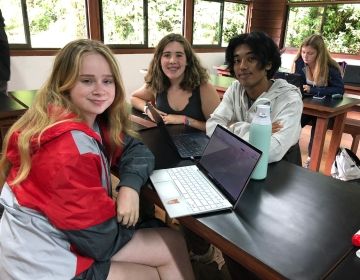 As the students wrap up their final days on campus, they've spent extensive time this week working on final projects, enjoying cultural activities and community service events, and hanging out... keep reading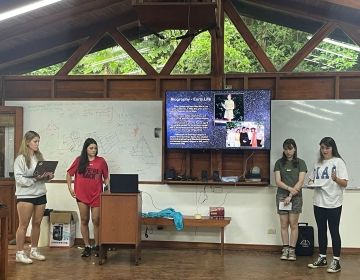 Participants have been working furiously on presentations regarding "Important Women in Stem." Groups presented on Madam Curie, Jane Goodall, Ellen Ochoa, Katherine Johnson, and Katherine Hayhoe. Amazing research and presentations... keep reading