As the largest and most experienced sponsor of the J-1 Visa Program, CIEE has excelled in organizing seamless and successful road shows for leaders in the U.S. camping industry – allowing you to hire the best international camp counselors face-to-face.  
Here's how it works: 
CIEE, with help from our global partners, advertises your open positions, then interviews and pre-screens participants
Our travel and events team makes your travel arrangements and handles the details on the ground to ensure the best international camp fairs and culture-sharing opportunity
You meet, interview, and hire the most qualified international counselors face-to-face. The best part? Camp road shows are free of charge for one camp hiring representative. Additional hiring representatives can be added at a pro-rated cost. For more information, please contact us.
New to CIEE and interested in joining us on the road?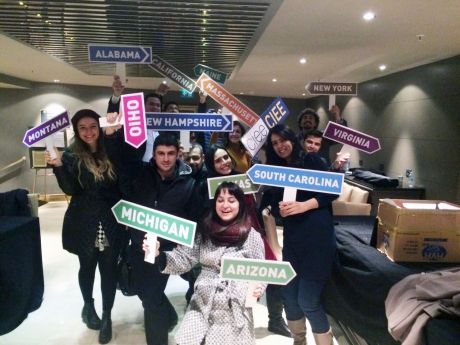 In-person Road Shows
CIEE's in-person road shows take you to where the counselors are. Meet, interview, and hire the best international counselors in person. CIEE Camp Exchange USA staff will travel with you and are available for the entirety of the road show to make your trip seamless and worry-free.
Virtual Road Shows
Held at CIEE headquarters in Portland, Maine, our virtual road show makes it easy to interview pre-screened candidates via Skype. Get the benefit of hiring from a variety of countries in only a few days' time without having to travel overseas. Plus, visit one of New England's most famous cities! Come see what all the buzz is about.
Inclusions
Every Road Show includes the following for one Camp Hiring Representative:
International airfare to and from designated cities, as well as airfare between cities, in accordance with the itinerary. If the Camp Hiring Representative is traveling to the Camp Road Show from outside the U.S., please contact CIEE.
Single-occupancy hotel accommodations. Camps sending multiple Hiring Representatives will be booked in single occupancy rooms, unless otherwise requested.
Domestic travel between the cities specified on the itinerary including airport and hotel transfers, all organized group dinners, and travel to and from camp fairs are included.
Breakfast will be provided daily at accommodation locations.
CIEE will provide lunch on fair days for each Camp Hiring Representative at the fair venue.
Group dinners are prearranged for all registered Camp Hiring Representatives. CIEE requests that additional guests or helpers do not attend group dinners, due to space restrictions in restaurants.
CIEE will make sure each venue is set up ahead of time, allowing you to focus on hiring great counselors for your camp. Electrical and other optional equipment may be available during the camp fair events for an additional fee. When possible, CIEE will cover the cost of wifi at fair venues.
CIEE staff are available the entirety of the Camp Road Show to make the tour seamless and worry-free.