Spring Break Part Two: Italy
Welcome to Italia!  (Country names are pretty easy to remember in Spanish - they are basically the same in English!)
For our first day in Italy, we didn't have a lot on the agenda.  Driving from Lucerne to Milan took a bit of time, as you can imagine, so once we got to Milan we were given free time.  We briefly got a tour of where the main sites were, and then were sent to go get lunch and explore a bit.  I found a restaurant in the mall (the oldest shopping mall in the world, Galleria Vittorio Emanuele II) and got some pizza.  What other meal would you get for your first-ever day in Italy?
Afterwards, I ended up going to buy a ticket to go on the roof of the Milan Cathedral.  There was an option to buy both a ticket to see the inside of the cathedral, and to get a fast past.  My advice?  Don't get either.  Most of the artifacts that were originally inside the cathedral have been moved to other museums, so there isn't a lot to see.  And then, because you can walk to see the line before buying a ticket, you probably don't need a fast pass either.  There was no queue when I arrived! 
Once you get to the top (I took an elevator part of the way), there are gorgeous views of the city.  You can walk around to most of the sides of the cathedral (maybe all of them, when there is no construction) and there are plenty of people taking pictures up there.  If, like me, you go up by yourself "Puoi fare la mia foto?" is how you ask for someone to take a picture of you in Italian.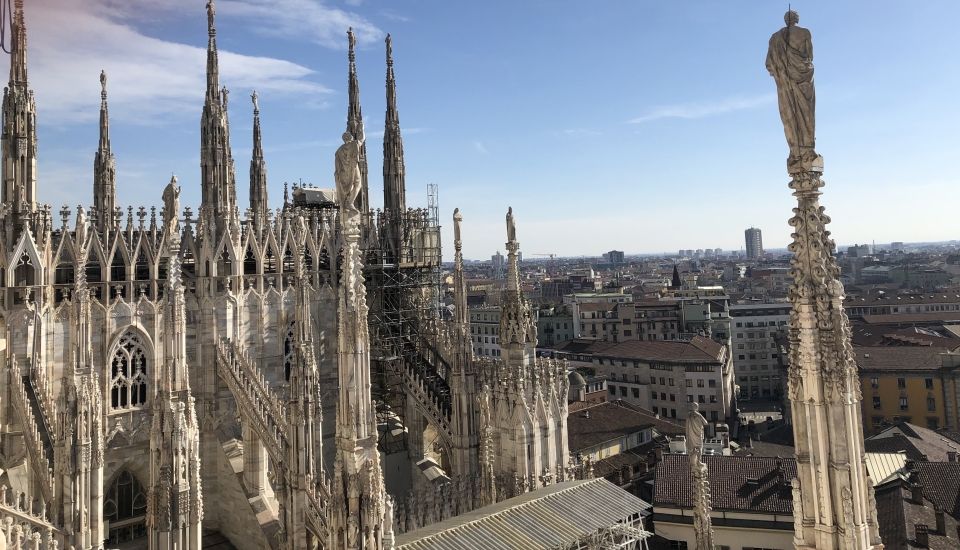 After spending the day in Milan we headed to Venice.  Since we got there late, we didn't do much other than head to the hotel, but the next day was very busy!
We ended up getting to see the Basilica di San Marco, one of the major tourist locations, as well as the Bridge of Sighs in Doge's Palace.  Apparently it is named that because it connected the palace and the prison, so people in the jail would sigh when they realized what they were missing out on.  We also went to see a Venetian crafts work demonstration by glassblowers, which was pretty interesting.  Even with the "discount" that was offered, everything was expensive and seemed hard to pack, so I skipped getting anything.  
Clearly, while in Venice you have to go on a gondola ride.  Make sure you get away from typical tourist locations to do so!  It will be way cheaper, and you get to go through the little canals between buildings instead of just the large open area in the middle.  (You can absolutely take better pictures this way).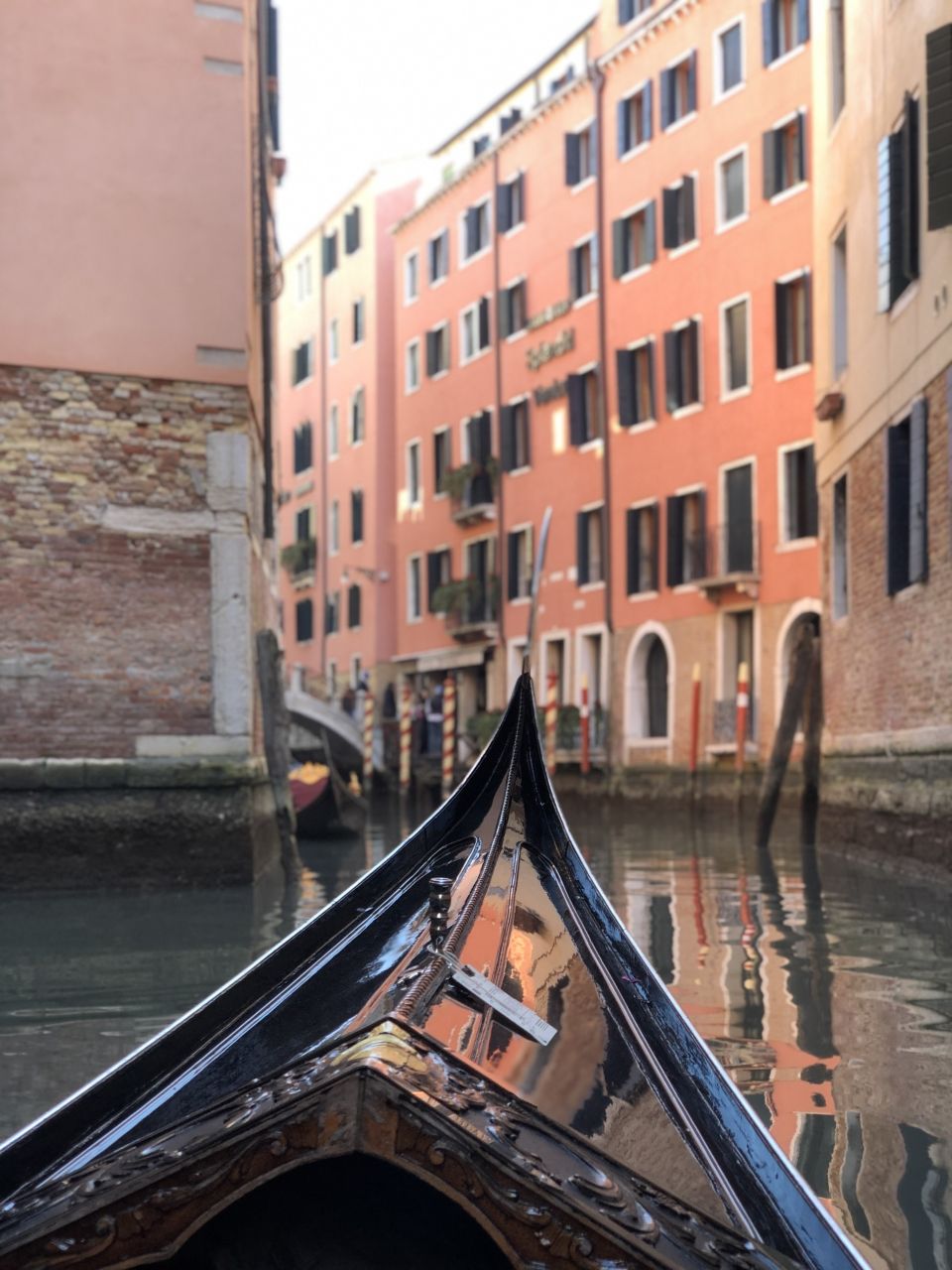 The next day (still in Italy) we went to Rome, Vatican City (which is technically its own country!), and Arezzo.  We toured St. Peter's Basilica, the Sistine Chapel, and saw the Trevi Fountain and the Colosseum.  We also had some free time to walk around the Pantheon and some of the local shops near it. 
I think my favorite part of the trip this day was getting to see the Sistine Chapel.  Technically, you aren't allowed to take pictures, but as long as you are sneaky you can get away with it (don't blame me if you get caught!).  The artwork in the Sistine Chapel, and the other areas surrounding it, is beautiful, and its something you definitely won't see every day.  Even outside of the buildings, the architecture is still the same as ancient times, and preserved so it looks really pretty.  If you are going on a trip by yourself (instead of on an organized tour like me) you should get a tour guide or an audio tour ticket of each of these locations so that you can hear some of the history. 
The last part of the Italy section of Spring Break was going to Florence and to Pisa.  Because of having to drive back to France, we weren't in either location very long, but it was still a good taste of some of the Italian culture there.  We went to a local leather shop in Florence, and then went to see the Duomo, Giotto's Bell Tower, and the Uffizi.  Afterwards, of course, we went to the main attraction in Pisa!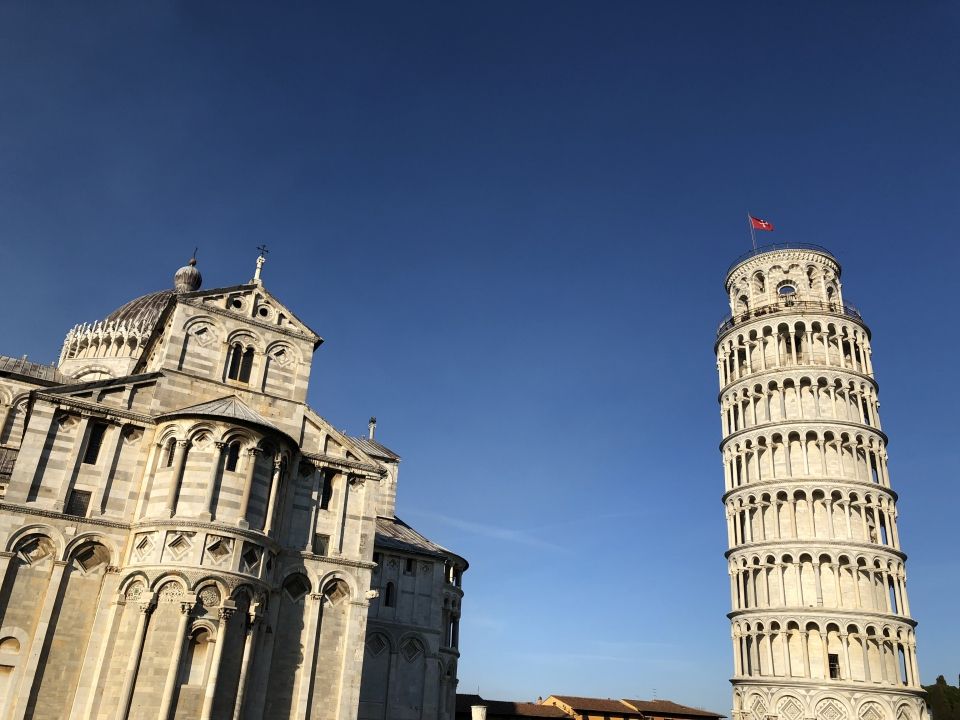 If you go to Pisa, you have to take a picture with the tower!  I did, I just can't figure out how to upload one without it turning sideways!
Ciao until I write about France!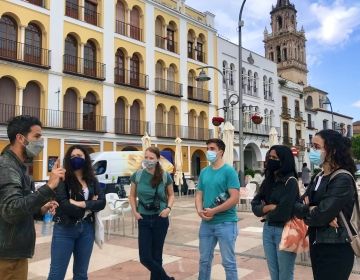 Our GAP and HSA students got to visit these wonderful towns before they departed back to the States. Ecija is known as the City of Towers. Located in the centre... keep reading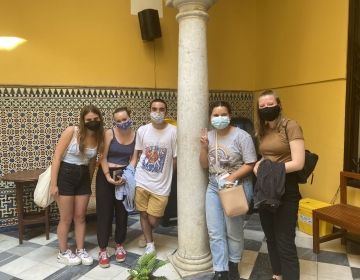 Our GAP program ended last week and althought we are sad to see our participants go, we are extremelly happy to have been able to offer a program that offers... keep reading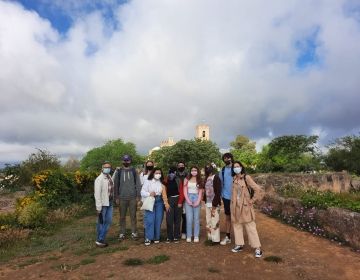 Our GAP students got the opportunity to explore two of the most important towns in the province of Seville: Alcalá de Guadaira and Utrera. Alcalá's castle is the result of... keep reading