Alumni Voices: Kelsey Wetherbee, Teach in Chile Alumna
This month's Alumni Voices feature comes from CIEE alum Kelsey Wetherbee, who studied abroad with CIEE in 2008 in Alicante, Spain, and participated in the CIEE Teach in Chile program in Valparaiso in 2011. She is now back in Valparaiso, teaching English to Chilean cadets preparing to become naval officers. 
I've always been interested in other cultures. When I was little, my best friends were always from different backgrounds, cultures, and races. In high school, I helped start an international club for exchange students who were studying for a year in the United States. While deciding what college to attend, a strong study abroad program was always an important factor to me. 
When the time finally came, I chose to study abroad with CIEE in Alicante, Spain. Although well prepared by CIEE and my university, I was terrified and excited at the same time. When I got on the plane, I think I cried all the way from United States to Madrid. The experience in Alicante was eye-opening. They were some of the best, but also most challenging, days of my life. 
My first taste of being abroad had left me wanting more. All I wanted to do was travel again.
When I went home after my semester was over, I felt glad to be in the United States, but unsatisfied by the experience. My first taste of being abroad had left me wanting more. All I wanted to do was travel again. It was not long after I returned from studying abroad that I was already preparing for my next adventure. While I loved Spain, I wanted to experience another country, and still be able to practice Spanish. That is how I decided that Chile would be my next destination.
A few months after I graduated, I found myself on a plane to Santiago, Chile. This time, there were fewer tears and more excitement for the adventure that awaited me. I taught English through the CIEE Teach in Chile program in the historic port town of Valparaiso. I taught at a professional institute, and let me tell you, you don't know fear until you show up on your first day with twenty students who are the same age as you waiting for you to begin class. But after a few minor mishaps, I found my way as a teacher. During my time in Valparaiso, I fell in love with the city and the country. So much so, that I decided that after my year of teaching English was finished, I was not ready for the experience to be over. I stayed another year.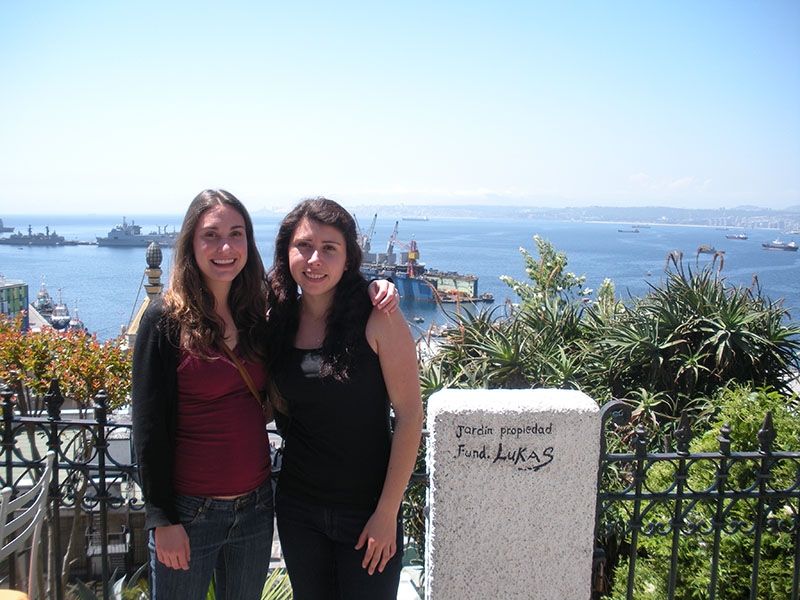 Kelsey (left) with a Chilean friend in Valparaiso, Chile. 
After my second year in Chile, I returned to the United States to experience professional life in the States. But it was too late; I was already a chilena de corazón, and always felt South America calling me back. So after a year in the States, I decided that it was time to return to my second home, Chile. If it weren't for the experiences and support that CIEE provided me, I would not have had the courage to commit to a year of teaching English in a foreign country. I would not have experienced the roller coaster ride that is living in Chile. While I still struggle with the language – as many Chileans will tell you, they don't speak Spanish, they speak "Chileno," – I love this country. From the crazy fast buses called micros to dancing the traditional cueca during the Independence Day celebration, and everything in between, I feel like I am exactly where I am supposed to be.
Did your experience with CIEE have an impact on your life? Let us know! Email alumni@ciee.org.