Traveling to Japan was so much fun! I started my journey at the Sacramento airport where I gave my parents and my dog Dodger a hug goodbye with some bonus tears. I then took a flight to the LAX airport where I meet up with the 5 other CIEE students going to Japan. From the start of my travels, I had to ask a lot of questions and be social with strangers which was hard for me because of the whole 'don't talk to strangers' thing. Asking for 'help', helped me not spend as much time getting lost and walking in circles. So 'don't be afraid to ask for help,' even in the classroom ;-)
Tokyo time!!! It was such an amazing city to visit, even for the minimal time that I was there, I had so much fun. From my first Japan dinner at a back street udon noodle food place, to the busy streets of Akihabara with people in cosplay welcoming you into their store. During my stay in Tokyo, the other students and I had to participate in an Earthquake training course. We had to go through an earthquake simulation, fire escape simulation, and using a fire extinguisher. The Ito family of Kyoto has been very welcoming to me. On Friday they took me to Nara to see the world's largest bronze statue of Buddha. There are many tame deer that roam this park and walk up to you expecting food, even if you don't have anything to give them they still enjoy a pat on the back. My host family's home is a modern Westernized Japanese home and only one room has tatami (traditional Japanese flooring) on the floor. The polished wood stair case to get to the second floor is evil, Im always slipping down it. (x_x) The food here in Japan is so different from the normal Californian food, but it's really tasty! My host mom, Eriko-san is such a good cook! One of my favorite breakfast items is a bowl of hot rice, crack a raw egg into it, and mix it together, then add in some crumbled dry seaweed. Doshisha International Senior High school is my new school! The student population for the high school (grades 10-12) is about 930, and many of the Doshisha students are boarding at the school dorms. I got lost on campus my first day. The main building consists of three floors and there are two separate gyms. My homeroom class is on the first floor, class 1D, I had to do an introduction in Japanese which I completely messed up on :'-( There are 48 students in my homeroom including me, they all speak Japanese with only a little English, and my homeroom teacher speaks close to zero English, so thats going to be fun, but it's why I am here in Kyoto!
Yes, school lunches deserve their own section.(>_<) Either you bring your own lunch to school or you buy a food voucher and give it to the clerk where you can get a meal choice of, noodles, curry, or boxed lunch. There is also a small food shop next to the lunch room where you can buy pastries and drinks. The food tastes amazing, and it looks great as well, five stars to the cheifs! Typhoon survival 101; find something that will fix your boredom for the whole day, because you are not suppose to leave the house. Otherwise you may be stuck in the house twirling your thumbs listening to the rain slam against the window, the wind howl, and the house rattle. My cure to boredom was writing this blog, I hope that you enjoyed it! Until next time!
~ Kiyana-chan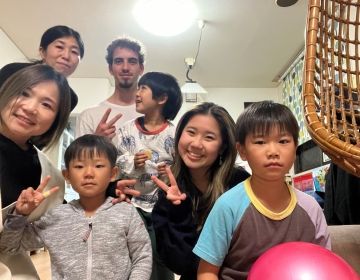 If you're here, you're looking right at the immersive program at CIEE. Maybe you have questions: What will life be like? What to expect, what to be aware of, and... keep reading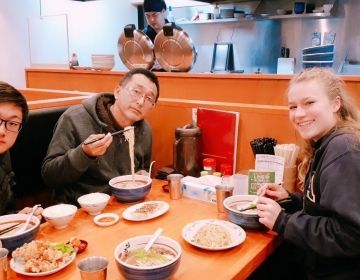 You know that you're with the right host family when you're home away from home is with them. My fabulous host family, the Sakurayashiki family. Has from day one been... keep reading
So my day started out as a fairly calm day. I had plans on meeting a few other exchange students in Shibuya at 12 to check out a cat cafe... keep reading