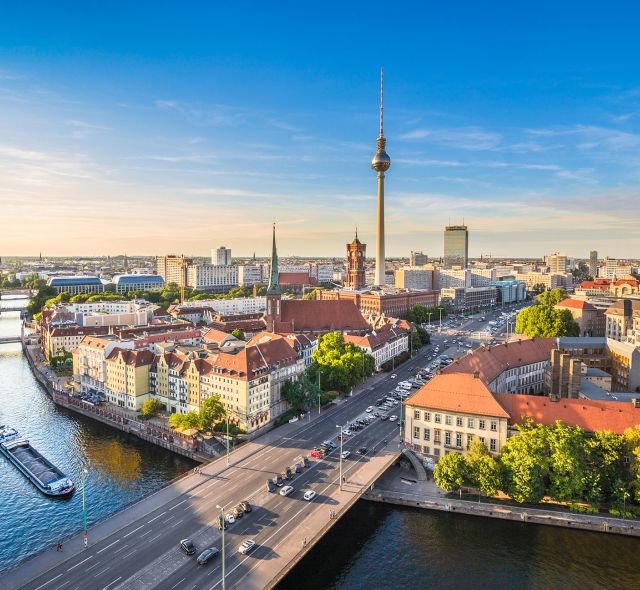 High School Abroad in Germany
Program Overview
Global Citizenship
After immersing yourself in unfamiliar practices and customs, you'll become better equipped to interact with people from other cultures — in school, on the job, or in your personal life.
College Readiness
Studying abroad gives you the kinds of life skills that can't be learned in a classroom — and shows college admissions reps that you're already one step ahead in terms of initiative, maturity, and independence.
Language Proficiency
Our program provides students with 150 language contact hours in just a few weeks.
93%
said their experience made them more aware of global issues.
79%
said their experience with CIEE helped shape their college applications.
96%
said they regularly use the knowledge and skills they acquired while abroad with CIEE.
The Destination
The Destination
Diverse regions, rich culture, and history — you'll find it all in Germany.
The landscape of Germany is as diverse as its customs and dialects. Make one unique corner of the country your own by studying abroad in high school with CIEE for a semester or a full year.
Picture navigating the intricacies of chemistry taught in German at the local high school. Joining your classmates for a pickup game of football after a long day of classes. Getting to know your homestay over a hearty welcome dinner of Gulasch, Bratwurst, and Strudel.
Regardless of where you're placed — whether in the center of Berlin or outside city limits — you'll develop your German language skills through both coursework and conversations with the locals. You'll immerse yourself in the rich history and culture of one of Europe's most fascinating countries, and build independence and life skills that you can draw on for the rest of your life.
CIEE wants all our students to feel welcomed, supported, and empowered to succeed while studying abroad. Local CIEE staff have provided details about conditions and cultural attitudes that students with specific identities might encounter in Germany.
Orientation
Upon arriving in Germany with your fellow participants, you will be met by CIEE staff in Berlin, where you will begin your three-day orientation. During orientation, you will participate in different workshops focusing on a variety of themes — culture, language, academics, social norms, current events — all designed to best prepare you for your experience in Germany. Additionally, you'll see some of the best that Germany's capital has to offer!
Activities are subject to change, but may include a visit to the Reichstag building, which houses the German Bundestag. Take an afternoon boat trip up the Spree, or enjoy wandering through Charlottenburg Palace, Berlin's largest palace. Laugh over incredible food during group meals, and get to know CIEE staff and other participants. After orientation, you will depart for your host community and spend a couple of days with your homestay before starting school.
Daily Life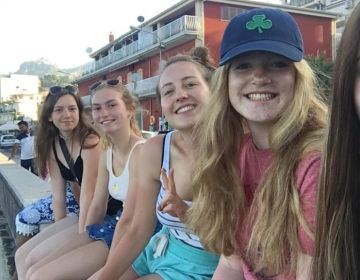 I'm back home now, in a suburb of Boston where I will be a high school senior in the fall. When I see friends or bump into neighbors, they smile... keep reading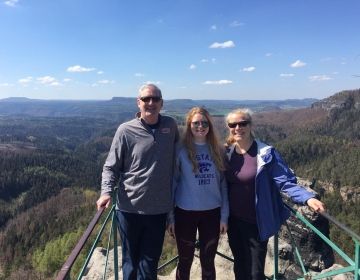 After eight months of living in Germany with my host family, I was really excited when my parents told me they would be coming to visit over my two week... keep reading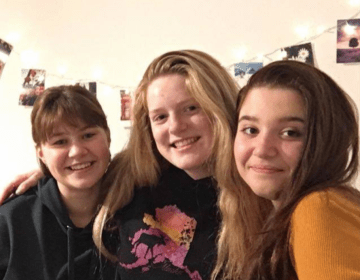 A difficult part of living away from home for any amount of time is staying in touch with friends and family. I have made so many great relationships with people... keep reading
Activities
Sample Activities
The largest country in Central Europe, Germany is made up of more than a dozen states, each with its own distinct culture. You'll have a whole year or semester to discover the country — on your own, with new CIEE friends, and with your homestay. From the Bavarian Alps to the streets of Berlin, there's a range of thrilling places to explore. Castles, cathedrals, and alpine ski villages are just the start.
As part of the program price, CIEE includes two day trips per semester, with the option to participate in an additional at-cost trip each semester. Possible day-trip destinations include Potsdam, Leipzig and Erfurt.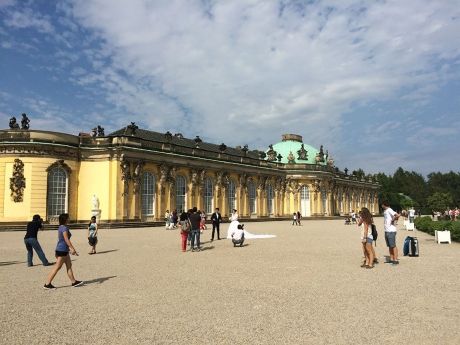 Potsdam
Potsdam was the residence of the Prussian kings and German kaisers until 1918 and home to palaces of Sanssouci - the largest World Heritage Site in Germany. It is the current capital of German Federal State of Brandenburg.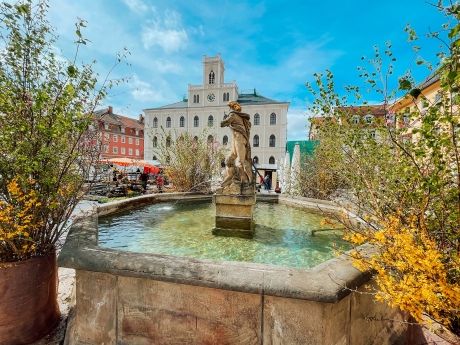 Weimar
A UNESCO World Heritage Site, Weimar was the place where Germany's first democratic constitution was signed after the First World War, giving its name to the Weimar Republic period in German politics (1918–33). Weimar has a picturesque old town and beautiful parks, and serves as a nice contrast to Berlin. While in Weimar, students will get the opportunity to learn more about Goethe and Schiller (two of Germany's most famous writers/poets), visit the Buchenwad memorial and go on a guided tour of the city.
Please note this list of activities is based on past programs and subject to change at CIEE's discretion to both adapt to local circumstances and participant feedback. For Fall 2021, local health and safety guidelines may not allow for overnight excursions or day trips. Participants will be updated as the program start date comes closer.
"One of my goals before I came to Germany was to get outside and do more. I'm always seeing and doing new things here, whether it's going for bike rides, rollerblading, or baking. I love it."

Asha R., CIEE High School Alumna

"In my last week of being in Germany, I had such a meaningful conversation with one of my best German friends. He said that even in the short time he had known me, he saw me change and grow as a person, and I remember telling him that this exchange 'has made me into a person I am really happy to be.' I am so lucky to have connected with so many people — people I wouldn't have ever been friends with in other circumstances. I have a wonderful second family, a best friend in Germany, and people I love in almost every part of the world."

Sophie R., CIEE High School Abroad Alumna

"I learned things that aren't taught in schools: what is really important to me, what I want out of life, and how to be more open-minded and confident."

Sophie R., CIEE High School Abroad Alumna

"Everyone is shocked to hear that I studied abroad when I was 15 years old. I'm shocked myself — yet, quite frankly, I'm shocked that it isn't more common to study abroad in high school. CIEE gave me an opportunity that most people have never heard of. The program transformed me into the person I am today, with impeccable people skills and the ability to adapt to any environment. I owe a huge thanks to the CIEE program. I am proud to be a CIEE alumnus!"

Alex A., CIEE High School Abroad Alumnus
Dates & Fees
Eligibility
Be in their 9th, 10th, 11th, or 12th year of schooling and between the ages of 15 and 17 at the time of the program start and cannot turn 18 while on program.
Have a minimum GPA of 2.5.
Please note High School Abroad participants are not authorized to volunteer, take jobs or seek employment during their stay
Demonstrate, through the application process, their flexibility, maturity, adaptability, and readiness to face the challenges of living in a new culture.
Have 2 years of German
Application Fee
$50
Priority deadline discount: Apply to a fall semester or academic year by February 15 and get a $400 discount. Apply to a spring semester by July 15 and get a $400 discount. Discounts are deducted from final balance.
Program fee includes iNext travel insurance. Full inclusions are found online.
Program

Application Due

Start Date

End Date

Costs

Program

Spring 2024

21 weeks
Application Due

Deadline Passed

Start Date

End Date

Costs

$16,000

Program

Academic Year 2024

44 weeks
Start Date *
End Date *
Program

Spring 2025

21 weeks
Start Date *
End Date *
Program

Fall 2024

23 weeks
Start Date *
End Date *
Program

Academic Year 2023

47 weeks
Application Due

Deadline Passed

Start Date

End Date

Costs

$18,000

Program

Fall 2023

23 weeks
Application Due

Deadline Passed

Start Date

End Date

Costs

$16,000
*Dates for this program are provided as tentative dates. Please consult with your study abroad advisor to confirm dates before purchasing your flights.
Our Staff
Regional Director of Operations for Northern Europe
Ullrich has been working in study abroad for over 25 years in Germany.
Ready to change your life?