Lost in Tokyo - Typhoon Edition
So my day started out as a fairly calm day. I had plans on meeting a few other exchange students in Shibuya at 12 to check out a cat cafe that is fairly popular. Let me just mention, the cat cafes in Japan are absolutely adorable! The best place to go if you need to relax. Anyways, I already knew that there was going to be a typhoon hitting the Tokyo area at around 6 pm, but I had planned to already be home by then. Let me just say, I had greatly underestimated just how difficult the Shibuya train station is. As well, I would later learn never to underestimate a typhoon. They have warnings for a reason, but I, of course, thought I would be fine. I guess you learn from experiences right?
It had been less than a month of me being in Japan, and I hadn't really had too much experience with the train systems yet or typhoons. I had been strongly relying on google maps to help me get around, and it had been doing somewhat of a fairly decent job. It doesn't always give me the fastest or easiest route, but it does get me to where I need to go and that's all I really need it to do.
The day started out more on the cloudy side with just a tad bit of rain here and there. The typhoon wasn't actually predicted to be that bad when I watched the news 2 days ago, so I was relying on that information. There had already been a typhoon that hit the Tokyo area around 2 weeks ago, so I guess that had given me a bit of confidence to adventure out into Tokyo that day due to my prior experience. I was feeling pretty up in spirits that day with my mind kind of in cat mode. Cat mode meaning that I was just imagining all the cats I was going to meet that day and playing with them. Yes, I have a slight obsession with cats. I find much joy in watching cat videos, and may or may not follow a bunch of cat accounts on Instagram. Yes, that may make me one of those cat people, but I gladly accept the title with complete and utter happiness. Moving on from that topic, I met up with the girls at a restaurant near Shibuya, we grabbed a bite to eat and then headed off towards the cafe. I won't talk too much about my experience in the cafe, but I'll just attach a couple of photos I took of a few of the cats while there. If you guys want to ever visit the cafe, the one I went to was called Cat Cafe Mocha in Shibuya. They actually have two levels, a library level (1st floor) and a terrace level (2nd floor). These two photos were of the terrace level.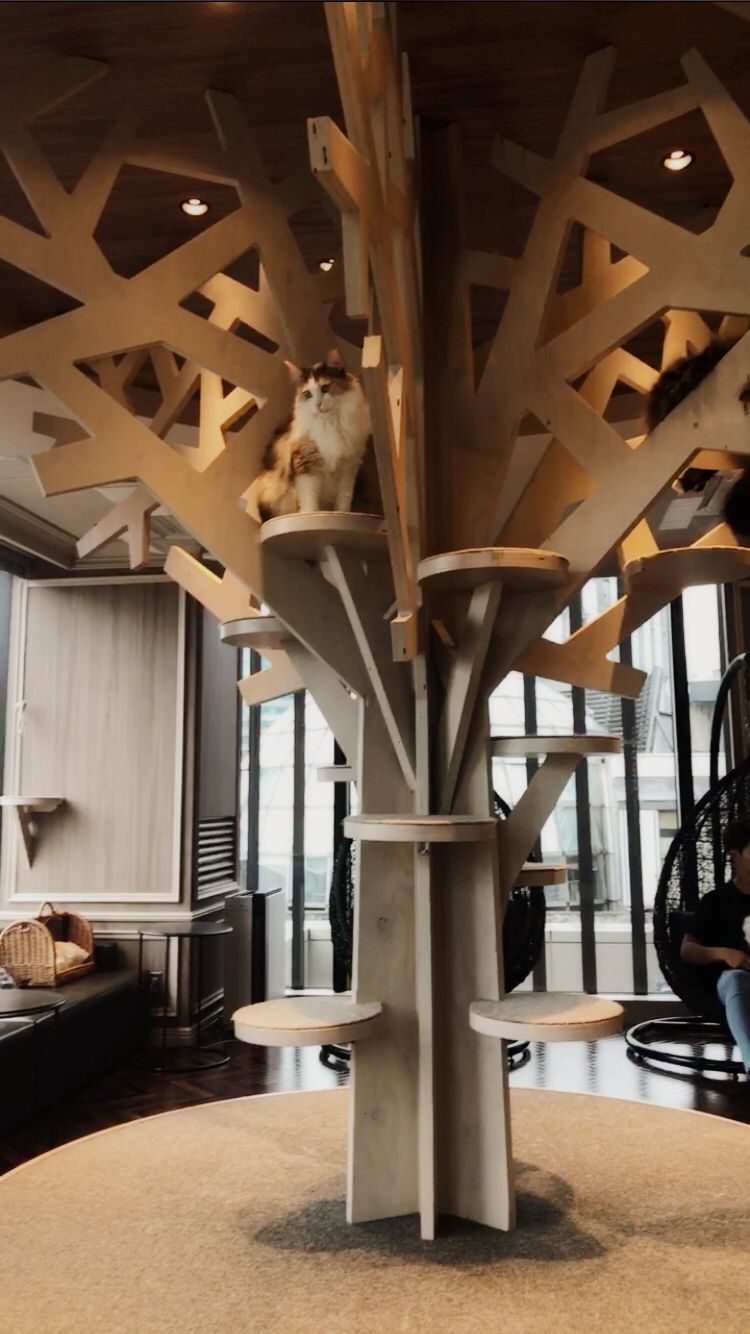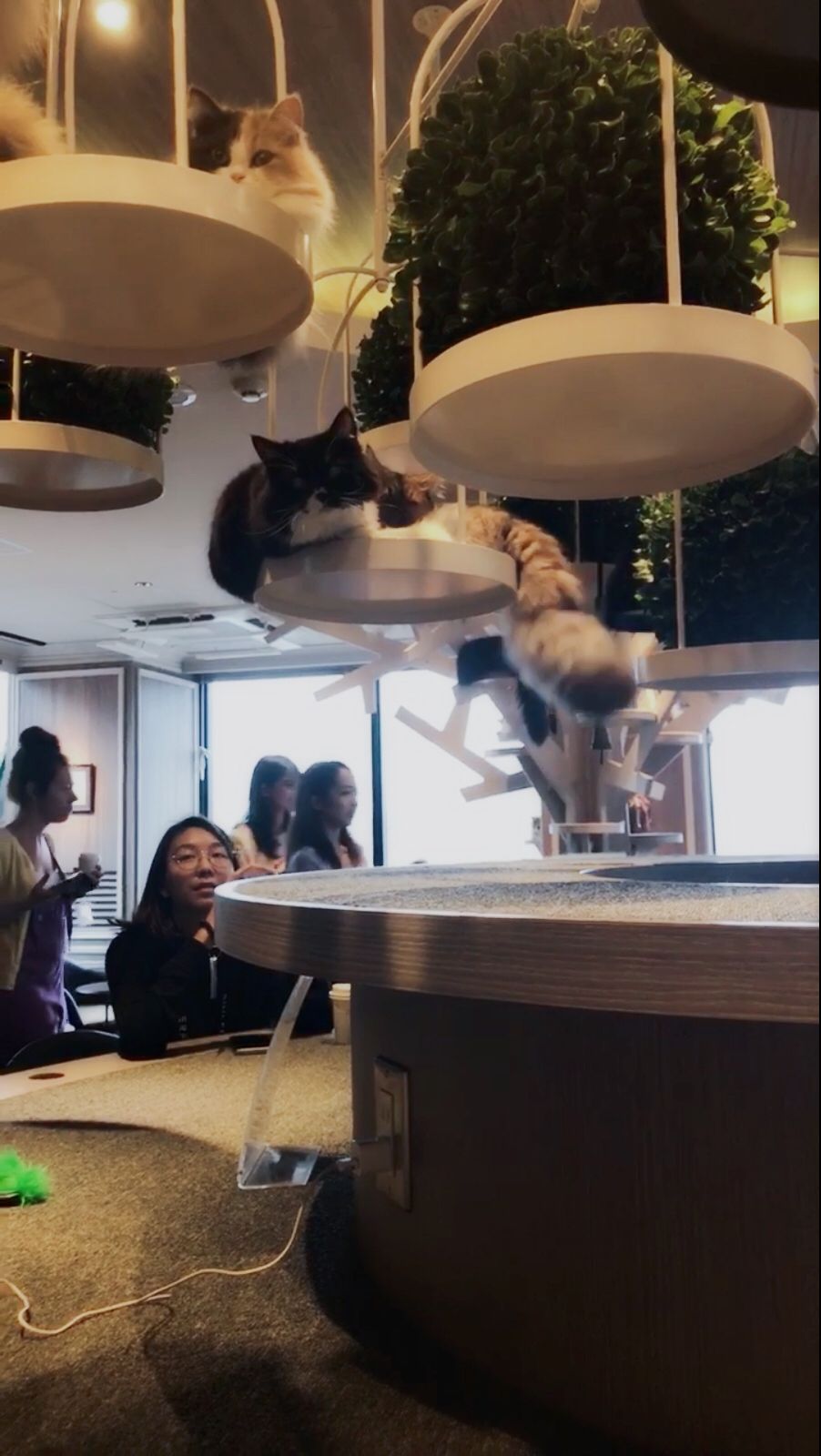 So after that adorable experience, the other girls decided to head on back to their homestays because the weather changed dramatically from when we entered the cafe to when we were leaving. It was POURING. Massive puddles had formed on the ground to the point where I was basically having to jump around to find a raised space of pavement not engulfed by a puddle. Any person who was thinking straight would have made the smart decision of heading back now, but of course, I told myself, "Nah you're all good, you TOTALLY have enough time to run some errands", and off I went. I said my goodbyes to the girls and we headed off in our separate ways. Smart, I know. 
It was around maybe 5ish when I decided to head on back. I was indoors most of the time during my errand running so I didn't really deal with much of the insanely heavy rain and wind until then. Just to mention, the typhoon, which was given the title of 'small', had now turned into one of the biggest typhoons to hit Tokyo in 2018. *Sigh*. Great right? I think so too... Even the shop owners were a bit worried about me heading back home. One even offered me a bigger umbrella, which was so sweet, but I politely declined because I felt a bit weird taking an umbrella from them.
So now I had to deal with the Shibuya train station. Google maps basically showed me a path that pointed me in the direction of the West Exit (entrance wings to train stations are called exits). The only problem was that google maps for some reason confused the West Exit with the New South Exit. So I was given incorrect directions pretty much. Another difficult characteristic I had to overcome that day is that Shibuya Station is really stretched out. I wouldn't say all, but most stations in Japan are centered in one area, so I was really not used to that. To top that all off, for some reason I thought at the time each exit's entrance was a separate building when in fact it is all one building. Since it is all connected, you don't even need to step outside, but I didn't know that. So now I was faced with the task of finding this 'West Exit', in the dark (because the sun sets here at 4:30), walking outside, and during a huge typhoon, which was supplying me with extremely heavy rain and really really strong wind.  Just to give you guys an idea, after I got home and checked online, the wind at that time was about 20-40 mph.
 Here is a broken down map of Shibuya station according to Google Maps and my editing skills. Maybe that will clarify a little and make it a bit easier to wrap your head around.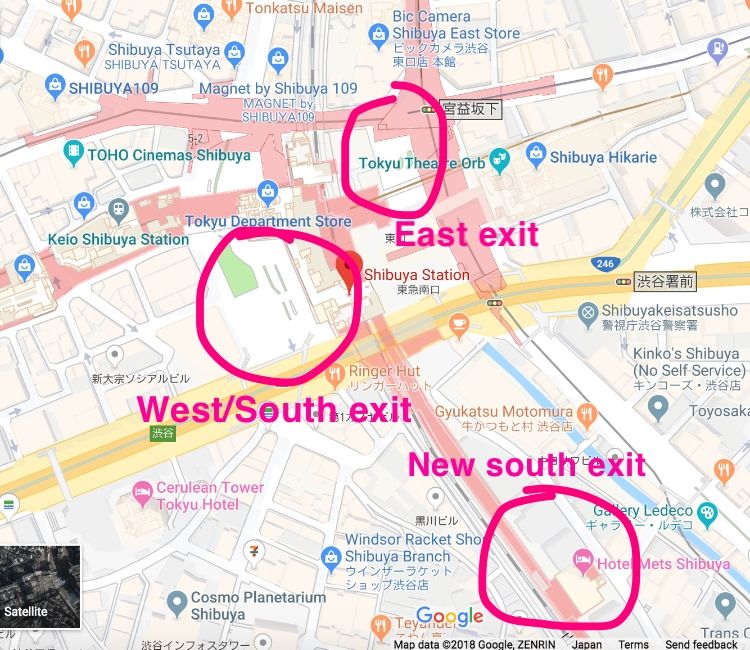 So I think I walked around for about 30 minutes before I ended up having to ask a local for help. There was, and currently still is, a bunch of construction going on at Shibuya Station due to them preparing for the 2020 Olympics, but Google maps didn't really know this. Because the app doesn't have the construction registered into its system, it didn't take into account that some of the roads or pathways might be closed/blocked off. I basically was having to find ways around this construction myself, which was proving to be quite difficult. After I managed to ask the really kind local that I luckily got ahold of, using my really rough Japanese, I figured out the New South Exit that I had passed by multiple times was the correct entrance and got on the next train heading back home. 
That day was so very stressful, but I learned SO much from it. I feel like getting lost is honestly the best way to learn how to navigate the train systems in Japan. It isn't fun at the moment, but without that experience, I would probably still be quite uncomfortable being in the Shibuya area. Shibuya is quite overwhelming in general with the crowds of people everywhere, its famous Shibuya Crossing, and the fact that it is quite easy to get lost there. As well, the train station is REALLY big in Shibuya as I have described to you guys already. One of the biggest in the world. It holds the #2 spot, with approximately 1,260,000,000 people every year passing through it. 
Well, I hope you guys enjoyed hearing my story. It was nice to share. I can't wait to share my next adventure so stay tuned!
- Diana Kisseleva (Tokyo, Japan Semester Abroad 2018-2019)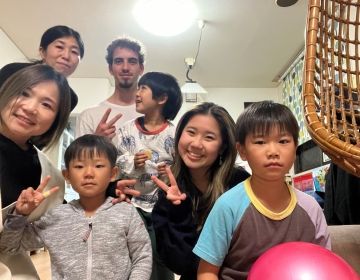 If you're here, you're looking right at the immersive program at CIEE. Maybe you have questions: What will life be like? What to expect, what to be aware of, and... keep reading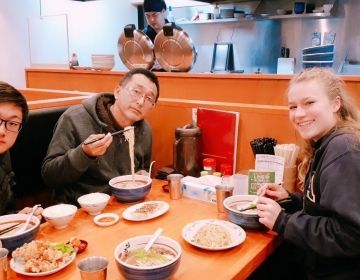 You know that you're with the right host family when you're home away from home is with them. My fabulous host family, the Sakurayashiki family. Has from day one been... keep reading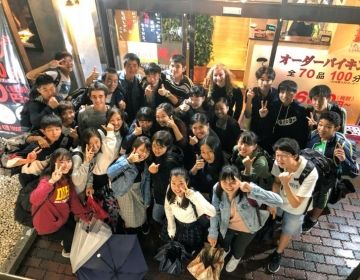 Traveling to Japan was so much fun! I started my journey at the Sacramento airport where I gave my parents and my dog Dodger a hug goodbye with some bonus... keep reading