Gainesville, Florida, home of the Florida Gators... and people like myself. Considered to be a fairly diverse town with a multitude of perspectives on nearly every topic along with many family owned businesses. I could consider it a place of finding the American dream in a small town. Nearly everything in the town is there because of the University, but once you get to know the town it is fairly homey. The vast amount of people you meet that come from different backgrounds can be mind-boggling, although it has led me to where I am today.
My father came from the American military base in Heidelberg, Germany. Seeking out what my father had never fully learned, the German language, around nine years old, I tried to fulfill this desire with the use of the app Duolingo. This only got me so far, so when I entered high school I decided to start taking the series of German classes that were offered. My teacher had mentioned exchange programs, specifically CBYX. This sparked my interest in doing an exchange year, although I was not set on a destination.
I later researched multiple programs and found that CBYX seemed like the perfect one! The aspects of wanting to understand another culture and political system were ingrained within the program's goals.
Over the past few months, the excitement has been building. Although there have been ups and downs due to leaving everything I have ever known, the excitement always outweighs the nervousness. Even when I get nervous, I think about why I really want to go. Understanding the variety of aspects that Germany has to offer, specifically trade and technological advancements, can help anyone in many ways in the future. The power that Germany holds in the global economy is vast and influential. Therefore, understanding how everything works in Germany is extraordinarily helpful in any job that you obtain.
After seeing that this would be a great opportunity and getting accepted, I decided to put more effort into learning German. For this, I watched many television shows, such as How to Sell Drugs Online (Fast) and Tribes of Europa, and continued with my German class at school. What seemed to be the hardest part was packing. I felt it would be best to take as little as needed, but enough to last me through the first few months. I packed many of the basics and just a few warm clothes, especially since I had few to begin with. Although the hardships of packing were triumphed by receiving my host family placement. Living in a small town outside of a big city has always been one of my greatest hopes. Surprisingly, my host family fulfilled this along with many more, putting the icing on the cake! Getting to know my host parents has also been an amazing experience. Understanding their daily lives and how I would soon be living has put forth the great reality of how I would spend the next 11 months of my life.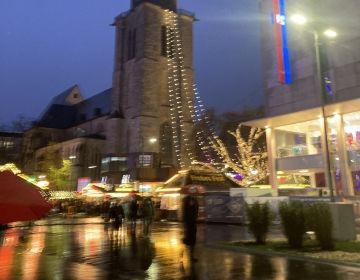 The three months I've spent in Germany have given me all kinds of unexpected circumstances. However, never in my life did I think I would find myself on a full train being squashed to bits by every BVB fan in the entire country.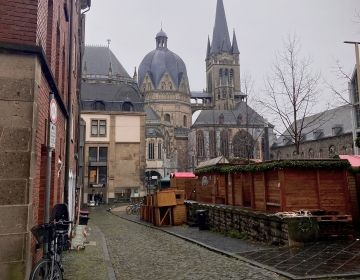 Last weekend, I spent a rainy day exploring the city of Aachen. It was a dreamlike experience, and it reminded me that no matter how hard it rains, I will always adore exploring, traveling, and learning. A few raindrops are hardly enough to stop me from doing so.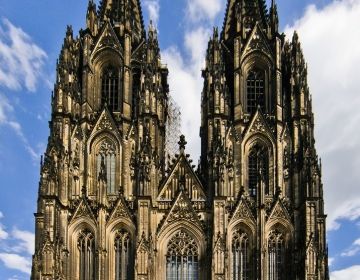 Although this post is a little late, I found looking back on my trip to Köln last month as a good way to encapsulate the gratefulness I feel for the new knowledge and beauty I've experienced so far in my exchange year!