To support a special initiative, donate securities, or make a planned gift
Please contact Jill Sady at jsady@ciee.org or (207) 553-4052 for any questions or donation needs.
Mail a check payable to CIEE to:
CIEE
c/o Jill Sady
600 Southborough Drive, Suite 104
South Portland, Maine 04106
Thank you for helping CIEE bring the world together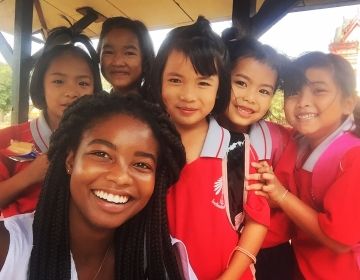 CIEE's Mission
CIEE cultivates peace through programs that humanize international relations.
Yes, CIEE is a 501(c)(3) non-profit charity. Your gift to CIEE is tax deductible to the full extent allowed by law. CIEE's tax ID is 13-4038907.
100% of your donation goes to fund scholarships that increase access to CIEE's international education and exchange programs.
Yes, we use a top-rated credit card processor and your credit card information is not stored with CIEE. 
Yes, with the gift receipt from your CIEE donation, please check with your company's HR department for the proper matching gift forms to double or triple the impact of your gift. Once all the paperwork is submitted with your company, CIEE will verify the donation and your company will send the match. You will be recognized for the match at the level of the combined gifts, i.e. if you make a $500 gift and your company sends in a matching $500 you will be recognized at the $1,000 level. If you're unsure if your company matches charitable contributions, check with your HR department.