Now that we're well into December, the last thing I need to do before getting completely sucked into the Christmas spirit is reflect on November. While not nearly as busy as the previous months, my weeks were still packed with fun things to do. 
A big one was going up to Kassel one Saturday and hanging out with people I haven't seen since language camp (Lauren, Fernando, Nina, Koby, and Ella), as well as meeting people from partnership organizations (Izak and Noah), and another exchange student (Kaja). 
After getting lunch we went to a pre-Christmas market, called Orangerie Kassel (but don't quote me on that!). 
As my first experience at a big German market, it was pretty fantastic. There was good food, pretty scenes, and cool trinkets to buy. Not to sound too cheesy, but it was definitely made better by hanging out with my friends. At one point, Noah and I wandered through the whole place trying to find the others, only to end up having them find us on our second lap around the market. 
We took dozens of pictures and had fun catching up, asking each other questions about our host families, schools, and communities. 
Besides Kassel, I've gone down to Mannheim a few more times. One particular time I went with Theo, Wrenn, Veronica, and Luke first to Pizza Hut, then to the Technoseum, where we nerded out about tons of stuff. Would highly recommend the place, it has tons of cool exhibits and interactive activities. Everyone would be able to find something they like there. 
Lastly, I celebrated Thanksgiving with my host family. 
Thanksgiving is a very important holiday for me back home and it's one of the things I was most excited to share with my host family. My host dad and I went shopping a few nights before and were able to get just about everything I needed and then, day of, my host sister and I spent about three and a half hours cooking. We ended up with chicken, instead of turkey, but we also had stuffing, green beans, mashed potatoes, and gravy. We couldn't find a pie crust at the store, so we ended up with just apple pie filling and ice cream, but it was still delicious. Despite my inexperienced cooking skills, everything was not only edible, but tasted good, too! 
Signing off for now, 
Rachel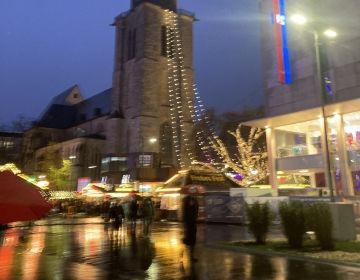 The three months I've spent in Germany have given me all kinds of unexpected circumstances. However, never in my life did I think I would find myself on a full train being squashed to bits by every BVB fan in the entire country.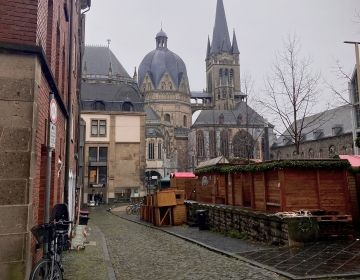 Last weekend, I spent a rainy day exploring the city of Aachen. It was a dreamlike experience, and it reminded me that no matter how hard it rains, I will always adore exploring, traveling, and learning. A few raindrops are hardly enough to stop me from doing so.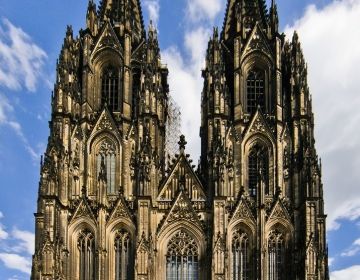 Although this post is a little late, I found looking back on my trip to Köln last month as a good way to encapsulate the gratefulness I feel for the new knowledge and beauty I've experienced so far in my exchange year!