Notions About D.C. Orientation
    The orientation in D.C. is like summer camp. The time feels so long, and yet so short. Time moved at a different pace to make room for the large amounts of activities we did. 
    To give you a perspective on how warped the time went, I got to D.C. on Monday, August 1st at around 7:30 AM after flying into Ronald Reagan Airport from Cincinnati, Ohio. I spent Monday, Tuesday, and Wednesday with my mom and sibling, just being tourists in D.C.  
On Thursday, I went into the program and finally met the people I'd been chatting with on Instagram, Discord, and Snapchat for the first time in person. Believe me when I tell you that the people I've met in the past few days are some of the most kind, genuine people; people I hope to remain friends with for a very long time. 
    On Friday, we got up bright and early and spent a long day in the city. It started at the Department of State and ended at the Lincoln Memorial and Hard Rock Cafe. Overall, the day was mostly either trying to cool off from the overwhelming heat or shivering from the cold rain. At one point, we thought the annual picture of the CBYXers in front of the Lincoln Memorial was going to be cancelled from the lightning. Despite the miserable conditions, we all had a pretty good day that ended with a nice dinner at Hard Rock Cafe. 
    Saturday is spent at the hotel until you go to the airport. Our flight wasn't until around 10:00 PM, so we stayed at the hotel until 6:00 PM, splitting into small groups and doing final preparation for the flight. I got more and more nervous as we got to the airport, I'd only flew once before (remember that bright and early Monday flight?) and I was paranoid that TSA was going to hate me and decide to not let me through. As I said before, though, the people in the program are all incredible and that includes the staff who were so supportive and helpful despite being frazzled because they were taking 100 kids to the airport. Luckily, security for me was a breeze and everything was fine as we ate and got onto the flight. A surprisingly good dinner, a few naps, and one watching of Minions, later, we touched down in Frankfurt, Germany.   
Signing off for now, 
Rachel Hesse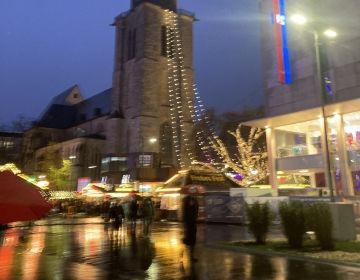 The three months I've spent in Germany have given me all kinds of unexpected circumstances. However, never in my life did I think I would find myself on a full train being squashed to bits by every BVB fan in the entire country.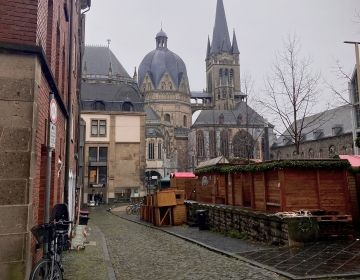 Last weekend, I spent a rainy day exploring the city of Aachen. It was a dreamlike experience, and it reminded me that no matter how hard it rains, I will always adore exploring, traveling, and learning. A few raindrops are hardly enough to stop me from doing so.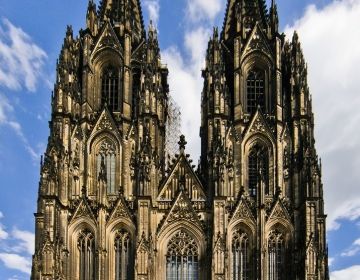 Although this post is a little late, I found looking back on my trip to Köln last month as a good way to encapsulate the gratefulness I feel for the new knowledge and beauty I've experienced so far in my exchange year!