Grüß dich! Being an exchange student means you have a couple of bucket list items. One of my most anticipated activities was the Christmas markets. Determined to see as many as possible, my friend and I made a "Christmas Market Bucket List." I've now officially been to seven and I'm happy to report that they lived up to their reputation.
Pre-Christmas Market
My first Christmas market in Kassel for a pre-Christmas Christmas market. I met up with a group of exchange students and we headed in. We paused to play in a sheep field (because who wouldn't?). We were all so giddy that we were getting into the Christmas season and every little thing impressed us. We got as many samples as possible, ate waffles, and enjoyed our first day back together in months.
The First
The first official Christmarket I got to see was in Wolfenbüttel. Wolfenbüttel is a small town encompassed by the traditional German architecture charm, making it feel very cozy with the market's additional charm. I tried Schmalzkuchen for the first time, which is a traditional German dessert where pieces of dough are fried and topped with powdered sugar. You'll find Schmalzkuchen everywhere in Germany during the Christmas season.
First Place in Impressiveness
My city's market was the biggest I got to see. With almost 150 stands, Braunschweig has a lot to show its holiday spirit. With ice skating, a Ferris wheel, XXL hot dogs, and tons of chances to grab a collectors' mug, there are many ways to fill your heart, time, and stomach. Naturally, I visited this market many many times, and I never learned my way around, it was just that big! 
First Place in Beauty
    Want to feel like you're in a fairytale? The Erfurt Christmas market delivers the sights and smells that make time feel like a dream, especially if you're lucky enough to venture in on a snowy day or at night (bonus points for both!). Erfurt was special because I got to go with so many wonderful people, but the cathedral and Ferris wheel are enough to take anyone's breath away. Erfurt's old-city charm mixed with Christmas lights and churros will make it impossible for anyone to not have a smile on their face.
First Place in Coziness
    If you want a smaller market that holds as much charm throughout as possible, Goslar's Christmas market is for you! Almost all the stalls can be found in the city's main square, with a giant Christmas tree and hanging lights overhead to show the way. Goslar's old German architecture combined with Christmastime is 100% worth the trip. The friendliness of all the clerks also added to my good experience. My entire host family was given a small personalized gift from a wood burner before we even mentioned wanting to buy something. I highly recommend buying some cheesy garlic bread and heading into the Weihnachtswald. Dozens of trees are decked in lights that you can walk through and hide in to enjoy a nice cup of warm punch or hot chocolate. 10/10 experience.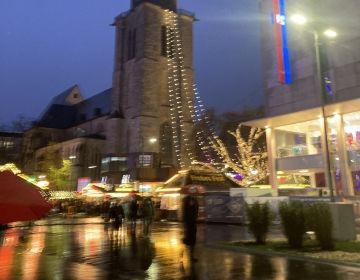 The three months I've spent in Germany have given me all kinds of unexpected circumstances. However, never in my life did I think I would find myself on a full train being squashed to bits by every BVB fan in the entire country.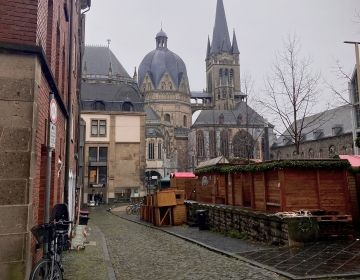 Last weekend, I spent a rainy day exploring the city of Aachen. It was a dreamlike experience, and it reminded me that no matter how hard it rains, I will always adore exploring, traveling, and learning. A few raindrops are hardly enough to stop me from doing so.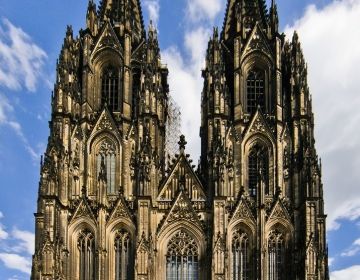 Although this post is a little late, I found looking back on my trip to Köln last month as a good way to encapsulate the gratefulness I feel for the new knowledge and beauty I've experienced so far in my exchange year!