Blurbs about the first week in Germany
I'm pretty terrible at timing, 
The first week has been unbelievably busy, but it has also been unbelievably exciting. While the end of my first 7 days has most certainly passed. I feel it will be a nice productive finish to this week by recapping my first couple of days in Bad Laasphe (cool name right?) If you try hard enough when pronouncing the "Laasphe" part. You'll make yourself feel very European.
Ironically, this post was supposed to be done on my last night in the US of A during DC orientation. (you can see how that worked out) But looking back I'm glad I spent the time making connections with the other students rather than sitting alone in my room slamming the keys of my laptop. Speaking of the other students. I don't think someone could have FEASIBLY picked a more wonderful group of people. Which continues to mess with my brain as it feels I've known them for 8 years rather than 8 days. Anyways, I'll try and cover everything that has happened up until now, so expect this blog post to be far more lengthy than normal.
First off. Whoops, it's the middle of August. But let's talk about DC!
The start of CBYX usually begins (or at least for CIEE) at the Orientation in D.C. This consisted mostly of cultural classes, dc exploring, and getting to meet the other students. Which was extremely intimidating, until you realize that they are scared out of their minds as well.
The first day was mostly composed of getting acquainted with the other CBYXers, which was exceptionally fun because I finally got to put faces to people I had only texted with previously. Within minutes of arrival everyone was interacting with each other and exploring the hotel, while more people were continuing to trickle in. On the first day, I distinctly remember 7 of us going into someone's room and cooking/brewing ramen in a coffee machine. (yes it worked, yes the ramen was good, and no we did not destroy the coffee machine) Why did we do it? I don't have the faintest clue. But it continues to be one of my favorite memories from the orientation. Not purely from how outrageous it was, but because it felt like things weren't going to be as completely terrifying as I originally surmised. CBYX is special in the sense that you form a strong connection with the other Americans who travel to Germany with you, and language camp only strengthens that.
    ALSO! Quick break, but I got my host family! I was placed in a small town in the state of Brandenburg, which is not too far from Berlin, Dresden, and Leipzig. I have three host siblings, two host parents, and most importantly: two host dogs (I absolutely adore dogs). All of them are huge metal and rock fans, which is really really awesome. I don't want to disclose too much more information about them as I've yet to meet them in person, but I'm beyond excited to finally meet them. :)
The second day of the DC trip involved touring the State Department, which gave us the ability to participate in a diplomatic simulation that (surprisingly) did not end in complete failure.
That night, one of the students (one of my current roommates in Bad Laasphe who I trust immensely) had an idea to make a large pile of pillows in someone's room. For absolutely no reason whatsoever, besides relaxing (fully masked) in the room with others before room check. This goes hand in hand with the ramen as one of my favorite memories from DC. The incredible problem solving abilities of 15-18 year old brains, continues to amaze me. The flight along with everything surrounding it, was yet again a blur. I felt as if I hopped onto a 777, and then consequently woke up in Frankfurt, Germany. 
    Views from the castle are second to none. Largely because the Schloß sits atop one of the highest points in the town, and you get a stunning overlook of both Bad Laasphe and the rolling German hills. I've spent hours on end just sitting on various windowsills looking out over the hills or the castle. Truthfully, I didn't expect to be staying at Hogwarts School of Witchcraft and Wizardry when I applied for this program, but HEY I'm not complaining… (A comparison made by Rachel, one of the other bloggers who you should absolutely check out.) Funnily enough, there is a young kid around the age of 5-6 that lives near the castle who I will refer to as "Dino". He occasionally is outside playing in the courtyard, so many of the other students will go out to play with him as well as practice their German. Compared to my German, he might as well be a collegiate scholar, but attempting to talk with him has helped me pick up some small words. (Such as the words for "Dino", "Bee", and "Bike")
    The daily life at the Castle isn't too crazy during the week. I wake up around 7:30 or so to catch breakfast at 7:45.  Breakfast is usually some kind of bread with something on top. This could be from a plethora of options including cold cuts, cheese, jelly, butter, nutella, cream cheese, or some combination thereof. After breakfast, we have the announcements for the day, and then head to our respective language classes. Occasionally in the morning, I'll have the chance to go on a morning hike through the hills to appreciate the sunrise. The quiet is always nice to help clear my mind, but also gives ample time to appreciate the natural beauty of Germany.
Anyways! Here's a quick overview of everything that happened the first week in list form (because if I had to write everything out in sentence form, you'd be reading this for hours and I would be writing this for days): 
-Took a written language placement test, and did exceptionally bad.
-Took a verbal language placement test, and did exceptionally bad.
-Went down into town to the grocery store (where the prices are stupidly low, and the quality is stupidly high)    
-Attended German classes on weekdays, and learned enough German to not perish upon entering German school
-Made a presentation about Germany's involvement in Russia.
-Listened to presentations about political topics in Germany, culture shock, and communication
-Had several dance parties in the rose garden, courtyard, AND OUTSIDE OF MY ROOM (anger)
-Went on several hikes
-Played Werewolf (the beefed up version of Mafia)
-Managed to pay at the store without using English or being confused. (I bought some cookies…. small victories)
-Finished writing a song
-Added 20 new german songs to my playlist
-Started journaling
-Bought excessive amounts of German juices and snacks at the local REWE
-Went stargazing at midnight in the garden with a bunch of other students 
-Focused more on becoming organized, because I'm terrible at that currently
-Enjoyed being in Germany :)
So far, this experience has been one of the most challenging and exciting periods of my life, and it's only just begun. (AND I'M NOT EVEN AT MY HOST FAMILY YET AAAAAAHHHHHHH) I'm exceptionally fortunate that I went on this program, and I'm beyond happy that it gave me the ability to meet so many wonderful people.
That's all for this post folks. Until next time, tschüssikowski!
-Adam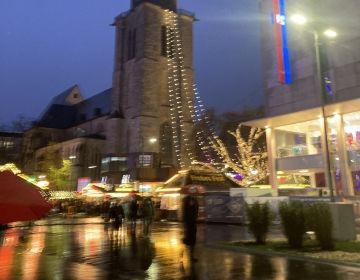 The three months I've spent in Germany have given me all kinds of unexpected circumstances. However, never in my life did I think I would find myself on a full train being squashed to bits by every BVB fan in the entire country.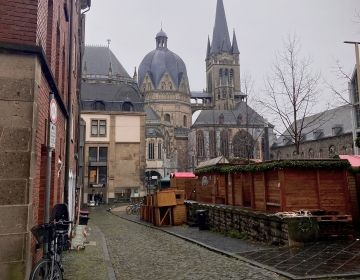 Last weekend, I spent a rainy day exploring the city of Aachen. It was a dreamlike experience, and it reminded me that no matter how hard it rains, I will always adore exploring, traveling, and learning. A few raindrops are hardly enough to stop me from doing so.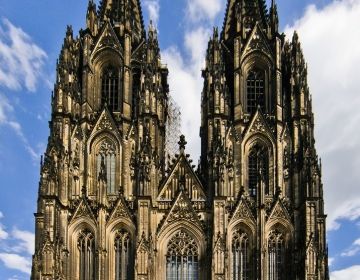 Although this post is a little late, I found looking back on my trip to Köln last month as a good way to encapsulate the gratefulness I feel for the new knowledge and beauty I've experienced so far in my exchange year!